VISITORS







Client success stories
Updated: 2021-07-23 08:42:31
The devotion in work of a leader
(VBSP News) With 14 years served as a leader of the Savings and Credit group in Thuy Phong Village, Thanh Thuy Commune, Thanh Chuong District (Nghe An), Ms. Nguyen Thi Lan is always enthusiastic and wholehearted for her work. Over the years, she has helped many poor households and other policy beneficiaries access preferential loans from VBSP for economic development.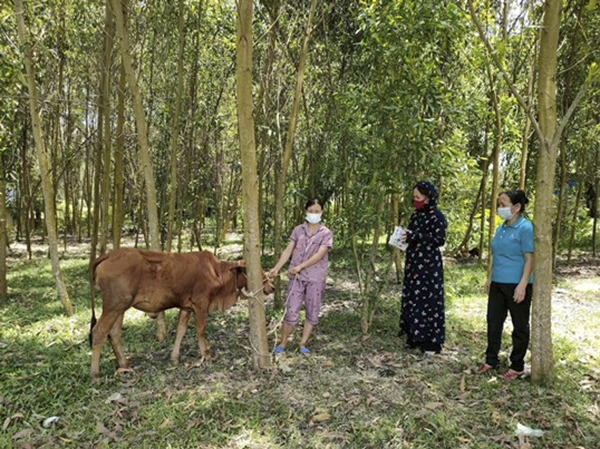 Ms. Nguyen Thi Lan inspects the cow husbandry model in Thanh Thuy commune
Despite being already 60 years old, Nguyen Thi Lan is engrossed in local work. In addition to family work, she has always enthusiastically participated in local movement activities and was trusted by people to be elected as the head of the Women's Union branch. In any position, she always completed the assigned tasks.
"In 2007, when a policy of lending for production and animal husbandry to increase the capital sources for poor households and other policy beneficiaries, I was elected by the people of Thuy Phong village as the leader of the Savings and credit group", Ms. Lan shared.
At first, Ms. Lan faced many difficulties because she was not familiar with recording and managing accounts. In particular, she didn't know how to propagate and persuade to change people's minds about business loans and economic development. However, thanks to the clear guidance of VBSP staff through training courses, she gained more knowledge and experience. Since then, following the instructions of the bank, the Commune People's Committee, and the Women's Union, she fully implemented preferential loan programs to households in the village.
Thuy Phong village is bordering Laos, which is the poorest household in the commune. In 2007, the VBSP branch in Thanh Chuong district disbursed the first loan with an interest rate of 0.5% with the amount of 5 million VND/household. Before the disbursement day, Ms. Lan has cooperated with agricultural extension officers and Thanh Thuy Commune Women's Union to inquire information about buying buffaloes and cows, ensuring that people can buy buffaloes and cows timely just after receiving the loan.
For poor households who have not boldly borrowed money yet, Lan went to their homes to propagate the loan program with preferential interest rates. She explained how to apply and use capital suitable to their family circumstances. About households in need of loans, she ensures that the review process is correct, public, and democratic.
Thuy Phong village's strength is its wide terrain, which is very suitable for livestock development. Therefore, Ms. Lan actively campaigned for people to take a loan to raise cattle. Besides, she also studied more from experience to guide people on how to care for and prevent diseases for livestock through books and newspapers. People in the village have invested and used loans for the right purposes with promoting effectively. Until now, lots of households in the village have escaped from poverty and stabilized their lives.
For instance, Le Thi Hoa borrowed from the VBSP for the poor households program in two installments with the amount of VND 100 million to build a barn and raise breeding cows. Currently, her family has 2 cows and 3 buffaloes. Likewise, Nguyen Thi Hiep's family, who borrowed for the near-poor household program with the amount of VND 100 million to raise cattle. So far, her family has 5 cows and 2 buffaloes. Thanks to the income from animal husbandry, her family has gradually escaped poverty.
Thus far, the total funding in Thuy Phong village has reached over VND 2.9 billion with 41 active customers. Every month, Ms. Lan collects interest and pays it in full on the monthly transaction date at the Commune People's Committee. She often reminds borrowers to proactively arrange to repay loans on time. Thus, the Savings and Credit group in Thuy Phong Village does not have overdue debts or outstanding interest.
The standard of living in Thuy Phong village has changed for the better due to the Government's policies and guidelines, including loans from VBSP. In the coming time, Nguyen Thi Lan will continue to actively campaign people to boldly borrow more capital to invest in planting material forests, contributing to economic development, stabilizing life and escaping poverty.
Vbsp.org.vn
LENDING INTEREST RATE
Poor Households

Lending to poor households
6,6%/year
Lending to poor households in 64 poor districts as stipulated by the Government Resolution No.30a in 2008
3,3%/year

Near Poor Households

Lending to near poor households
7,92%/year

Students

Lending to disadvantaged students
6,6%/year

People in need of loans for job creation

Lending to business establishments owned by war invalids and handicapped persons
3,3%/year
Others...
DEPOSIT INTEREST RATE
Term
Deposit Rate
Overnight
3,04%/year
1 week
3,23%/year
2 week
3,5%/year
Others...