VISITORS







Press Release
Updated: 2021-05-06 16:00:47
VBSP supports people to escape from poverty
(VBSP News) Xin Man is one of the difficult districts of Ha Giang province, to bring Resolution 05 of the Provincial Party Executive Committee on renovating the garden, developing household garden economy, creating livelihoods for people and sustainable poverty reduction for the period 2021 - 2025 into life, capital is the most difficult thing. The district VBSP has supported people with valuable capital according to Resolution 58 of the Provincial People's Council on specific policies to support the development of the local garden economy, so that people can have livelihoods to improve wasteland, develop commodity-oriented agricultural production right on their own land.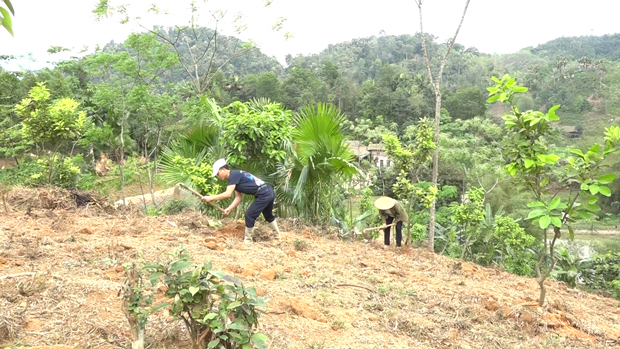 Household of customer Leng Minh Chien in Na Rang village, Khuon Lung commune renovates the garden from the loans of VBSP in Xin Man district
In 2021, Xin Man district had 297 households registered to renovate the garden; including 165 poor households, 93 near-poor households. 234 households had demand for loans with the amount of VND 7,020 billion; of which, 20 households in Khuon Lung commune received preferential loans with the amount of VND 600 million. The loans from VBSP are like a new vitality for people to escape from poverty from their fields and gardens. Abandoned fields and gardens for a long time were plowed and raised to urgently plant short-term crops such as pumpkin vegetables, vegetables shrinkage and other perennial crops of economic value.
Chairman of the People's Committee of Khuon Lung commune, Nguyen The He said: To pilot the renovation of the garden, the communal authorities have surveyed and selected 20 households; in which 7 poor households and 13 near poor households to implement the improvement of wasteland and plant crops. The total area of land to improve the garden is 10,749m², with a total loan of VND 600 million from VBSP's loans. Up to now, with the support of the government and the participation of the people, 18 households with bare land have planted vegetables, fruits and medicinal plants. In addition, 15/20 above households also built and renovated breeding facilities to raise pigs, goats, buffaloes.
Customer Hoang Van Xa's family in Lang Thuong village, a near-poor household, was chosen to renovate the garden in this time to get a loan of VND 30 million from VBSP. He invested in 3 vegetable gardens and 1 fish pond. For his family, this is a really valuable source of capital, helping him invest in production and create products on the family's long abandoned land.
As for customer Sung Thi Mai from Nam Phang village, her family is a poor household. Mobilized by the local authorities, she determined to renovate 3 vacant land plots of her family to grow vegetables shrinkage and other types of vegetables and tubers under the guidance of commune officials. As a farmer, Ms. Mai understands leaving bare land is a waste, but due to lack of capital for production and buying trees, seeds and investing in fertilizers, she cannot improve the bare land. But now, thanks to VBSP's loans in Xin Man district, she has started plowing back 3 gardens, investing in renovating barns, raising chickens and pigs.
Director of VBSP in Xin Man district, Tran Thanh Vy said: To empower people to escape from poverty sustainably in the district in general and in Khuon Lung commune in particular, the district VBSP has coordinated with the local authorities to appraise criteria to disburse each household according to the plan. Being a poor district of the province, the district has the complicated terrain and natural disasters happen often, causing considerable damage to people. VBSP's loans provide opportunities for local people to develop agricultural production in the direction of goods, and build farms with stable income in the district.
vbsp.org.vn
LENDING INTEREST RATE
Poor Households

Lending to poor households
6,6%/year
Lending to poor households in 64 poor districts as stipulated by the Government Resolution No.30a in 2008
3,3%/year

Near Poor Households

Lending to near poor households
7,92%/year

Students

Lending to disadvantaged students
6,6%/year

People in need of loans for job creation

Lending to business establishments owned by war invalids and handicapped persons
3,3%/year
Others...
DEPOSIT INTEREST RATE
Term
Deposit Rate
Overnight
3,04%/year
1 week
3,23%/year
2 week
3,5%/year
Others...