VISITORS







Client success stories
Updated: 2021-06-10 11:28:25
Muong Cha empowers youth for economic development
(VBSP News) Thanks to preferential loans, so far youth union members in Muong Cha district (Dien Bien) have gradually improved their family's economic conditions. Many youth union members, after receiving loans, have been active, determinedly invested in production and husbandry for an income of over VND 60 million/year.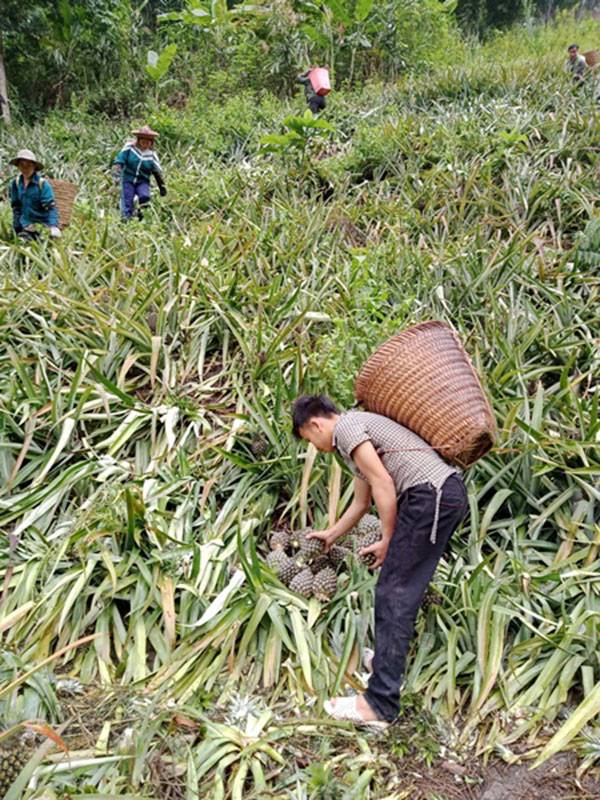 The model of growing more than 2 hectares pineapples of Ly A Thang's family in Co Du village, Na Sang commune earns more than VND 100 million per year.
Invest in production, animal husbandry, gradually improve the family economy
Understanding the need for economic development of the youth, for many years, the Executive Committee of Muong Cha District Youth Union has coordinated with district VBSP to provide preferential loans to youth union members implementing small production and business model such as growing pineapples, raising cattle and poultry.
After surveying the actual conditions of economic models owned by young people, realizing the high potential and feasibility of the models, every year, the district VBSP organizes disbursement according to capital needs of the youth union members under policy lending programs without collateral, low interest rate, 3-year loan duration, creating favorable conditions for young people to start and develop their own businesses to improve living standards.
According to Ms. Mua Thi Mai - Member of the Standing Committee of Muong Cha District Youth Union, up to now, credit from the district VBSP managed by the district's Youth Union is over VND 80 billion, with 51 Savings and credit groups and 1,897 active borrowing households. This is the funding source to support young people in production and business, poverty reduction, job creation and study. After many years of implementation, the youth union members used loans effectively, paid interest and principal on time, without any loss of capital. At the same time, the District Youth Union also regularly monitors and supervises the use of loans by households of youth union members to ensure that the capital is used for the right purposes and effectively.
"Up to now, thanks to preferential loans, in general, youth union members have gradually improved their family's economic conditions. Many youth union members, after receiving loans, have been active and determinedly invested in production and husbandry for an income of over VND 60 million/year", Mai said excitedly.
"In particular, it is worth mentioning the breeding model of garden ponds and stables of Tong Van Khuyen (Pa Ham commune) and the commercial model of pig farming of Tong Van An (Muong Tung commune), with an annual profit of VND 200 million. These are models with high economic efficiency applying many creative solutions, science and technology to production and will be selected and replicated by the District Youth Union in the near future" – a H'Mong ethnic female staff of the District Youth Union confirmed.
Supporting and replicating effective economic models for young people
It is known that in 2021, in addition to effectively deploying preferential loans to support young people for economic development, Muong Cha District Youth Union has supported the youth to start businesses in accordance with the characteristics and advantages of the Youth Union. Thereby, promptly detecting, supporting and replicating effective models of businesses in the locality, in association with expanding forms of honoring young people with outstanding achievements in career guidance, entrepreneurship and economic development.
On the other hand, the District Union have also promoted the program "Youth start-up"; organized activities to raise awareness, responsibility and knowledge of union officials at all levels about entrepreneurship; promoted activities of propaganda, inspiration, encouragement of young people to confidently start a business; searched, developed and supported innovative ideas of entrepreneurship among young people into practice.
Focusing on innovating approaches, consulting, training, communication, knowledge and skills for young people in starting a business, setting up a business, how to build an economic development model. Focus on implementing solutions to support rural youth to effectively implement the program "One commune, one product"; register to support young poor households to escape from poverty sustainably and build a capital support program for young people to start a business.
Looking back at the prosperous achievements in economic development of the youth union members of Muong Cha district in recent years, it can be said that the Youth Union in the district has effectively deployed preferential loans to help young people develop economy; at the same time, promoting the role of the Union, supporting youth union members to find jobs and increase income, thereby, attracting a large number of young people to join mass organizations, contributing to new rural construction and socio-economic development for the locality.
Pham Quynh
LENDING INTEREST RATE
Poor Households

Lending to poor households
6,6%/year
Lending to poor households in 64 poor districts as stipulated by the Government Resolution No.30a in 2008
3,3%/year

Near Poor Households

Lending to near poor households
7,92%/year

Students

Lending to disadvantaged students
6,6%/year

People in need of loans for job creation

Lending to business establishments owned by war invalids and handicapped persons
3,3%/year
Others...
DEPOSIT INTEREST RATE
Term
Deposit Rate
Overnight
3,04%/year
1 week
3,23%/year
2 week
3,5%/year
Others...