VISITORS







Client success stories
Updated: 2021-01-20 11:20:24
The devoted leader on the work
(VBSP News) Enthusiastic and trustworthy are characteristics used to describe Phung Van Lanh - leader of Savings and Credit Group in Long Tho Hamlet, Long Hoa Commune, Dau Tieng District (Binh Duong). Over the years, he has supported lots of poor households and other policy beneficiaries to have opportunities for improving economics and life standard by the credit policies programs.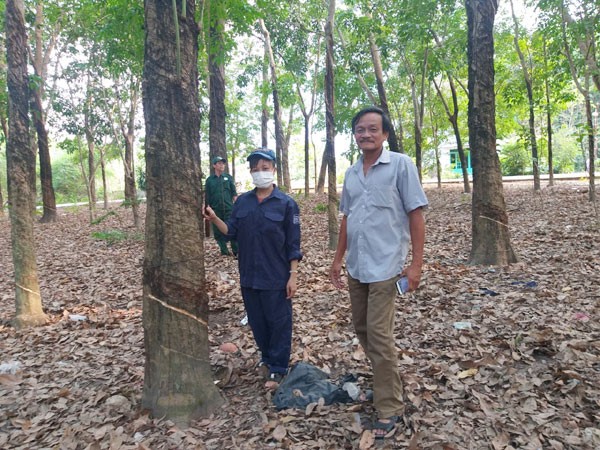 Phung Van Lanh visited and encouraged member of Savings and Credit Group
After meeting, it can be said that Lanh is an energetic, active and enthusiastic person with the preferential fund. He confided that understanding the trust of members as well as the responsibility of a leader, he tried to bring the capital to suitable objects, publicity, democratic and most effective.
Work with such ideals, in recent years, he along with members of the management board of Savings and Credit Group, always strictly follow the instructions of the VBSP, the People's Committee and the mass associations. Regard to group's activities, the management board has assigned specific tasks, organized activities regularly, with the required content quality as committed in the authorization contract, promptly implemented policies guidelines of the Party and State, as well as policy credit programs to the people.
During 8-years working as a leader, he regularly researched and firmly grasped the operational process of the bank. He also propagated and mobilized members to deposit savings; regularly monitored and guided borrowers to use the capital for the right purposes and effectively. Therefore, the Savings and Credit Group in Long Tho hamlet has well-implemented preferential credit programs for the poor and other policy beneficiaries with high quality and efficiency, which has no overdue debts. It has helped hundreds of poor households in the hamlet accessed to preferential credit policies quickly and favourably, which created more jobs, enhanced income, improved live standard, etc. Up to now, the Savings and Credit Group in Long Tho Hamlet has 60 members, fully accessing to many programs such as lending to poor households, near-poor households, households just escaping from poverty, etc.
Director of VBSP branch in Dau Tieng district, Mr. Tran Dang Khoa said that the total outstanding loans of the Savings and Credit Group in Long Tho village are managed 2.2 billion VND and no overdue debt. Savings deposit balance is 439 million VND with 100% of the borrowers have savings deposits. On average, each group member has 7.32 million VND in deposits. It is worth mentioning that with Lanh's strict inspection and supervision, the members all give consciousness to interest payment method, repayment on time as regulated. In particular, from the fund for creating jobs, there are 20 employees have been created jobs, contributing to increasing income, reduce unemployment, contribute to the development of economic models, production and business projects achieve high efficiency in the locality.
Enthusiasm and responsibility in the management of loans, well-implementing the contents authorized by banks, and determination to help people escape poverty, Phung Van Lanh has become a typical example, highly appreciated by VBSP in Dau Tieng district.
Vbsp.org.vn
LENDING INTEREST RATE
Poor Households

Lending to poor households
6,6%/year
Lending to poor households in 64 poor districts as stipulated by the Government Resolution No.30a in 2008
3,3%/year

Near Poor Households

Lending to near poor households
7,92%/year

Students

Lending to disadvantaged students
6,6%/year

People in need of loans for job creation

Lending to business establishments owned by war invalids and handicapped persons
3,3%/year
Others...
DEPOSIT INTEREST RATE
Term
Deposit Rate
Overnight
3,04%/year
1 week
3,23%/year
2 week
3,5%/year
Others...