VISITORS







News & Events
Updated: 2020-08-19 11:01:51
Escape from poverty thanks to VBSP's loans
(VBSP News) Mr. Giang A Sinh's family in Che Tao commune escaped from poverty thanks to VBSP's loans.
Che Tao commune in Mu Cang Chai district, is the most remote and disadvantaged mountainous commune of Yen Bai province. Recent investment in infrastructure has shortened the travel time from the district center to this commune. Commodity economy in combination with the Party's and Government's policy credit has been transforming people's awareness here while The Directive No. 40 further strengthened the Party's supervision on social policy credit for sustainable poverty reduction. Che Tao commune's Party Committee and People's Committee consider this an important political task and a responsibility, so the commune drastically directed policy credit to become more and more effective.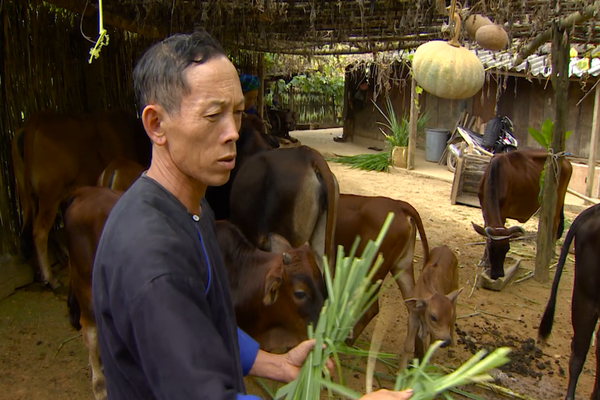 Mr. Giang A Sinh's family invested in buying cows, barn and grass
With a loan of VND 15 million from VBSP, Mr. Giang A Sinh's family in this commune spent VND 10 million to buy a cow and VND 5 million to invest in barn and grass. Cows were raised well, reproducing one, two, three and then four calves. During peak time, Mr. Sinh's family had 15 cows. He sold 1/3 of the herd to repay the bank loan and some family's needs and kept the rest for raising. Thanks to the Government's preferential capital, from a poor household, Mr. Giang A Sinh's family has escaped from persistent poverty.
"I am a leader of a Savings and Credit Group. For the others to know how to use the loans as effectively as I do, they have to learn how to raise cattle, plant grass and build cages from me. I watch over the group members, if anyone borrows a loan, he must be able to get better" Mr. Giang A Sinh said.
LENDING INTEREST RATE
Poor Households

Lending to poor households
6,6%/year
Lending to poor households in 64 poor districts as stipulated by the Government Resolution No.30a in 2008
3,3%/year

Near Poor Households

Lending to near poor households
7,92%/year

Students

Lending to disadvantaged students
6,6%/year

People in need of loans for job creation

Lending to business establishments owned by war invalids and handicapped persons
3,3%/year
Others...
DEPOSIT INTEREST RATE
Term
Deposit Rate
Overnight
3,04%/year
1 week
3,23%/year
2 week
3,5%/year
Others...