VISITORS







News & Events
Updated: 2020-07-16 15:13:27
Millions of households escape from poverty thanks to VBSP inclusive finance
(VBSP News) Almost VND 337 trillion (US$14.6 billion) has been loaned to more than 12 million households nationwide under the social policy credit programs over the past five years, helping improve local lives and reduce poverty, according to VBSP.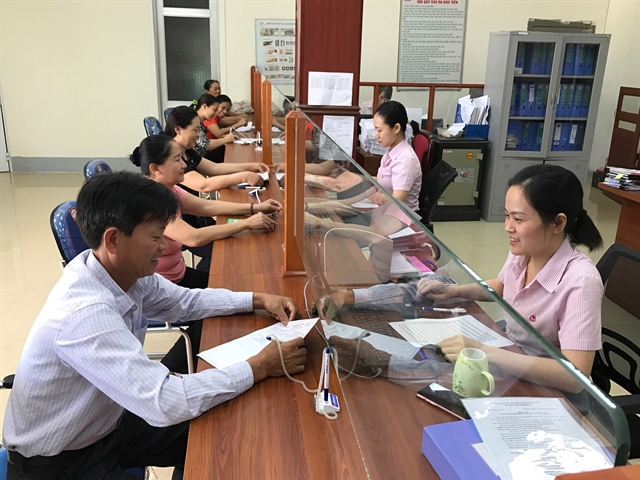 People in central Nghệ An Province register to borrow loans from VBSP
The statistics were revealed on Wednesday at a teleconference which reviewed the five-year implementation of the Secretariat's Directive No 40 on promoting the Party's leadership in social policy loans.
Thanks to the loan policy implemented since late 2014, more than 2.1 million households have escaped poverty. The percentage of poor households in multidimensional poverty fell from 9.88 per cent in 2015 to under 3 per cent this year.
"VietNam has accomplished UN Millennium Development Goals and has become a role model of poverty reduction and hunger alleviation for other developing countries," said Nguyen Van Binh, head of the Party Central Committee's Economic Commission.
Among socio-economic development policies of Viet Nam, social policy loans are seen as innovative and humane solutions relevant to Viet Nam's practical situation, he said.
The secretariat's directive which was issued in November 2014 on promoting the Party's leadership in social policy loans shows the special attention of the Party towards poor people, he added.
"The social policy credit is an important key to the national target program on sustainable poverty reduction. It has provided huge loans to poor people" Binh said.
Over the past five years, nearly 346,000 students accessed the loans to continue studying while more than 1.5 million gained employment, including 24,000 laborers going abroad to work. More than 7.3 million water supply and hygienic works in rural areas and nearly 142,000 houses for households and other beneficiaries were constructed. So far all localities nationwide have collaborated with the VBSP to provide the loans.
Tran Quoc Vuong, a standing member of the Party Central Committee's Secretariat, praised local authorities, the Vietnam Fatherland Front, State Bank of Vietnam and VBSP for effective implementation of Directive 40.
However, sustainable poverty reduction remains a challenge amid rapid international integration. Viet Nam faces risks of re-impoverishment due to natural disasters. State budget on poverty reduction is limited compared to increasing demands of the poor and other beneficiaries.
He urged more effective implementation of social policy loans to support poor and disadvantaged people in the context of diseases and climate change which have affected local production and livelihoods, especially those from ethnic minority groups and living in mountainous remote areas in northern and Mekong Delta provinces. He highlighted the importance of mobilizing sources from businesses and social organizations in providing loans.
vietnamnews.vn
LENDING INTEREST RATE
Poor Households

Lending to poor households
6,6%/year
Lending to poor households in 64 poor districts as stipulated by the Government Resolution No.30a in 2008
3,3%/year

Near Poor Households

Lending to near poor households
7,92%/year

Students

Lending to disadvantaged students
6,6%/year

People in need of loans for job creation

Lending to business establishments owned by war invalids and handicapped persons
3,3%/year
Others...
DEPOSIT INTEREST RATE
Term
Deposit Rate
Overnight
3,04%/year
1 week
3,23%/year
2 week
3,5%/year
Others...