VISITORS







News & Events
Updated: 2020-07-06 16:55:43
Online conference to deploy tasks of the last 6 months of 2020
(VBSP News) On July 4, 2020, in Hanoi, VBSP held a conference to deploy the tasks for the last 6 months of 2020. General Director Duong Quyet Thang chaired Conference with online meeting points in VBSP branches in provinces and cities across the country.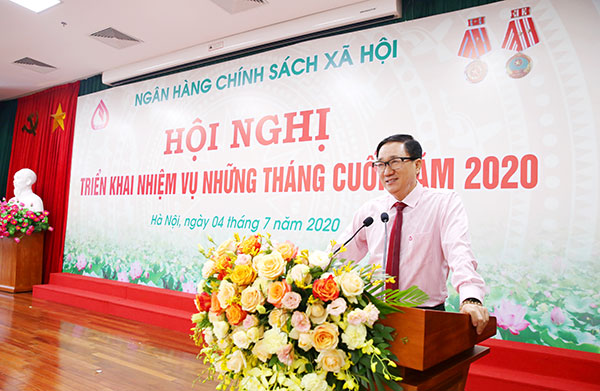 General Director Duong Quyet Thang speaks at the Conference
Attending the meeting were representatives of Central Inspection Committee, Central Organization Committee, Ministry of Home Affairs, Party Committee of State-owned enterprises and the State Bank of Vietnam.
Speaking at the Conference, General Director Duong Quyet Thang emphasized: In the first six months of 2020, due to complicated weather conditions, especially drought and saltwater intrusion in the Mekong Delta, the Covid-19 pandemic spread causing unpredictable, negatively impacts on the socio-economic development on a global scale in general and in Vietnam in particular. In this context, VBSP actively followed the directives and resolutions of the Prime Minister, SBV and the BOD of VBSP to lead and direct the entire system to perform assigned tasks and targets and achieve positive results.
As of June 30, 2020, the total policy credit capital reached VND 226,560 billion, increased by VND 14,666 billion compared to December 31, 2019.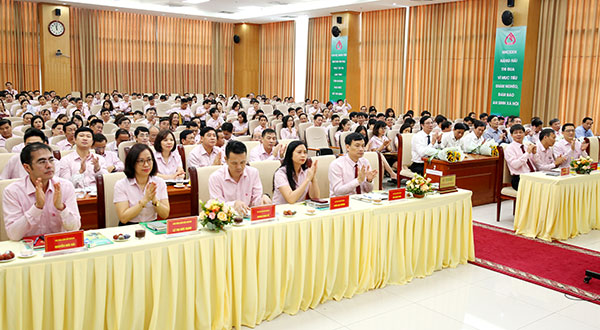 Delegates attending the Conference
Total outstanding loans as of June 30, 2020 reached VND 219,565 billion, an increase of VND 12,760 billion (+ 6.2%) compared to the end of 2019, with over 6.5 million active poor households, near-poor households and others policy beneficiary borrowers. The ratio of overdue and frozen debts accounted for 0.70% of the total outstanding loans, of which overdue debts accounted for 0.25% of the total outstanding loans.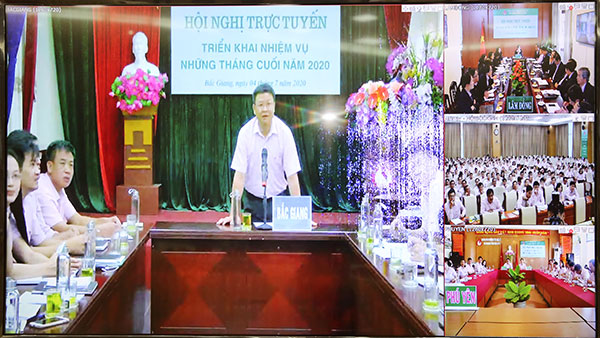 Participants at the meeting points
The total lending in the first 6 months was 42,583 billion VND reaching nearly 1.2 million poor households, near-poor households, newly escaped from poverty households and other policy beneficiaries. Total debt collection was VND 29,670 billion. Policy credit has contributed to timely supporting production and business, creating jobs for nearly 216 thousand laborers, of which 1.9 thousand workers went to work abroad for a definite term; helping nearly 9 thousand turns of disadvantaged students; building 770 thousand clean water and sanitation works in rural areas; 11.5 thousand houses for policy beneficiaries ...
Regarding the tasks in the last 6 months, the General Director emphasized that 2020 is the last year to implement the VBSP Development Strategy under Decision No. 852 / QD-TTg dated July 10, 2012 of the Prime Minister, therefore all VBSP units need to review tasks in accordance with the Strategy, review and develop strategy for the period of 2021 - 2030.
In addition, the whole system continues to advise the Party Committees and local authorities at all levels to well implement Directive No. 40-CT / TW of November 22, 2014 of the Party Central Committee's Secretariat, focusing on strengthening local resources to support the implementation of multi-dimensional poverty reduction, social security, new rural construction and timely support people affected by the Covid-19 pandemic, drought and saline water intrusion in the Mekong Delta, hail in the northern provinces etc. At the same time, timely disburse loans to meet the needs of poor households and policy beneficiaries.
Focusing on directing and strengthening credit quality, especially, for branches with low or unstable credit quality. Continuing to closely coordinate with the authorities and mass organizations to monitor and promptly record the damage caused by the impact of the Covid-19 pandemic and the drought and saltwater intrusion in the Mekong Delta region to implement solutions and timely support poor households and other policy beneficiaries to stabilize their life and business.
At the Conference, VBSP Emulation and Reward Council announced the Commendation Decision of the General Director to units with outstanding achievements in implementing the tasks in the first quarter and the first 6 months of 2020.
VBSP
LENDING INTEREST RATE
Poor Households

Lending to poor households
6,6%/year
Lending to poor households in 64 poor districts as stipulated by the Government Resolution No.30a in 2008
3,3%/year

Near Poor Households

Lending to near poor households
7,92%/year

Students

Lending to disadvantaged students
6,6%/year

People in need of loans for job creation

Lending to business establishments owned by war invalids and handicapped persons
3,3%/year
Others...
DEPOSIT INTEREST RATE
Term
Deposit Rate
Overnight
3,04%/year
1 week
3,23%/year
2 week
3,5%/year
Others...