VISITORS







News & Events
Updated: 2020-06-12 16:15:29
Efficiency of loans for job creation
(VBSP News) From loans for job creation of VBSP Lai Chau province, thousands of households have borrowed and used loans effectively to develop family economy. Thereby, contributing to creating jobs, reducing poverty, contributing to stabilizing life and raising incomes for people.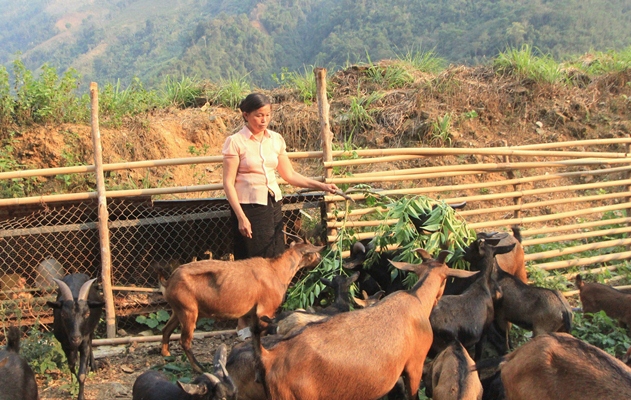 With the loan, Ms. Lo Thi Danh in Phieng Luong 1 village, Nam Hang commune, Nam Nhun district started developing a goat raising model that brought high income.
Identifying loans for job creation is one of the important channels to support people with "fishing rods" to promote economic development and sustainable poverty reduction. In recent years, VBSP Lai Chau province has implemented timely and publicly the Job creation lending program in 108 Commune Transaction Points in the province. At the same time, coordinating with provincial and commune authorities and mass organizations to promote communication, guidance and create the most favorable conditions for the people to access loans.
Currently, the capital for job creation is mainly from the central government and under the designation of the provincial and district People's Committees. By the end of May, 2020, the outstanding loans for job creation in the province reached nearly VND 173 billion with 3,865 borrowers. The capital is mainly invested in animal husbandry, cultivation and trading. Since then, the program has helped creating jobs for thousands of unemployed and underemployed laborers; developing small and medium-sized businesses, maintaining and developing traditional craft villages in the area such as weaving, sewing, brocade; processing rice vermicelli, rice cakes etc., in districts of Phong Tho, Tam Duong and Than Uyen.
Pa Tan is the only border commune of Sin Ho district, with high rate of poor households. Up to now, the district VBSP has supported 21 households to borrow loans for job creation with total outstanding loans of nearly VND 1.2 billion. The borrowed households have invested in buying trees, breeding animals, cultivating and buying machines to expand production and business.
Many typical examples of households with income of hundreds of millions of dong per year have appeared. For example, in 2018, Vu Thi Ngoc's family in An Tan village borrowed VND 50 million from VBSP to invest in buying 15 breeding pigs, more than 200 chickens and ducks, and renovating and constructing cages. The capital has boosted the family economy making its income about VND 100 million per year.
Deputy Director of VBSP Lai Chau Nguyen Thanh Ha said: "The loan for job creation has actually created income and stabilize people's lives. However, funding source is still limited, each year the central, provincial and district budgets does supplement this capital but it is very little, mainly revolving existing fund while the demand for loans is huge. Therefore, in order to meet people's needs, in the coming time, VBSP hopes that all authority levels will create favorable conditions and transfer additional funding from the provincial budget to VBSP for effective lending".
In order to help people access conveniently and use loans effectively, in the coming time, the provincial VBSP promotes communication on job creation program in particular and loan programs in general for people to know the loan process and apply when needed. Coordinate with mass organizations to well perform job counseling, lending orientation and loan utilization.
Vuong Trang
LENDING INTEREST RATE
Poor Households

Lending to poor households
6,6%/year
Lending to poor households in 64 poor districts as stipulated by the Government Resolution No.30a in 2008
3,3%/year

Near Poor Households

Lending to near poor households
7,92%/year

Students

Lending to disadvantaged students
6,6%/year

People in need of loans for job creation

Lending to business establishments owned by war invalids and handicapped persons
3,3%/year
Others...
DEPOSIT INTEREST RATE
Term
Deposit Rate
Overnight
3,04%/year
1 week
3,23%/year
2 week
3,5%/year
Others...