VISITORS







News & Events
Updated: 2020-05-15 16:49:08
Farmers create a considerable fortune from preferential loans
(VBSP News) Through loans from VBSP, thousands of poor farmers' members in Ha Giang province have conditions to borrow capital, develop agricultural production, and raise incomes.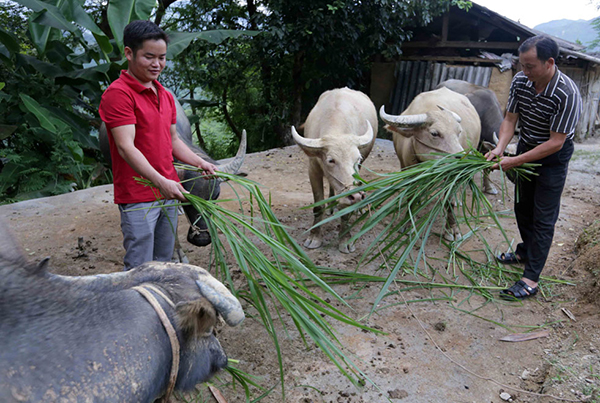 Ha Giang farmers use preferential loans to develop buffalo raising
Overcoming poverty thanks to preferential loans
Mr. Phung Can Sai in Ban Khun village, Yen Cuong commune, Bac Me district is known as one of typical examples of farmers overcoming difficulties, rising steadily to get out of poverty sustainably thanks to effective use of preferential loans.
With the goal of accompanying farmers in economic development, Ha Giang Farmers Association has strengthened cooperation with banks, including VBSP to improve credit quality to help members have more capital to develop production and raise income.
Through the Bac Me district Farmers' Association, Mr. Sai borrowed0 50 million VND from VBSP to invest in building barns and buying buffaloes and cows to raise. Every year, his family earns VND 40 million from selling buffaloes and cows.
Notably, not only enriching his family, Mr. Sai also shared his experiences and guidance on breeding techniques for villagers to get rich. He also mobilized people to pay interest and principal on time.
Also rising from the VBSP loans, Ms. Nong Thi Tuoi in Ha Son 1 village, Lac Nong commune, Bac Me district said: "For rural people, to develop production, the most difficult thing is initial investment capital; because if borrowing from other commercial banks, the production efficiency is not enough to pay interest. Fortunately, thanks to the preferential loan of VBSP, my family has a chance to develop family economy ".
Mr. Trieu Can Diet - Head of Ban Khun village, Yen Cuong commune, said: "Currently, the village has 70/130 households borrowing from VBSP district. In 2019, the village was very honored to have the family of Mr. Phung Can Sai awarded by the General Director of VBSP for achievements in using policy credit in the implementation of sustainable poverty reduction goals in 2016 – 2020".
Create premises for farmers to develop
According to the Ha Giang Farmers' Association report: As of March 31, 2020, the total outstanding loans entrusted by VBSP of the Farmers' Association in the whole province was over VND 800 billion, facilitating 22,152 households to borrow; overdue debt was 0.12%. From the preferential loans, the poor members have more capital to invest in production, economic development, to meet living needs, have conditions for their children to study and develop; contribute to improving income, stabilizing life, gradually rising out of poverty.
Some districts have done a good job of mobilizing deposits from organizations and people, well implemented the high rate of debt and interest collection such as Bac Quang, Meo Vac, Yen Minh and Quang. Binh, Hoang Su Phi, Quan Ba ​​...
Mr. Tran Xuan Thuy - Chairman of Farmer's Association of Ha Giang Province said: "Not only helping the members rise up their lives, through loan management, the Farmers' Association at all levels be trained to develop professional skills of association work, timely grasp the thoughts and aspirations of the members at grassroots level. Thus, build appropriate plans and measures to create cohesion between members and the Association."
According to Mr. Thuy, along with investment resources, the provincial Farmers' Association has opened vocational training courses, guiding breeding and cultivation techniques, supporting members to access scientific and technological advances and promote product consumption. Therefore, arouse the spirit of creativity, dynamism in business of members.
In 2019, the Association built 51 effective economic models; 84 professional associations, helping farmers' members to expand production scale, diversify crops and animals, associate production and consumption of agricultural products, bring the movement of good production and business farmers into practice.
Duc Thinh
LENDING INTEREST RATE
Poor Households

Lending to poor households
6,6%/year
Lending to poor households in 64 poor districts as stipulated by the Government Resolution No.30a in 2008
3,3%/year

Near Poor Households

Lending to near poor households
7,92%/year

Students

Lending to disadvantaged students
6,6%/year

People in need of loans for job creation

Lending to business establishments owned by war invalids and handicapped persons
3,3%/year
Others...
DEPOSIT INTEREST RATE
Term
Deposit Rate
Overnight
3,04%/year
1 week
3,23%/year
2 week
3,5%/year
Others...