VISITORS







News & Events
Updated: 2020-04-21 15:24:26
Near-poor households effectively use loans
(VBSP News) In the past, when poor households were entitled to many preferential credit policies, near-poor households did not receive any.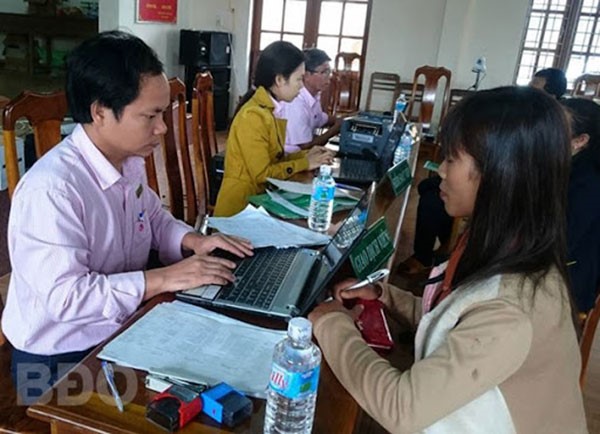 VBSP Binh Dinh Province disburses loans at a Commune Transaction Point
Near-poor households often do not have economic potential, lack of capital for production, thus, have not been able to escape poverty. Therefore, it is necessary to expand and implement preferential credit policies to support near-poor households and those who have just escaped from poverty.
The boundary between poor and near poor households is very fragile. With small, fragmented production or business that depend heavily on weather, after a disease, natural disaster, sickness or children going to school, the near-poor household would run out of capital for production
By the time of loan maturity, if the bank collects both principal and interest, these households will no longer have resources for reinvestment, therefore, easily falling back into poverty. After nearly 6 years implementation of the lending policy to near-poor households has addressed the thirst for capital of many near-poor households in the district.
Ms. Nguyen Thi Loan in Thang Kien hamlet, Cat Khanh commune, Phu Cat district (Binh Dinh) said: In 2018, my family was a near-poor household with unstable income and in need of capital. We were supported by local authorities and mass organisations to borrow VND 50 million from the Lending program for the near- poor of VBSP Phu Cat district to buy two breeding cows.
Up to now, the family has 5 cows and has escaped from poverty sustainably and afford to buy essential facilities for the family. Similarly, Ms. Pham Thi Kim Dung in Long Hau village, Cat Thang commune, in 2017, borrowed VND 50 million from the program of the near poor of VBSP Phu Cat district to buy 3 breeding cows. Now her family has 7 cows.
The Program of lending to near - poor households right from the beginning has received high consensus of local authorities and the people in the district. VBSP already has transaction points at commune level, so it is very convenient to monitor and disburse loans. Through examining, all borrowing households use loan effectively for the right purposes.
In addition, VBSP also cooperates with mass organizations from district to grassroots level, poverty reduction committees, Savings and Credit Groups to promote credit policies propaganda and ensure loans come to right beneficiaries on time.
In order for the policy capital to continue being effective, local authorities and relating agencies should continue guiding households to do business, restructure crops and animals to meet local and market needs.
VBSP
LENDING INTEREST RATE
Poor Households

Lending to poor households
6,6%/year
Lending to poor households in 64 poor districts as stipulated by the Government Resolution No.30a in 2008
3,3%/year

Near Poor Households

Lending to near poor households
7,92%/year

Students

Lending to disadvantaged students
6,6%/year

People in need of loans for job creation

Lending to business establishments owned by war invalids and handicapped persons
3,3%/year
Others...
DEPOSIT INTEREST RATE
Term
Deposit Rate
Overnight
3,04%/year
1 week
3,23%/year
2 week
3,5%/year
Others...