VISITORS







News & Events
Updated: 2020-04-17 15:10:17
Supporting disadvantaged households to restore production and business
(VBSP News) In the situation of complicated Covid-19 epidemic and in implementing the direction of the Prime Minister, the State Bank, Hanoi City and VBSP to ensure "no one left behind", the reporter came to see some poor households and policy beneficiaries in Hanoi who borrowed policy loans and affected by Covid-19 epidemic.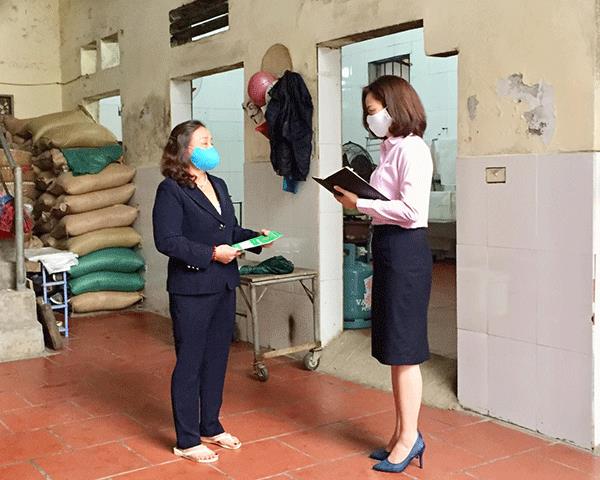 Those who borrowed policy loans and affected by Covid-19 epidemic will receive loan extension and get new loans for production, business and life stabilization.
Go to door of each household who needs support
Following a small road in Block 13, Phu Do Ward, Nam Tu Liem District, we went to Nguyen Thi Thom's family, who is in need of policy loans to restore noodle production. Ms. Thom said that the main source of income for the family is noodle production. However, during the last time, due to effects of Covid-19 epidemic, markets were restricted, shops were closed, and people stayed at home so the amount of noodle sold was very low. The family stopped production
While talking, Ms. Thom kept cleaning noodle trays and the machinery system as if she had not been in production for a long time. "Now the family's income is almost none, the whole family only lives with a little money from savings, if the disease lasts longer, we do not know how to live. When the epidemic passed, the family still worried about capital to continue producing. We expect the city and VBSP help us to extend the old debt and lend us about VND 50 million more to restore production".
Not only her family is struggling due to the effects of the Covid-19 epidemic, Nguyen Thi Huyen's family who owns a garment shop at the residential group No. 13, Phu Do ward, Nam Tu Liem district is also in trouble as she can hardly sell any product. Ms. Huyen expressed that for individual business households who had previously borrowed VBSP in Hanoi and debt maturity is due, receiving the bank's loan extension is very precious. Her family at this moment hope the city and the bank will provide her a loan of about VND 100 million to maintain production and business, overcome difficulties, caused by the impact of the epidemic.
According to the Chairman of the Women's Union of Phu Do Ward, Le Thi Phuong, there are currently over 1,300 small businesses in the ward; in which, 200 households producing noodles, 300 noodle trading businesses and more than 400 households selling clothing, footwear and school supplies. Following the direction of the Party Committee and the People's Committee of Phu Do ward, the Union coordinated with local authorities to review and make a list of households affected by the Covid -19 epidemic. Accordingly, there are 375 households reported to be directly affected by the Covid-19 epidemic who got loans from VBSP Nam Tu Liem district.
The People's Committee of Phu Do Ward will coordinate with VBSP Nam Tu Liem District to help the households overcome difficulties in the context of complicated disease outbreaks. In particular, as soon as the city has information on the entrusted capital to VBSP in Hanoi to support poor households and other policy beneficiaries to get loans due to the impact of the Covid-19 epidemic, local authorities and mass organizations will inform households through various means of communication and cooperate with VBSP to help the households rapidly access loans to overcome difficulties in this period.
Timely support
Implementing the direction of the Prime Minister, the State Bank, Hanoi City and the General Director of VBSP, VBSP Hanoi actively coordinated with local authorities, mass organizations and Savings and Credit groups in the area to review and understand the situation of borrowers affected by the disease and have difficulty repaying loans. As of March 31, 2020, VBSP has extended and adjusted loan duration for 3,380 customers with total loan outstanding of of VND 126 billion.
Vice Chairwoman of Hanoi People's Council Phung Thi Hong Ha said the Standing Committee of Hanoi City People's Council has issued a written agreement in principle with the People's Committee's proposal to add VND 650 billion funding to VBSP to carry out the urgent task of helping households affected by Covid -19. VBSP Hanoi will promptly advise all bank offices to help people immediately access loan to maintain production and business and ensure soon recovery from impacts of the epidemic.
Nguyen Thang
LENDING INTEREST RATE
Poor Households

Lending to poor households
6,6%/year
Lending to poor households in 64 poor districts as stipulated by the Government Resolution No.30a in 2008
3,3%/year

Near Poor Households

Lending to near poor households
7,92%/year

Students

Lending to disadvantaged students
6,6%/year

People in need of loans for job creation

Lending to business establishments owned by war invalids and handicapped persons
3,3%/year
Others...
DEPOSIT INTEREST RATE
Term
Deposit Rate
Overnight
3,04%/year
1 week
3,23%/year
2 week
3,5%/year
Others...