VISITORS







News & Events
Updated: 2020-04-13 15:24:56
Khmer people in Tra Vinh Province escaped from poverty thanks to VBSP's loans
(VBSP News) The Mekong Delta province of Tra Vinh has provided loans of more than VND46 billion (US$1,953) to ethnic Khmer people for growing vegetables and raising cattle since 2016. It enabled 2,559 households, especially poor ones, escape from poverty.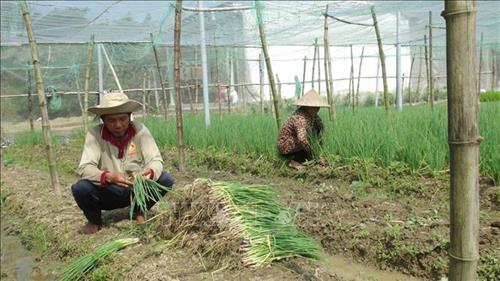 Customer Thach Vo, an onion farmer in Tra Vinh Province's Duyen Hai District, has escaped from poverty after getting a loan from VBSP
Thach Thi Dung of Cau Ke District's Hoa Tan Commune is among those who climbed out of poverty thanks to a loan of VND 8 million from VBSP. She used this loans to improve the soil in her land and switch to vegetable cultivation from rice. Now, three years later, she earns an income of VND 3.5 –VND 4 million a month.
Thach Vo's family in Duyen Hai District got a loan and began to grow vegetables, and now earns VND 80–100 million a year.
The province spent another VND 18 billion (US$762,380) on works to improve the socio-economic status of the Khmer in Tra Cu District.
Kim Ngoc Suong, head of the district People's Committee's division for ethnic minority people's affairs, said VND 14.5 billion was spent to upgrade 18 streets, the drainage system and a cultural house. The rest of the money was used to lend to disadvantaged Khmer households for cultivating vegetables and breeding cattle, she said.
The population of the district is 62 per cent Khmer compared to 31.5 in the province. Since 2018 alone the number of poor Khmer households in the province has reduced by 10,000.
vietnamnews.vn
LENDING INTEREST RATE
Poor Households

Lending to poor households
6,6%/year
Lending to poor households in 64 poor districts as stipulated by the Government Resolution No.30a in 2008
3,3%/year

Near Poor Households

Lending to near poor households
7,92%/year

Students

Lending to disadvantaged students
6,6%/year

People in need of loans for job creation

Lending to business establishments owned by war invalids and handicapped persons
3,3%/year
Others...
DEPOSIT INTEREST RATE
Term
Deposit Rate
Overnight
3,04%/year
1 week
3,23%/year
2 week
3,5%/year
Others...