VISITORS







News & Events
Updated: 2020-04-09 15:11:51
Preferential credit helps the poor increase income
(VBSP News) In recent years, thanks to access to preferential capital from VBSP to expand production and business, thousands of disadvantaged households in Da Nang City have had jobs, business and stable incomes.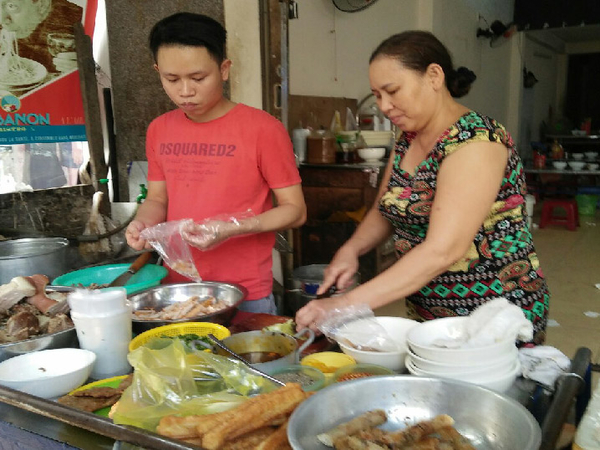 Ms. Hoang Thi Hanh in Thach Thang Ward, Hai Chau District (Da Nang City) borrows a policy loan to open a Banh canh shop and has a stable job.
More than 50% of outstanding loans for job creation
Director of VBSP Da Nang Doan Ngoc Chung said that the branch always followed local socio-economic development direction to build an appropriate lending plan. Especially, among lending programs of VBSP, the lending program for job creation has achieved remarkable results.
Policy capital helps thousands of households have jobs and stable incomes
By the end of 2019, the total capital of policy credit programs of VBSP Da Nang City reached VND 2,402 billion, an increase of VND 370 billion compared to 2018, of which allocated capital from the Central reached VND 1,520 billion, accounting for 63% of total capital source and local trusted capital reached VND 882 billion, accounting for 37% of total capital. Total outstanding loans reached VND 2,398 billion, an increase of VND 370 billion compared to 2018, reaching and exceeding the plan set by the City Resolution, with 67,311 active customers.
In the first months of 2020, VBSP Da Nang has had more than 5,800 customers who are entitled to borrow loans, creating and maintain stable jobs for more than 4.3 thousand workers.
"Efficient use of preferential capital has helped create jobs for many workers, supporting production and business establishments and households to expand production. Outstanding loans for job creation of VBSP as of the end of 2019 are VND 1,275 billion, accounting for 53% of total outstanding loans" Mr. Doan Ngoc Chung emphasized.
As a dynamic city, creating jobs for workers, including rural workers is an important concern, in recent years, the Representative of Board of Directors of VBSP in Da Nang City has had specific directions aiming to direct policy capital to create jobs and generate income for laborers, especially rural laborers.
Contribute to repelling illegal lending
In recent years, the innovative job creation program has been highly appreciated and supported by customers, the people and authorities. Capital comes to the right subjects, used with right purposes, and being paid on time, leading to well revolving capital.
Ms. Hoang Thi Hanh from Thach Thang Ward, Hai Chau District shared: "Previously, I had a lot of economic difficulties, because I had no capital to do business, so my family life was not good. VBSP lent me VND 70 million, my family opened a Banh canh shop, made a living and so we settled down ... ".
Mr. Doan Ngoc Chung, Director of VBSP Da Nang, emphasized that social policy credit continues to be an effective economic tool in implementing the goal of rapid and sustainable multi-dimensional poverty reduction, developing the city towards direction of Da Nang City. Policy credit activities have always received great attention from the City Party Committee, City People's Committee, mass organizations and local authorities.
Currently, policy credit has been invested to 100% of communes and wards. Beneficiaries have access to the State's preferential credit capital to invest in developing production and business, creating jobs, boldly borrowing and using capital effectively to increase incomes, improve the quality of life and rise out of poverty.
Through policy credit programs, beneficiaries have capital timely to invest in production development, livelihoods, job creation and covering expenses to meet the essential needs of life. Therefore, contributing to preventing usury, "Mr. Doan Ngoc Chung emphasized.
In 2019, VBSP Da Nang has helped 4,202 turns of poor and near-poor households to borrow capital for production and business, improve their livings, and sustainably escape poverty; maintain and create new jobs for 16,197 employees. In addition, 1,436 students are entitled to loans to cover learning costs; 2,918 clean water works and 2,842 sanitation facilities are invested by policy loans.
Doan Hong - Tran Hau
LENDING INTEREST RATE
Poor Households

Lending to poor households
6,6%/year
Lending to poor households in 64 poor districts as stipulated by the Government Resolution No.30a in 2008
3,3%/year

Near Poor Households

Lending to near poor households
7,92%/year

Students

Lending to disadvantaged students
6,6%/year

People in need of loans for job creation

Lending to business establishments owned by war invalids and handicapped persons
3,3%/year
Others...
DEPOSIT INTEREST RATE
Term
Deposit Rate
Overnight
3,04%/year
1 week
3,23%/year
2 week
3,5%/year
Others...