VISITORS







News & Events
Updated: 2020-04-16 13:52:50
VBSP's financial service becomes a motivation for poverty alleviation
(VBSP News) Thanks to VBSP's financial service, the poor in Chi Dao commune, Lac Son district (Hoa Binh province) escaped from poverty and gradually became better off.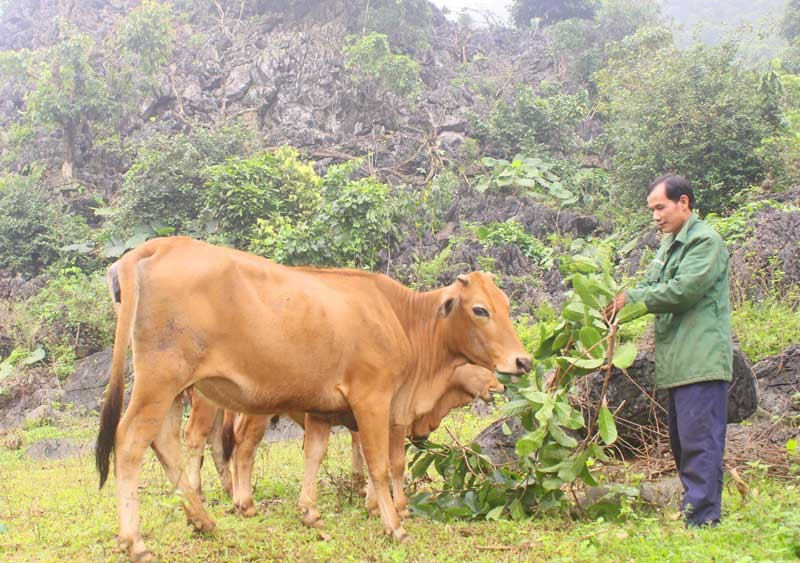 Customer Bui Van Nhan borrowed VBSP's loans to raise cows
Chi Dao is an extremely difficult commune in Lac Son district. However, in recent years, this commune has positively changed thanks to the considerable contributions from VBSP.
Chairman of People's Committee in Chi Dao commune Bui Van Luyen said "VBSP's policy credit plays an important role in local socio-economic development. From VBSP's loans, borrowers could buy buffaloes, cows and pigs to improve their livelihoods. Thanks to the effective use of loans, the lives of local residents have become better. In 2019, the average income of the commune reached VND 27.4 million/person/year and the poverty rate is currently more than 20%.
Total outstanding loans from VBSP of Chi Dao commune are nearly VND 11 billion with more than active 500 borrowers and 13 Savings and Credit groups. In particular, the loans for the poor and near-poor households programs account for the largest amount, followed by housing for the poor, production and business households living in extremely disadvantaged areas program. Farmers' Association in the commune has outstanding loans of more than VND 2.2 billion, lending to 87 members. Mr. Bui Van Huy, Chairman of the Farmers' Association said "Thanks to the good supervision, support and guidance for borrowers in production and business, the members have used the loans effectively, many households have developed economic models, bringing the stable income. In particular, the economic model of Bui Van Nhan's family in Be Duoi hamlet is a typical example".
The model of raising goats, cows and chickens of Mr. Nhan built on a high mountain range in Be Below hamlet. In 2017, his family borrowed VND 20 million from the VBSP's near-poor household lending program to buy 2 cows. In addition, taking advantage of the mountainous terrain, his family also raised mountain goats and native chickens. He said "Not only my family but also many other households who borrow loans from VBSP buy buffaloes, cows or pigs to improve their livelihoods. This is a motivation for us to escape from poverty and become better off gradually".
Be Duoi Hamlet has 2 Savings and Credit Groups. Mr. Nhan is a group leader of 44 households with the outstanding loan of nearly VND 1.1 billion. Thanks to the right investment, all households pay their principals and interests on time.
The VBSP's loans have become a driving force for poverty reduction in Chi Dao commune. "We want VBSP to increase the loan sizes for credit programs, especially the poor, near-poor households, job creation and newly escaped from poverty households program so that we can improve their livelihoods and stabilize their lives", Mr. Bui Van Luyen shared.
vbsp.org.vn
LENDING INTEREST RATE
Poor Households

Lending to poor households
6,6%/year
Lending to poor households in 64 poor districts as stipulated by the Government Resolution No.30a in 2008
3,3%/year

Near Poor Households

Lending to near poor households
7,92%/year

Students

Lending to disadvantaged students
6,6%/year

People in need of loans for job creation

Lending to business establishments owned by war invalids and handicapped persons
3,3%/year
Others...
DEPOSIT INTEREST RATE
Term
Deposit Rate
Overnight
3,04%/year
1 week
3,23%/year
2 week
3,5%/year
Others...