VISITORS







News & Events
Updated: 2020-04-20 15:11:10
Loans contribute to job creation
(VBSP News) Over the years, from VBSP's loans to create jobs, hundreds of households have been empowered to develop economic models, create jobs and raise incomes.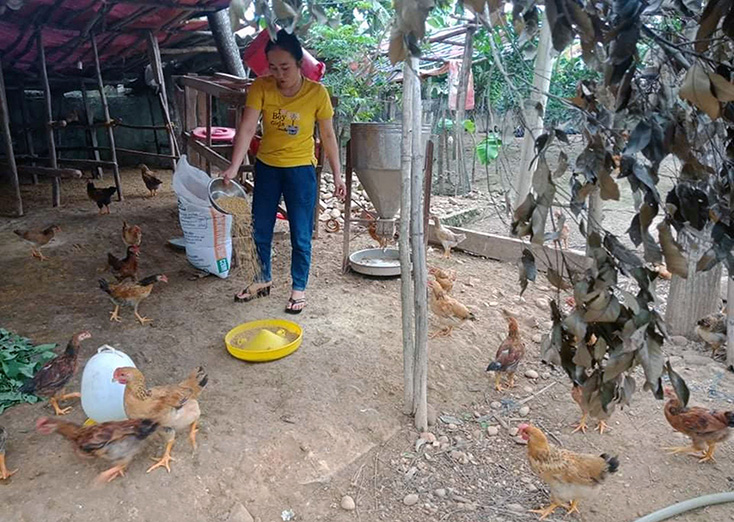 Ms. Doan Thi Huong in Quang Luu commune borrowed money to invest in husbandry
In 2019, Doan Thi Huong in Van Tien hamlet, Quang Luu commune borrowed VND 80 million from the Job Creation Program of VBSP Quang Trach to develop a breeding model. From the initial capital, Huong invested in building cages for pigs and chickens.
At first, being lack of experience, her family business had many difficulties. She then actively participated in training courses on animal husbandry techniques organized by all mass organisations and learn from local experienced people to adapt to her family production practices.
Working hard day and night, after 1 year, her family's integrated farm model has gained encouraging results. Currently, Ms. Huong's farm regularly has more than 100 chickens, 20 porkers, and 2 breeding pigs. Each year, she earns more than VND 100 million from selling chickens and pigs.
For Ms. Phan Thi Huong's household in village 6, Quang Thach commune, the preferential loan helped her family overcome difficulties. In 2017, through the Job Creation Program of VBSP Quang Trach district, Huong's family borrowed VND 50 million to build cage for raising breeding cow.
With a stable income of more than VND 30 million/year, after a period of developing her business, she can not only afford her children to study but also pay off the initial loan. Currently, she is provided with another loan of VND 50 million from the district VBSP to expand her breeding facilities.
Glad with the achievement, Huong confided: "The preferential loan has given my family the opportunity to expand production, develop family economy, and thereby stabilize our lives."
Not only households in Quang Luu commune, many households in other localities in Quang Trach district have effectively used the capital to create jobs. Vice Chairwoman of the Women's Union of Quang Trach District Nguyen Thi Hong Thanh shared: Currently, the Union is managing VND 5.2 billion loan outstanding from the Job Creation Program with active 141 borrowers. This capital source is focused mainly on developing business and production, expanding production scale, building models of animal husbandry and cultivation. The Job Creation Program has enabled many women members to boldly build economic models, improve their lives and contribute to sustainable poverty reduction.
Mr. Tran Thi Thu Nga, Deputy Director of VBSP Quang Trach district, said that understanding job creation loans to be one of the important channels to support the people in the area developing business and production models, VBSP has promptly implemented the policy and timely transferred capital to beneficiaries.
This source of capital has contributed to creating jobs, restoring traditional handicrafts, supporting production and business establishments and households to expand production, increase income and improve living standards for workers. Currently, the total outstanding loans of Job Creation Programs in Quang Trach district is VND 16.7 billion with 455 active household borrowers.
In order for loans of the Job Creation Program to be effective, the VBSP in Quang Trach district has cooperated with mass organizations to take initiative in management and allocation of capital. Priority investment is made for labor-intensive programs and projects. The implementation of the Program is in accordance with regulations, professional process. After disbursing capital, the bank has close coordination with the network of Savings and Credit group, regularly supervising members to ensure that the capital is used for the right purposes and effectively. VBSP also strengthens surveillance, debt collection to speed up loan cycle to create more opportunities for laborers in need of capital to create jobs.
Lan Chi
LENDING INTEREST RATE
Poor Households

Lending to poor households
6,6%/year
Lending to poor households in 64 poor districts as stipulated by the Government Resolution No.30a in 2008
3,3%/year

Near Poor Households

Lending to near poor households
7,92%/year

Students

Lending to disadvantaged students
6,6%/year

People in need of loans for job creation

Lending to business establishments owned by war invalids and handicapped persons
3,3%/year
Others...
DEPOSIT INTEREST RATE
Term
Deposit Rate
Overnight
3,04%/year
1 week
3,23%/year
2 week
3,5%/year
Others...