VISITORS







News & Events
Updated: 2020-04-23 15:57:52
Policy credit has made important changes over the years
(VBSP News) "Policy credit has made important changes in changing people's perceptions and livelihoods. Instead of using a free subsidy policy, they were conscious of repaying their debts. This resource helps them get loans, access technology transfer and improve their livelihoods. Therefore, their living conditions are improved and they can sustainably escape from poverty" Politburo member, Secretary of Party Central Committee (PCC) and Head of the PCC's Commission for Mass Mobilization Truong Thi Mai said.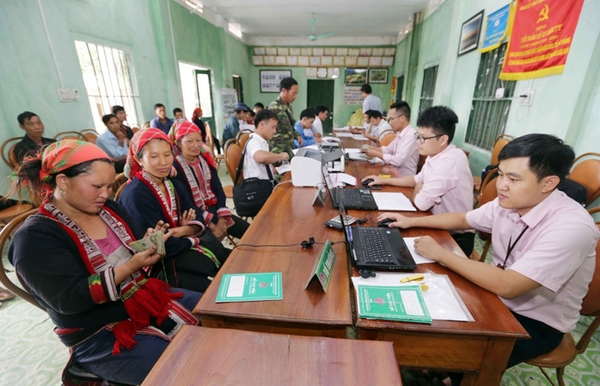 The operation of VBSP at commune transaction points has helped the poor and other last-mile populations to access loans more easily and conveniently
"Policy credit for the poor is one of the most important policies in poverty reduction". This is the comment of the National Assembly and Government to compliment on the 17-year meaningful and proud journey of VBSP.
Over the years, VBSP has provided policy credit to the right beneficiaries; well managed and preserved the government capital, contributing to creating new values for credit policy from completing the system of policies, stimulating new resources, especially directing capital flows into economic development models in order that no one left behind.
Looking at the VBSP loan book of Mrs. Nguyen Thi Kim in Duc Thuan Ward, Hong Linh Town (Ha Tinh province), only the last page is blank. Over 10 years of accessing policy loans, she got loans from credit programs for poor and near-poor households, job creation, rural safe water and sanitation and production and business households in disadvantaged areas. Particularly, she borrowed over VND 101 million from disadvantaged students program for 3 children going to university.
She said that if the government did not provide the financial inclusion service, only her first son would go to college and her three daughters would only finish high school and go to work. From 2015 until now, two children have graduated from university and had jobs. They helped her pay off the bank loans, raised the youngest daughter and renovated the house. Therefore, her family escaped from poverty.
With over 17 years of operation, social policy credit has been developed with more than 20 credit programs reaching 100% of communes, wards and towns across the country, focusing on providing loans to ethnic minority, mountainous, disadvantaged, remote and border areas.
As of March 31, 2020, total outstanding loans reached VND 211,052 billion, an increase of VND 4,247 billion compared to December 31, 2019 with more than 6.5 million active customers. Social policy credit has contributed to supporting production and business investment, creating jobs for nearly 81 thousand laborers, of which more than 1.2 thousand workers working abroad for limited terms; helping more than 6.6 thousand students go to school; constructing nearly 323 thousand rural water supply and sanitation works; building nearly 3 thousand houses for poor households and more than 600 social houses.
The success of the policy credit has considerable contributions from local authorities at all levels. As of December 31, 2019, the total amount of local budget entrusted to VBSP reached VND 18,439 billion.
Customer Han Thi Trung in Phuoc Dan town, Ninh Phuoc district is a typical example. She borrowed VBSP's loans to develop a brocade weaving facility and escaped from poverty in 2010. In 2013, she continued to borrow VND 70 million from VBSP's Job Creation Program entrusted from Department of Industry and Trade's budget to invest in textile machinery instead of manual weaving. In early 2018, she continued to borrow VND 200 million from the provincial People's Committee capital entrusted to VBSP to buy weaving machines and expand the brocade weaving factory, creating jobs for 10 workers.
The dynamic economic models that VBSP has supported contribute to linking the poor and other vulnerable populations to larger and higher value-added production chains. This is also the direction that VBSP and local authorities are building to increase the added value in production from social policy credit in the coming years.
At a recent conference, Politburo member, Deputy Prime Minister Vuong Dinh Hue said that the effective implementation of social policy credit programs has contributed significantly to promoting socio-economic development under the orientation of the Government; implementing the national target program on sustainable poverty reduction, building new rural areas, ensuring social security, political stability and social order. Poverty reduction has reached and exceeded the target; the average poverty reduction rate in the period of 2015-2018 reached 1.55%/year, exceeding the set target of 1-1.5%/year.
sbv.org.vn
LENDING INTEREST RATE
Poor Households

Lending to poor households
6,6%/year
Lending to poor households in 64 poor districts as stipulated by the Government Resolution No.30a in 2008
3,3%/year

Near Poor Households

Lending to near poor households
7,92%/year

Students

Lending to disadvantaged students
6,6%/year

People in need of loans for job creation

Lending to business establishments owned by war invalids and handicapped persons
3,3%/year
Others...
DEPOSIT INTEREST RATE
Term
Deposit Rate
Overnight
3,04%/year
1 week
3,23%/year
2 week
3,5%/year
Others...