VISITORS







News & Events
Updated: 2020-05-15 16:03:16
Escape from poverty thanks to preferential loans
(VBSP News) Thanks to timely access and efficient use of loans from VBSP, many poor households and ethnic minority households in Cu M'gar district (Dak Lak) can invest and expand production to develop and gradually getting out of poverty.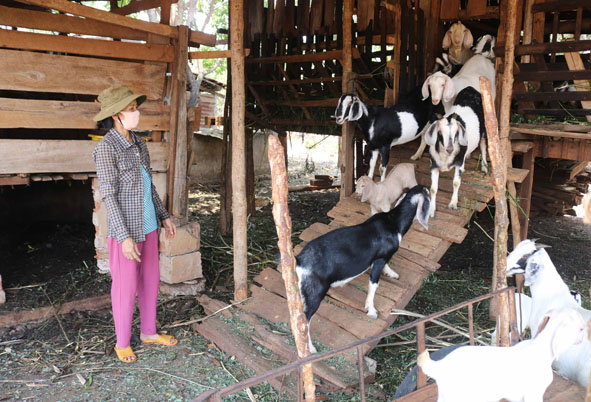 The goats of Mrs. Nguyen Thi Thom's family in village 4, Cu Sue commune have been well raised thanks to the loan from distric VBSP.
Ms. H'Nhat Eban family Sut M'đung village, Cu Sue commune is one of the typical households getting out of poverty. Previously, her family was in difficult, the family's economy depended on 1,440 m2 of old coffee but they did not have capital for investment or renovation.
In 2017, through the commune Farmers' Association, her family borrowed VND 30 million from VBSP to re-cultivate the coffee orchard. After 2 years of caring, the coffee orchard gave first crop with more than 4 quintals of coffee bean. Using collected profit, Ms. H'Nhat bought avocado and durian seeds to plant in the orchard. Thanks to the stable income source, her family officially escaped from poverty in 2019.
Ms. H'Nhat confided: "Thanks to the loan, my family can be as present. This year's crop, we estimate to have about 1 ton coffee bean. It is expected that I will have enough money to pay the loan on time and can buy more agricultural machines and materials to serve production. "
Thanks to the loans from the VBSP district, Mrs. Nguyen Thi Thom's family in village 4, Cu Sue commune, once listed as a near-poor household, has built a spacious house and raised 3 well-educated children. In 2016, with the initial loan of VND 10 million from VBSP, she bought 4 goats to raise. After more than 1 year, her family managed to pay back the principal to the bank. Then she continued to borrow VND 30 million to expand the scale of breeding. Up to now, her family has more than 30 goats (sometimes up to 60 goats), bringing a stable income of nearly VND 100 million / year.
Director of the VBSP district Cu M'gar Vo Ngoc Han said: In the first quarter of 2020, the district VBSP provided loans to 655 households with a total amount of nearly VND 23 billion. In particular, loans disbursed mainly concentrated in the programs: lending to poor households (VND 3.3 billion), near-poor households (VND 9.2 billion), newly-escaped from poverty households (VND 2.6 billion) ; Loans for RWSS (VND 4 billion); lending to business households in disadvantaged areas (VND 3.5 billion).
Most of the borrowing households use loans for right purposes, effectively and actively pay interest and principal on time. Being supported with loans, many households have boldly invested in production and business to develop their economy, thereby creating more jobs and increasing incomes for many people.
Tuyet Mai
LENDING INTEREST RATE
Poor Households

Lending to poor households
6,6%/year
Lending to poor households in 64 poor districts as stipulated by the Government Resolution No.30a in 2008
3,3%/year

Near Poor Households

Lending to near poor households
7,92%/year

Students

Lending to disadvantaged students
6,6%/year

People in need of loans for job creation

Lending to business establishments owned by war invalids and handicapped persons
3,3%/year
Others...
DEPOSIT INTEREST RATE
Term
Deposit Rate
Overnight
3,04%/year
1 week
3,23%/year
2 week
3,5%/year
Others...