VISITORS







News & Events
Updated: 2020-05-28 14:20:26
Vietnamese government supports employees, small businesses and firms amid COVID-19
(VBSP News) Financial assistance policies are issued by the Vietnamese Government to support employees, employers and small-sized enterprises to overcome the coronavirus pandemic.
The Strait Times cited the Ministry of Finance as saying on Monday that Vietnam plans a VND15.84 trillion (US$970 million) cut in corporate income tax for small-sized enterprises this year to help them overcome the impact of the coronavirus pandemic.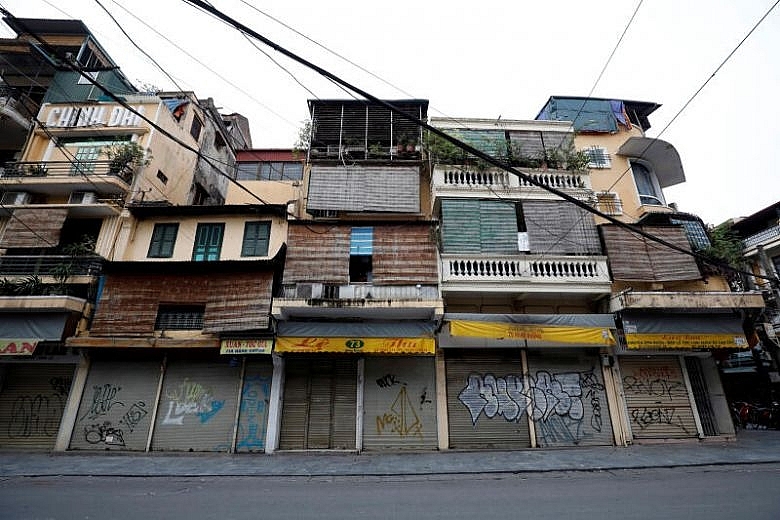 Shops were seen closed on an empty Hang Duong street in Hanoi, on April 20, 2020.PHOTO: REUTERS
The ministry is seeking a 30 percent cut in corporate income tax for companies with annual revenue of less than VND50 billion and fewer than 100 employees, it said in a statement, adding that the plan is pending government approval.
Small firms account for 93 percent of the 760,000 companies in the Southeast Asian country, the ministry said.
In a separate statement, the ministry said it is seeking approval from lawmakers for a VND 37.5 trillion tax exemption for agricultural land use in 2021-2025.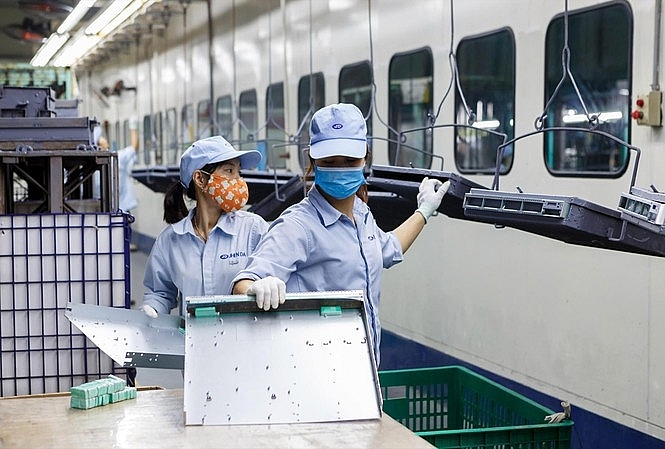 Workers in food production ( Photo: tienphong.vn)
Employees whose labor contract is temporarily suspended or have to take unpaid leave for a month or above will receive financial assistance of US$77 (VND 1.8 million) per month. Financial assistance of US$43 (VND 1 million) per month is for employees who lose jobs but are not eligible for unemployment allowance or that work without a labor contract and have lost their jobs.
Employees must submit their application to the relevant local authority from April 1 onwards to avail of the benefits.
Businesses and employers that have been affected by COVID-19 and have already paid at least 50 percent of salary for work suspension from April to June 2020 as per the Labor Code can borrow a loan with zero percent interest, collateral-free from the Vietnam Bank for Social Policies (VBSP) for a maximum term period of 12 months. VBSP is a government policy bank, which implements preferential credit policies for the poor and other policy beneficiaries. The bank is non-profit, offering a full range of services to the poor at subsidized rates.
The maximum loan value is 50 percent of the regional minimum salary per employee for a month and for a maximum of three months. As per law, if an employee is suspended from work due to the pandemic, they must still be paid an amount agreed by both parties, but not lower than the regional minimum wage.
According to Vietnam News, rescue packages and policy measures for businesses hit by COVID-19 were adopted by Việt Nam to soften the impact of the coronavirus pandemic. Firms will receive the rescue packages include the export processing zones and industrial parks, travel firms and medium-sized businesses.
A credit package worth VND250 trillion (US$10.7 billion) to support those affected by the COVID-19 outbreak has been approved by the Prime Minister.
Source: vietnamtimes.org.vn
LENDING INTEREST RATE
Poor Households

Lending to poor households
6,6%/year
Lending to poor households in 64 poor districts as stipulated by the Government Resolution No.30a in 2008
3,3%/year

Near Poor Households

Lending to near poor households
7,92%/year

Students

Lending to disadvantaged students
6,6%/year

People in need of loans for job creation

Lending to business establishments owned by war invalids and handicapped persons
3,3%/year
Others...
DEPOSIT INTEREST RATE
Term
Deposit Rate
Overnight
3,04%/year
1 week
3,23%/year
2 week
3,5%/year
Others...