VISITORS







News & Events
Updated: 2020-06-24 15:59:43
VBSP's General Director met and worked with AFD's Director
(VBSP News) In the morning of June 23rd 2020, VBSP's General Director – Mr. Duong Quyet Thang had a short meeting with AFD's Director – Mr. Fabrice Richy at VBSP's headquarter in Hanoi.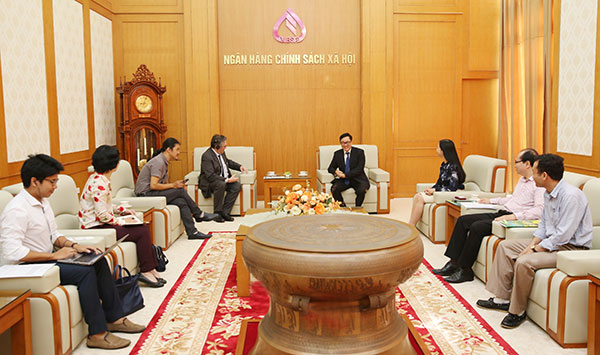 Landscape of the meeting
At the meeting, VBSP General Director – Mr. Duong Quyet Thang welcomed Mr. Fabrice Richy and his members to visit VBSP's headquarter.
VBSP General Director – Mr. Duong Quyet Thang introduced that VBSP is the largest provider of financial inclusion for poor households and other last-mile populations in Vietnam. So far, VBSP has established suitable organizational model and credit method to the specific characteristics of political institutions in Vietnam. VBSP has also established nearly 200,000 savings and credit groups at nearly 11,000 commune transaction points. Up to now, VBSP's total outstanding loan has reached nearly US$ 10 billion with over 6.5 million active borrowers. VBSP is highly appreciated by the National Assembly of Vietnam and international organizations thanks to contributing to the success of poverty reduction in recent years in Vietnam.
The meeting between VBSP and AFD
Especially, AFD's Director – Mr. Fabrice Richy expressed admiration on results Vietnam and VBSP achieved in the fight against Covid-19. He also hoped that VBSP and AFD would continue to have a stronger cooperation in the coming time.
LENDING INTEREST RATE
Poor Households

Lending to poor households
6,6%/year
Lending to poor households in 64 poor districts as stipulated by the Government Resolution No.30a in 2008
3,3%/year

Near Poor Households

Lending to near poor households
7,92%/year

Students

Lending to disadvantaged students
6,6%/year

People in need of loans for job creation

Lending to business establishments owned by war invalids and handicapped persons
3,3%/year
Others...
DEPOSIT INTEREST RATE
Term
Deposit Rate
Overnight
3,04%/year
1 week
3,23%/year
2 week
3,5%/year
Others...