VISITORS







News & Events
Updated: 2020-06-23 16:16:10
Female bricklayer and group leader
(VBSP News) Ms Đinh Thị Kem is a 42 year old, Hre woman who is in charge of a savings and credit group of 54 members with a loan balance worth VND 1.9 billion. She currently lives with her husband and two children in the outskirt hamlet of mountainous town of An Lão of Bình Định coastal province.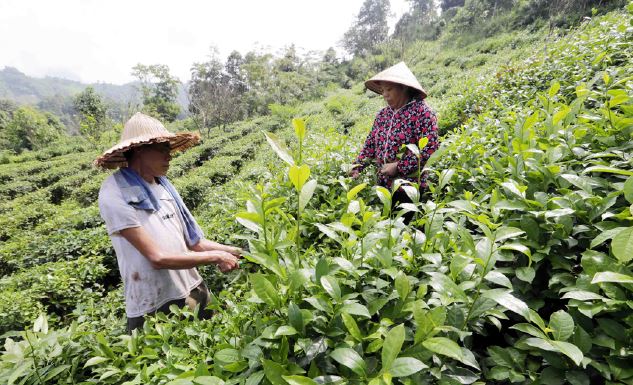 SMS notification services represent a novelty feature in the loan management practice
Ms Kem said that when the first SMS were sent out, people were confused. Each day, 2-3 people came to her house to enquire about the messages, and she had to explain that these SMS were not about a fine notification from the Bank. With SMS, people would be reassured and not worried about "whether the head of the loan group have lost my money". Especially with the saving accounts people often ask questions such as "How much is my interest this month? Receiving these questions sadden me because it means that they didn't trust me, Ms Kem reveals.
The SMS remind group members of their responsibility to pay the interest. Previously, group leaders had to come to each household to collect interests every month. This usually took 2-3 days of their time, and they had to come early in the morning or late in the evening when people had returned from the field. The pressure was on group leaders to arrange their own housework, because sometimes they were away until 9pm. This is because they could not just come to collect the interests, then leave, but had to socialize with their 'clients', and build mutual trust. Ethnic minority women at times submit loan request under one name (vay ghép), so Ms. Kem has to make it abundantly clear to them that this is not allowed. If the Bank finds out, the loan will be withdrawn.
Now thanks to the SMS notification services, Ms. Kem has more time to do the housework and meanwhile becomes a bricklayer, earning 270,000VND/day. In the past, she never travelled far for work, and only grew cassava and did weeding work for 1-2 hours, then came back and prepared to collect the interest. The brick-layering job gives her VND 6 million/month. She has additional income to buy fermented paste and pay tuition fees for her children.
LENDING INTEREST RATE
Poor Households

Lending to poor households
6,6%/year
Lending to poor households in 64 poor districts as stipulated by the Government Resolution No.30a in 2008
3,3%/year

Near Poor Households

Lending to near poor households
7,92%/year

Students

Lending to disadvantaged students
6,6%/year

People in need of loans for job creation

Lending to business establishments owned by war invalids and handicapped persons
3,3%/year
Others...
DEPOSIT INTEREST RATE
Term
Deposit Rate
Overnight
3,04%/year
1 week
3,23%/year
2 week
3,5%/year
Others...