VISITORS







News & Events
Updated: 2020-06-26 09:03:10
A woman entrepreneur and loan borrower
(VBSP News) Ms. Trần Thị Thoan, a 43-year-old married Kinh woman with two kids, who has an outsource workshop for sport equipment with 12 full-time workers in an outskirt district of Cần Thơ City in Me Kong River Delta. She has been a customer of VBSP since early 2000. She thinks that SMS of VBSP is considerably beneficial.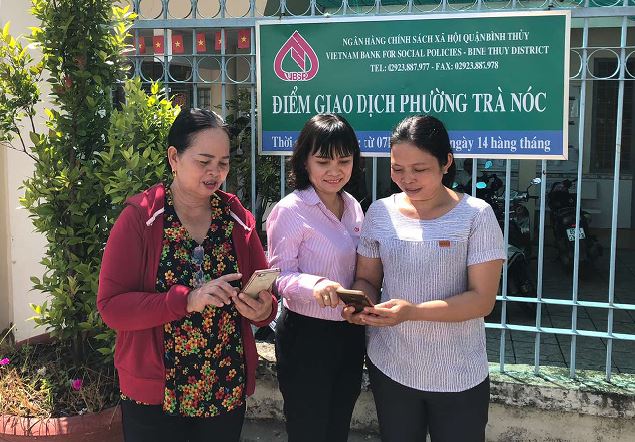 The SMS notification services have contributed to enhance transparency in loan management, improve planning for debt payment
This was her first time having access to a loan (5 million VND) from the poverty reduction program for poor households. Then in 2005, her household was assessed as a 'near-poor' household and can loan up to 10 million VND. In 2010, her household was considered to have escaped from poverty, and the loan limit increased to 20 million VND. Recently, she has loaned 50 million VND from an employment aid program.
Remember the time prior to 2017, she had never used any electronic financial services. She shares that since VBSP piloted the SMS notification, she has been receiving updates on the loan and savings. She feels relief and assured because with SMS, she knows exactly what her account balance is. Previously, she often worried that for some reason, her savings would be lost. With the SMS stating clearly the exact balance, she is not troubled with thoughts like whether the head of the village did it correctly, and has to double-check the paperwork, loan contracts.
She thinks that SMS is considerably beneficial. She can check it in her phone whenever it is convenient. Remember the time when VBSP had not sent SMS, she had to find and check the hard receipts every single time. Even though the receipts have complete information, but sometimes it got lost and she couldn't retrieve it. With SMS sending information directly to her phone, she does not have to go to the head of the village each time to ask for updates. Each time she had a question, she must arrange other household works, then went to the head of the village's house. It cost 30 minutes of her time for each trip, because 'it's not okay if you just go to their house, ask one or two questions, then leave. There are small talks that often led to other stories, which took time.' With SMS notification, she does not need to ask anyone, and uses that spare time to enjoy having a meal with the family and conversing with the kids. Her daughter is studying at a university in Hồ Chí Minh City. She can video call her daughter on Zalo. Or having time to take-care of her mother-in-law who has been in-bed for the last 20 years … She has been spending more time with her family and relatives to build stronger and more intimate relationships.
She has more time to enter data on the amount and product yield each day into a computer, in order to calculate wages for workers. Otherwise, she would have to stay up late to enter these data into the computer. With the new spare time, she can have coffee with her friends or business partners. Through these interactions and social networking, she has additional opportunities to foster relationship with new business partners… Starting with receiving SMS notification from VBSP, she gradually uses internet banking for transactions and payments. Before, she used to run to the Banks which took approximately an hour. Now, she has extra time for rest, even though it is just 5-10 minutes. Considering the convenience of i-banking, she has signed up for many of its payment methods, such as paying tuition fees for her daughter, business taxes, etc. She considers cash transactions to always have potential risk of losing it on the way, making mistakes when counting, etc. which often stirred up suspicion and conflicts between two parties. She confides that being a woman entrepreneur, whichever (service) that helps save time and effort, she will definitely give it a try.
LENDING INTEREST RATE
Poor Households

Lending to poor households
6,6%/year
Lending to poor households in 64 poor districts as stipulated by the Government Resolution No.30a in 2008
3,3%/year

Near Poor Households

Lending to near poor households
7,92%/year

Students

Lending to disadvantaged students
6,6%/year

People in need of loans for job creation

Lending to business establishments owned by war invalids and handicapped persons
3,3%/year
Others...
DEPOSIT INTEREST RATE
Term
Deposit Rate
Overnight
3,04%/year
1 week
3,23%/year
2 week
3,5%/year
Others...