VISITORS







Client success stories
Updated: 2020-11-16 15:44:20
Ethnic minority women escape from poverty – successful customer story from VBSP
(VBSP News) The financial service by VBSP has helped Vinh Quang commune, Kon Tum province further develop and impact positively on the lives of farmers in this area. Following is a successful story of the ethnic female customer, namely Y Trit.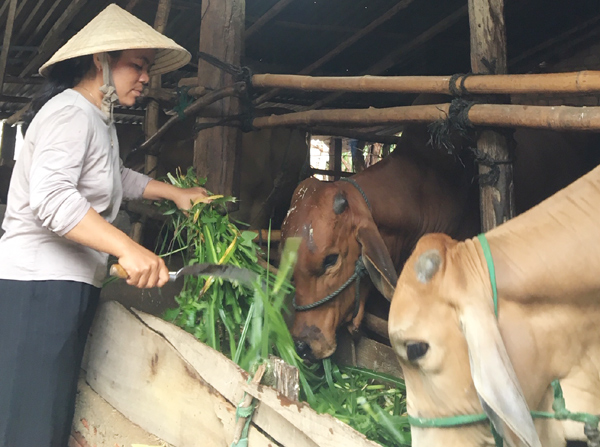 Y Trit escaped from poverty and got better life from micro-finance loan of VBSP.
According to the introduction of VBSP's credit staff, we arrived in Kon Ro Bang village, Ving Quang commune to visit Y Trit's family, who is a typical example for poverty escape and improve livelihood better from the micro-finance loan of VBSP district branch. Indeed, the will to escape from poverty is clearly shown after we met and talked with this 34-year-old woman. Despite mowing the grass for the cows, she was very excited to tell us this herd of cows is from the loan she borrowed from VBSP.
Remembering the old days, Y Trit said: "In 2006, when I got married, my parent gave me two poles of rice fields as a capital for working. Besides harrowing and planting trees, my family had to work additionally as hired labourer. However, our life was still poor and lacked many material things". She also wished to have enough money to raise cows at that time. Her life became even more daunting when her two children were often sick and had to go to hospital many times per month. At that time only her husband went to work. Therefore, her family had to ask relatives for support or rely on the State's hunger rescue.
Fortunately, as communicated by the Youth Union (VBSP's local partner) in her village, she knew about the micro-finance service of VBSP and borrowed VND 30 million from the poor household loan scheme for breeding crossbred cows in 2013. Three years later, the number of cows has increased from 3 to 10. She sold 6 cows and earned 75 million VND. Having income, her family repaired the house and purchased some essential household furniture, and paid debts for VBSP on time.
In 2016, her family continued to borrow VND 50 million from the job creation loan scheme provided by VBSP to expand investment farming with 1,000 coffee trees. Also, VBSP lent her household 12 million VND from the loan scheme on rural clean water and sanitation to build toilets and hygiene water tanks for family living.
Thanks to the hard-working with incomes from production, so in early 2016, her family got out of poverty, and gradually had a comfortable life. Her two daughters are growing and healthy. The first daughter is in 5th grade, who continuously achieves accomplishment as a good student. In addition to housework, she is also enthusiastic and responsible for participating in other village activities and has been elected to be the leader of the savings and credit group. Every month, before the day of the group meeting, she invites the village head and the group members to meet periodically, encouraging the group members to pay loan interests in full and on time and make the habit of micro-savings. Along with cultivating production and developing family economy, she always learns and improves her knowledge of breading and cultivation to create confidence for team members, arranges scientific work to have a harmonious combination between family and social work. Y Trit confided that "To improve livelihood better, it is necessary to be diligent in working, making, picking, overcoming difficulties, sympathizing, and loving everyone."
She is appraised as enthusiastic, accountable, hard-working, ready to learn, and then return to the economic development of the family. And so, the Vinh Quang Commune Youth Union recognized her as a typical example of the campaign overcoming difficulties to get better life in locality.
vbsp.org.vn
LENDING INTEREST RATE
Poor Households

Lending to poor households
6,6%/year
Lending to poor households in 64 poor districts as stipulated by the Government Resolution No.30a in 2008
3,3%/year

Near Poor Households

Lending to near poor households
7,92%/year

Students

Lending to disadvantaged students
6,6%/year

People in need of loans for job creation

Lending to business establishments owned by war invalids and handicapped persons
3,3%/year
Others...
DEPOSIT INTEREST RATE
Term
Deposit Rate
Overnight
3,04%/year
1 week
3,23%/year
2 week
3,5%/year
Others...