VISITORS







News & Events
Updated: 2020-03-02 16:15:42
Having a better life thanks to VBSP inclusive finance
(VBSP News) After many times failing to become migrant workers, Mr. Vu Duc Anh, born in 1990 in Tan Thang village, Tu Thinh commune, Son Duong district, Tuyen Quang province decided to stay in his hometown to develop economy and get enrich by himself.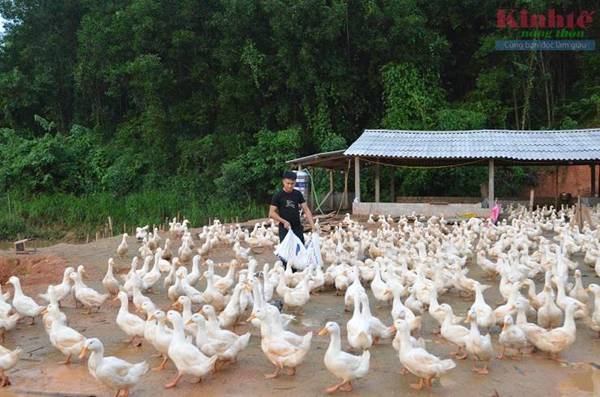 A flock of ducks in the farm of Mr. Vu Duc Anh
When Mr. Duc Anh finished his vocational school, he intended to apply for a job or labor export. However, he failed many times. In 2015, this young man decided to return to his hometown to get rich.
With 4 ha area of land and lake of his parents, he decided to borrow money to invest in raising pigs, ducks and fish. "When I started working, I had no experience, so I faced with many failures. Then, I had to learn the business practices of households with good business and production models. Besides, I was also attended career-oriented training courses for youth union members to start a business" Duc Anh said.
In 2017, after accumulating little knowledge and experience in animal husbandry, Mr. Duc Anh decided to borrow money to build an integrated farm model of pigs, ducks, fish and grow fruit trees with a closed breeding system of up to 3,000m².
After borrowing VND 200 million from VBSP from the National Fund for Employment, Duc Anh bought tilapia, only after 6 months, after deducting expenses, he gained VND 30 million.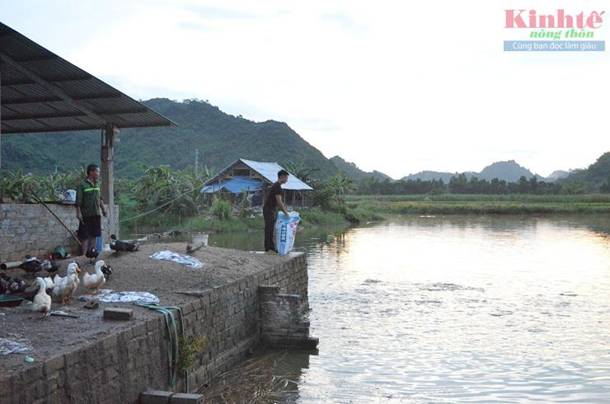 By raising fishes, Mr. Vu Duc Anh has gained tens of millions of dong for each batch
After having some initial capital from the sale of fish, Mr. Duc Anh went to Thuy Phuong Poultry Research Institute (Hanoi) to buy nearly 800 varieties of ducks and swans. After 6 months, with duck and swan eggs, he continued to buy incubators to sell ducks and swans to the market. Currently, each month his farm supplies over 16 thousand ducks and swans.
With an area of ​​3,000m² of pig breeding facilities, on average, Mr. Duc Anh can raise 30-40 pigs. He also expanded the lake area to adopt commercial fish, around the lake planted sugarcane, Thai seedless jackfruit, Hung Yen longan and Australian mango. Every year, this farm helps him to earn a profit of VND 150 - 200 million, creating new jobs for 04 workers and seasonal jobs for 10 other workers, the average monthly salary is VND 4 million/person/month.
Mr. Do Van Hung - Deputy Director of VBSP Son Duong District said that the model of Mr. Vu Duc Anh is a successful model from the capital borrowed from the National Fund for Employment in Son Duong district. Thanks to the initial loan of VBSP, Mr. Vu Duc Anh has been able to promote the effectiveness of the capital, invest in raising cattle, poultry and aquatic products and create jobs for many workers in the area.
LENDING INTEREST RATE
Poor Households

Lending to poor households
6,6%/year
Lending to poor households in 64 poor districts as stipulated by the Government Resolution No.30a in 2008
3,3%/year

Near Poor Households

Lending to near poor households
7,92%/year

Students

Lending to disadvantaged students
6,6%/year

People in need of loans for job creation

Lending to business establishments owned by war invalids and handicapped persons
3,3%/year
Others...
DEPOSIT INTEREST RATE
Term
Deposit Rate
Overnight
3,04%/year
1 week
3,23%/year
2 week
3,5%/year
Others...