VISITORS







Client success stories
Updated: 2020-06-29 15:44:15
The dedicated leader of Savings and Credit Group
(VBSP News) After nearly 10 years working with VBSP as a Savings and Credit group leader under Women's Union in Phu Kim commune, Thach That district (Hanoi), Ms. Do Thi Phuong has made great efforts to well manage social policy credit in the area.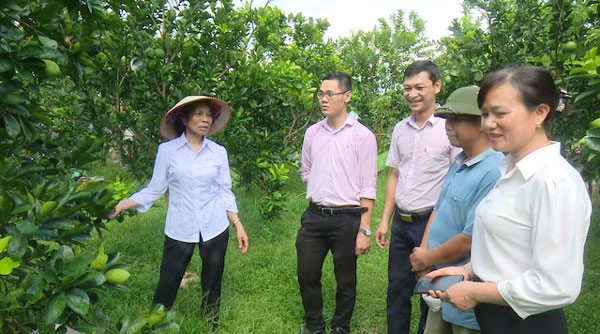 Ms. Do Thi Phuong (leftmost) has many contributions in social policy credit activities
Go to Phu Kim commune, ask for Mrs. Do Thi Phuong – the SCG leader in Noi Thon village, everyone knows and loves her. With enthusiasm with the poor, nearly 10 years of working with VBSP, Ms. Do Thi Phuong has made great efforts to well manage social policy credit in the area.
Phu Kim commune was a purely rural countryside where people sticked with the garden year round. In addition to livelihoods which were products harvested from agriculture, people had additional jobs such as carpentry, sewing etc., but life is still difficult. Thanks to preferential loans, poor and near-poor households bravely invested in raising cows, fruit trees, carpentry, garments etc. Up to now, life has changed day by day. The percentage of poor and near-poor households is declining.
Noi Thon is a big village of Phu Kim commune, people here are very diligent, hard-working and quickly get into market mechanism. In 2010, Ms. Phuong was trusted by the group members to become leader of SCG in the village, signing the authorization contract with VBSP Thach That district.
At the beginning, she was new to the profession, receiving guidance from VBSP staff and participating in professional training courses organized by VBSP every year. She became acquainted and grasped the profession quickly.
She regularly studied and mastered the operational processes of VBSP, ensuring that the loan review process was in the right order with the right subjects. She also regularly monitored and instructed borrowers to use the capital effectively for the right purposes. As a result, the group had grew from more than 20 members with a loan balance of VND 700 million at the beginning to 50 members with an outstanding of VND 2.5 billion. On average, outstanding loans per member were VND 50 million.
In addition to good advocacy and propaganda, she also guided members in how to do business. From VBSP's loans, the members of the group have stable jobs and many have escaped from poverty, rose to get rich, their children could afford schooling and become successful.
She has spent many nights thinking about how to channel capital to poor households and other social policy beneficiaries in the village and it was even more difficult for the capital to be effective and to collect due debts and interest. But her most concern was to mobilize members to voluntarily participate in depositing monthly savings and increase the deposited amount gradually, helping households to spend economically and to save money for debt repayment.
Up to now, Mrs. Phuong's SCG manages to pay 100% monthly interest, 100% due debt, no overdue debt and 100% of the members deposits VND 50,000 each month. The balance of current member deposits is up to VND 83 million. Her SCGs is always ranked as good SCG.
Enthusiasm and responsibility in working with the desire to help the people in the village escape poverty, improve income and improve their lives, Ms. Do Thi Phuong becomes a typical example that Vietnam Bank for Social Policies recognizes and appreciates for contributions to social policy credit activities in the period of 2015-2020.
Thu Hien
LENDING INTEREST RATE
Poor Households

Lending to poor households
6,6%/year
Lending to poor households in 64 poor districts as stipulated by the Government Resolution No.30a in 2008
3,3%/year

Near Poor Households

Lending to near poor households
7,92%/year

Students

Lending to disadvantaged students
6,6%/year

People in need of loans for job creation

Lending to business establishments owned by war invalids and handicapped persons
3,3%/year
Others...
DEPOSIT INTEREST RATE
Term
Deposit Rate
Overnight
3,04%/year
1 week
3,23%/year
2 week
3,5%/year
Others...