VISITORS







News & Events
Updated: 2019-12-16 09:35:55
Students access inclusive finance for education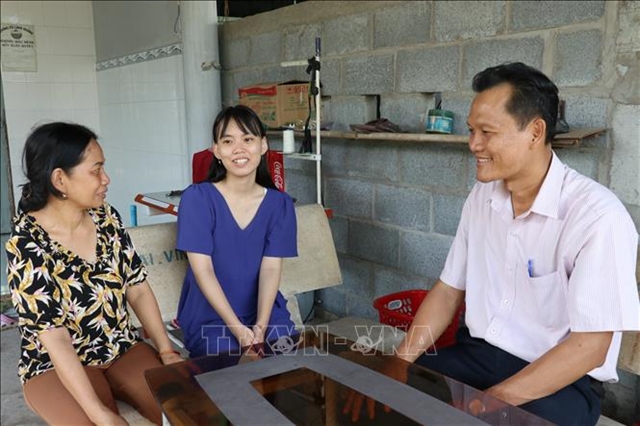 Đặng Thị Tuyết Thanh (middle) from Long An Province received a soft loan to continue her university study. — VNA/VNS Photo Đức Hạnh
Đặng Thị Tuyết Thanh in the province's Bến Lức District was able to continue her study at the HCM City University of Technology (HUTECH) after receiving a soft loan.
"The soft loan has lessened pressure on my family and created favourable conditions for my study," she said.
Nguyễn Thị Kim Hồng in the province's Tân An City said her family was facing financial difficulties when her son enrolled at the HCM City University of Technology (HCMUT) under the Việt Nam National University HCM City (VNU-HCM) in 2014.
The family's main income is from farming agricultural products on 0.6ha of rented land.
Hồng's family received a soft loan from the VBSP for her son, who has graduated from the university. "I hope my son can get a stable job and help the family pay off the debt," she said.
Lê Bá Chuyên, deputy director of VBSP's branch in Long An Province, said the bank has granted loans since 2014 to tens of thousands of local households to help their children pursue study.
"The access to concessional loans helps disadvantaged students cover their living costs and tuition each school year," he said.
Most borrowers make payments on time, and the rate of overdue debts is low.
The preferential credit programme for such students is promoted in all localities in the province.
Last month, the bank granted more than VNĐ17 billion ($733,000) in soft loans to 1,200 students, including about 300 new borrowers.
Because of rising students' living costs and tuition, the bank has asked the Government to increase the loan amount for those living in difficult circumstances. — VNS
LENDING INTEREST RATE
Poor Households

Lending to poor households
6,6%/year
Lending to poor households in 64 poor districts as stipulated by the Government Resolution No.30a in 2008
3,3%/year

Near Poor Households

Lending to near poor households
7,92%/year

Students

Lending to disadvantaged students
6,6%/year

People in need of loans for job creation

Lending to business establishments owned by war invalids and handicapped persons
3,3%/year
Others...
DEPOSIT INTEREST RATE
Term
Deposit Rate
Overnight
3,04%/year
1 week
3,23%/year
2 week
3,5%/year
Others...