VISITORS







News & Events
Updated: 2019-12-13 14:36:31
Yen Mo promotes preferential loans
(VBSP News) From preferential capital, thousands of poor households and policy beneficiaries in Yen Mo district (Ninh Binh province) can invest in economic development, rise out of poverty sustainably and step by step become rich on their homeland.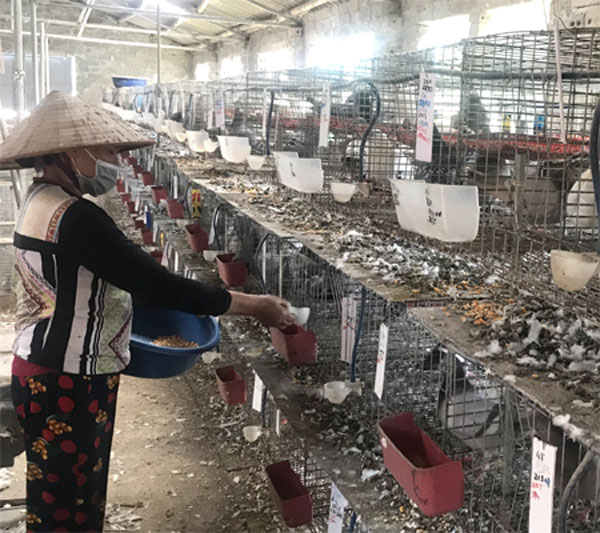 Ms. Vu Thi Tham taking care of French pigeons
Vu Thi Tham's family in hamlet 5, Hong Thang, Yen Mac commune is appreciated and known as a prominent family in the economic development movement in the commune. Previously, her family living was very difficult, always being a poor household of the commune. VBSP gave a loan for the family to invest in developing their farm, mainly raising pigs, chickens, and Muscovy ducks. By doing disease prevention well and applying proper feeding plan, the animals grow well. As getting good profit, her family has enough money to repay loan principal and interest on time and rise out of poverty.
In order to continue economic development, recently her family has been facilitated by the commune to tender for hiring land to build integrated farms. However, the most difficult thing for her family at that time is lack of capital to continue investing in expanding production. In early 2019, her family continued to be provided with a loan of VND 100 million from VBSP, the maximum loan amount of the loan program for households just escaped from poverty. Having capital, her family built breeding stables and dug ponds. After nearly 1 year, the policy credit capital has been effective. The farm currently has over 300 laying ducks, 700 pairs of French pigeons, and 200 ducks. Each month she can sell over 6,000 duck eggs and 700 pigeons to the market. In addition, her family also has 3 thousand square meters of breeding ponds. Income after deducting expenses each year is estimated at over VND 300 million. "Policy credit clearly shows the superiority, which is suitable to practical conditions in rural areas, helping the poor and policy beneficiaries with capital to expand production. The stage of difficult life is over, now my family has a house, a productive land, stable income and sustainable escape from poverty" she shared.
According to Ms. Bui Thi Hanh - Director of VBSP Yen Mo district, despite many difficulties, the unit has made efforts to complete the assigned tasks. In particular, credit investment activities are focused on effective implementation. By the end of November 2019, the district VBSP disbursed over VND 162 billion in 13 loan programs. With preferential loans of VBSP, thousands of households have conditions to build and renovate toilets, clean water works, improved sanitation, living conditions and quality of life; animal husbandry, cultivation, handicrafts are also increasingly developed. Besides, many households have bravely introduced new, high-yield and high-quality varieties into production, gradually changing old farming practices, building many effective models of cultivation and husbandry. Many people from poor, small-scale farmer households have developed, expanded production scale, built models with high economic efficiency, such as: Dojo fish farming model in Yen Hoa; carpentry at Yen Phong; Wood ear farming in Yen Thang; Thai bananas in Yen Dong etc.
It can be affirmed that policy credit programs are highly socialized, promoting the role and responsibility of the whole society in the work of poverty reduction and social security of the locality. In order to quickly and timely convey policy capital to poor households and policy beneficiaries, and promote the efficiency of policy capital, in the coming time, VBSP Yen Mo district will coordinate with all levels, branches, especially entrusted mass organizations to step up communication of guidelines and policies on lending to poor households and other policy beneficiaries according to the Government's regulations. Thus, borrowers can understand and strictly implement policies, use loan capital for the right purpose, effectively and responsibly repay the bank. At the same time, to take advantage of the central, local budget capital, mobilize idle capital in the population, promptly serve the need for borrowing loans of policy beneficiaries, ensuring timely disbursement with appropriate loan amount according to regulations and in accordance with actual needs of households to help them invest in economic development, job creation, income generation, and improving quality of life
Giang Huong
LENDING INTEREST RATE
Poor Households

Lending to poor households
6,6%/year
Lending to poor households in 64 poor districts as stipulated by the Government Resolution No.30a in 2008
3,3%/year

Near Poor Households

Lending to near poor households
7,92%/year

Students

Lending to disadvantaged students
6,6%/year

People in need of loans for job creation

Lending to business establishments owned by war invalids and handicapped persons
3,3%/year
Others...
DEPOSIT INTEREST RATE
Term
Deposit Rate
Overnight
3,04%/year
1 week
3,23%/year
2 week
3,5%/year
Others...