VISITORS







News & Events
Updated: 2019-12-02 10:32:12
VBSP's General Director visit the poor and other disadvantaged groups
(VBSP News) Together with effectively implementing the credit policies of the government in order to accelerate social security, VBSP General Director and leaders have visited poor and vulnerable groups before the new year to survey the local implementation of VBSP's inclusive financial schemes.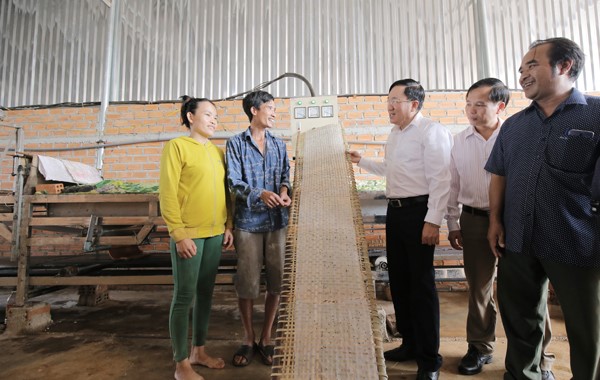 VBSP General Director – Mr. Duong Quyet Thang visited Truong Thach Thao's family in Village 7, Ea Bar commune who took up policy credit to produce rice paper
Ea Bar Y Sen Kbuôr Commune has 3,669 households, of which ethnic minorities account for 36 per cent, living mainly from agriculture and husbandry.
In 2016-2020, the whole commune had 726 poor households, accounting for 20.52 per cent, and 486 near-poor households (13.74 per cent). Understanding this difficulty, the VBSP has coordinated with the party committees, commune authorities, and mass organizations to provide the best inclusive finance service for the poor and other last-mile population, helping them start up business, invest production and buy livestock to improve their lives and escape from poverty.
Only in the first six months of this year, nearly VND12 billion ($521,740) amount was disbursed to 391 households. As of June 30, 2019, the balance reached nearly VND52 billion ($2.26 million) serving 1,864 active borrowers.
The VBSP delegation visited Truong Thach Thao's family in Hamlet 7, Ea Bar commune, one of the 23 disadvantaged households to receive gifts from the VBSP trade union awarded by the General Director.
VBSP not only helped his family overcome poverty but also helped him take up more preferential loans of VND50 million ($2,170) to buy rice paper-making equipment to expand production and create stable jobs for his family.
Even though the amount of the loans is still small, it is lighting the lives and aspirations of the poor. For example, Y Tam Adrong's family in Ea Bar commune used VND40 million ($1,740) borrowed from VBSP to overcome poverty and expand the coffee growing area. In addition, he loaned VND25 million ($1,090) from the funds for poor households to help his dream come true.
The credit policy contributes to reducing the commune's poverty rate each year by 3-5 per cent. By the end of 2018, there were only 441 poor households, accounting for 12.02 per cent and 421 near-poor households, accounting for 11.47 per cent.
Receiving gifts from VBSP, people like Truong Thach Thao and Y Tam Adrong felt even happier after VBSP supported the commune in perfecting medical facilities and working with the commune on the necessary investment and procurement for the parasite testing facility of the Ea Bar commune health station as well as investment in facilities to support Nguyen Hue primary school.
It is just one of the stories from the mission of a bank for the poor and especially from the heart of every VBSP staff. In the first nine months this year, 20 credit programs from VBSP have been accessed by more than 1,620 thousand poor and near-poor households to escape from poverty with a total loan turnover of VND54.98 trillion ($2.39 billion), focusing on poverty reduction and creating jobs. VND10.91 trillion ($474.35 million) of this went to lending to households that have newly escaped poverty, VND9.43 trillion ($410 million) was lent to near-poor households, VND7.31 trillion ($317.83 million) went to poor households, VND7.1 trillion ($308.7 million) to households in disadvantaged areas for production and business, while VND6.04 trillion ($262.6 million) was lent to create jobs.
By September 30, the total debt balance reached VND200.813 trillion ($8.73 billion), an increase of VND13.02 trillion ($566.1 million) or 6.9 per cent compared to the end of 2018, with more than 6.5 million of poor and near-poor households, as well as policy beneficiaries.
The ratio of overdue and frozen debts accounted for only 0.74 per cent of the total loan balance, also demonstrating that the quality of social credit policy is improving at a steady pace.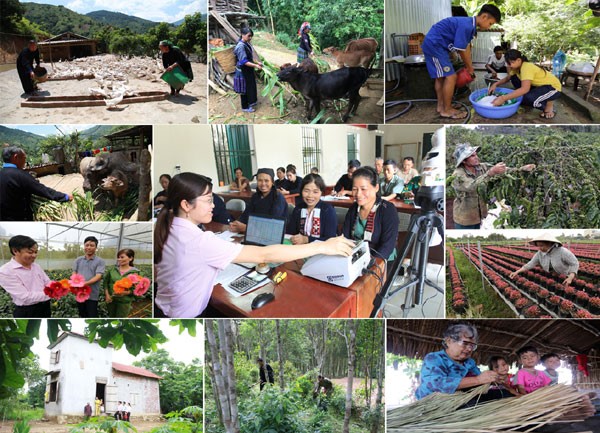 More than 6.5 million poor, near-poor households, and other policy beneficiaries are borrowing from VBSP
Particularly in the first nine months of 2019, more than 1,620 thousand households have been granted preferential loans which contributed to creating jobs for more than 162,000 workers. More than 4,800 of these workers go to work abroad on a term contract, helping more than 12,000 students with difficult circumstances to take up loans to study.
In addition, VBSP program has built more than one million works for water supply and sanitation, over 12,000 houses for poor households to stabilize their lives, and more than 3,000 social houses according to Decree No.100/2015/ND-CP.
Social credit policy has made an important contribution to effectively implementing the guidelines and policies set by the party and the state on sustainable poverty reduction, building new rural areas, focusing on human resources development, ensuring social security, political stability, defence, and socio-economic development.
Via this journey, VBSP will understand and run more charity and social security programs to create more resources for sustainable poverty reduction. In 2015-2019, VBSP implemented social security activities for the community, with the amount of nearly VND121.8 billion ($5.3 million), of which the overall welfare programme of the whole system was VND63.57 billion ($2.76 million).
The rest are social security programs launched by grassroots-level trade unions at provincial and district levels. Additionally, VBSP runs many support programs that are both regular and timely to support the poor to overcome risks and difficulties caused by natural disasters, floods, and environmental incidents in the central provinces, northern mountainous areas, and South Central Vietnam.
The gifts are small but ensure that no poor household is left behind, making efforts to use credit policy capital more effectively and practically, thereby contributing to and achieving success.
In 2016-2018 poverty was reduced from 9.88 to 5.23 per cent (an average of 1.55 per cent a year) and the rate this year is expected to be 4.5 per cent. According to statistics, by the end of June 2019, 44 communes were removed from the list of coastal lowland communes. Of these, 42 communes have met the new rural standards. Eight poor districts have escaped from poverty and 14 took advantage of the Program 30a to escape difficult economic situations.
Particularly, in ethnic minority areas, the poverty reduction rate exceeded 4 per cent, exceeding the national assembly's target outlined in Resolution No.69/2018/QH14 on the 2019 socio-economic development plan.
"It can be said that VBSP and its social credit policies are an important pillar of the national target program on sustainable poverty reduction. Thanks to this pillar, in 2015-2018, the number of poor households decreased very quickly, contributing to pushing back and stopping informal credit, creating resources for localities to implement the national target program on rural construction as well as sustainable poverty reduction associated with localities' projects on socio-economic development, improving the material and spiritual life of the people," Deputy Prime Minister – Mr. Vuong Dinh Hue noted.
vbsp.org.vn
LENDING INTEREST RATE
Poor Households

Lending to poor households
6,6%/year
Lending to poor households in 64 poor districts as stipulated by the Government Resolution No.30a in 2008
3,3%/year

Near Poor Households

Lending to near poor households
7,92%/year

Students

Lending to disadvantaged students
6,6%/year

People in need of loans for job creation

Lending to business establishments owned by war invalids and handicapped persons
3,3%/year
Others...
DEPOSIT INTEREST RATE
Term
Deposit Rate
Overnight
3,04%/year
1 week
3,23%/year
2 week
3,5%/year
Others...