VISITORS







Client success stories
Updated: 2019-10-30 15:52:56
Improve livelihood from access to inclusive finance services
(VBSP News) Mrs. Trieu Thi Nga's family of Dao ethnic group in Na Quang village, Nong Ha commune, Cho Moi district (Bac Kan) boldly borrowed VND 187 million from VBSP to raise animals, plant trees and raise 3 children to attend university. After 10 years, her family's life changed completely.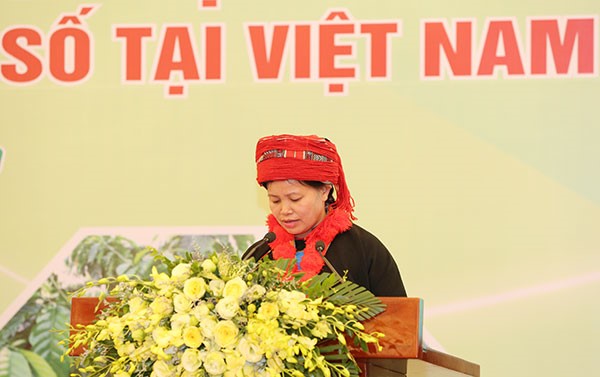 At the Scientific Conference "Evaluating the effectiveness of policy credit programs for ethnic minorities in Vietnam", Mrs. Trieu Thi Nga has shared some experience on borrowing and using preferential capital
Mrs. Nga's family lives in Na Quang which is the most difficult village of Nong Ha commune with 100% of Dao ethnic people. In the past, her family was poor and the main source of income relied on fields. Every year, they lacked food for 3 to 4 months. She even didn't have enough money to buy books for her children. Facing the difficulties, she discussed with her husband to find ways to escape from poverty.
In 2007, her family borrowed VND 5 million from VBSP in Cho Moi district to buy a buffalo. Thanks to being trained on breeding buffaloes and cows by the Commune Women's Union in cooperation with local agricultural agency, she successfully applied her knowledge on animal husbandry and disease prevention so the buffaloes grew and reproduced very well. In 2009, the buffalo gave birth to 2 litters, the family sold the first litter to repay VBSP's loan.
From breeding buffaloes, the family no longer lacked food. At the end of 2009, her family continued to borrow VND 30 million from VBSP in Cho Moi district to buy 2 pairs of buffaloes. In 2011, her family sold the buffaloes to pay off the debt for VBSP. However, they still kept 5 female and 1 male buffaloes to create jobs and stable income for the family.
During that time, her oldest son passed the university entrance exam. However, the school fees were very expensive so she borrowed VND 32.6 million from VBSP's Disadvantaged Students Program to pay for her children's college education.
Then, she continued to borrowed VND 50 million in 2014 and VND 70 million in 2018 for her second and third children to attend university. As a result, the children could concentrate on their studies and achieve good results every year.
In order to increase the income, in 2015, she continued to borrow VND 50 million from VBSP's Poor Households Program to invest in acacia plantation and livestock raising. Her family currently has 6ha of well-developed acacia forest and 8 female buffaloes, when deducting expenses, she still earns VND 70-80 million/year. In 2016, her family early paid off the loans from Disadvantaged Students Program.
Besides, her family also borrowed VND 12 million from the Safe Water and Rural Sanitation Program to build a clean water tank and a toilet. Therefore, her family's living condition is increasingly improved. She could buy the amenities such as motorbike, TV, refrigerator, tables and chairs, etc for her family. In addition, the children can go to school. In 2016, her family escaped from poverty.
In total, Mrs. Nga's family borrowed VND 187 million from VBSP, and now she only has VND 57 million of outstanding loans. She used the loan for the right purpose, paid the interest and principal on time, and deposited monthly savings as Savings and Credit Group's regulations.
Currently, as a Head of Savings and Credit Group in Na Quang Village, Nong Ha Commune, Mrs. Nga always mobilizes members to well implement the Party's guidelines and local regulations. The current outstanding loans of the group is VND 2.2 billion with 59 active borrowers, 100% of households are ethnic minorities. Every month, the households pay interest and principal on time, no member has overdue debt.
Mrs. Nga said that thanks to the preferential capital, her family has escaped from poverty and the children have a brighter future. Besides, the Party, Government, VBSP and the local authorities created favorable conditions for her family to borrow capital as well as give instructions on how to use the loan effectively.
LENDING INTEREST RATE
Poor Households

Lending to poor households
6,6%/year
Lending to poor households in 64 poor districts as stipulated by the Government Resolution No.30a in 2008
3,3%/year

Near Poor Households

Lending to near poor households
7,92%/year

Students

Lending to disadvantaged students
6,6%/year

People in need of loans for job creation

Lending to business establishments owned by war invalids and handicapped persons
3,3%/year
Others...
DEPOSIT INTEREST RATE
Term
Deposit Rate
Overnight
3,04%/year
1 week
3,23%/year
2 week
3,5%/year
Others...