VISITORS







News & Events
Updated: 2019-09-04 16:56:44
Escaping from poverty thanks to preferential capital
(VBSP News) During the journey of accompanying and implementing preferential credit programs in Anh Son district (Nghe An), many disadvantaged people were supported by the State's preferential capital for production and business. Therefore, many households have had a stable life, some of which have even become rich. Ms. Nguyen Thi Phuong in village 10, Phuc Son commune, Anh Son district is an example of overcoming difficulties, which is admired by many people.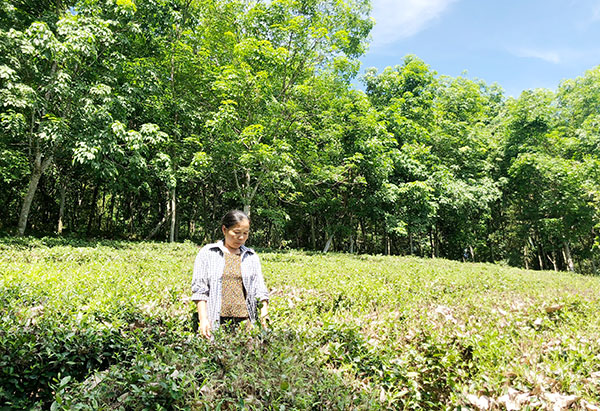 Ms. Nguyen Thi Phuong at her tea garden which is invested from VBSP's capital
Fate made her to carry on a lot of misery. Therefore, it is hard to believe that the woman can firmly overcome difficulties, explore the way for economic development and gradually get rich by herself.
Like many other families, she used to have a happy life when the young couple tried to build a life in their homeland together. However, her husband suddenly died due to illness, leaving her worried about life and her four children. With the responsibility of being a main laborer in the family, she has to work as a hired laborer but the living conditions still cannot be improved. Her children's education is at risk of dropout.
Thanks to the enthusiastic guidance of the Head of the Savings and Credit Group, in 2013, she borrowed VND 30 million from Poor Household Lending Program from VBSP in Anh Son district. She invested immediately in raising pigs and cows. Gradually, her family got better. After making a profit, she continued to invest 2,500m2 of her family's hill garden in fish pond and tea plantation. Thanks to the application of science and technology in animal husbandry and cultivation, each year the models of raising pigs, planting tea and fish ponds bring high profits. At the beginning of 2017, she escaped from poverty and repaid the loan to the bank.
Do not give up in front of the difficulties, in mid-2017, she bravely borrowed VND 50 million from VBSP's lending program for Production and Business Households Living In Disadvantaged Areas and Communes, plus the accumulated savings, she invested 5 hectares of forest in planting acacia and green tea. Ms. Phuong said: "The preferential capital helped my family have acacia forest, lush green tea hill, 8 cows and fish ponds so my family life is getting better now".
LENDING INTEREST RATE
Poor Households

Lending to poor households
6,6%/year
Lending to poor households in 64 poor districts as stipulated by the Government Resolution No.30a in 2008
3,3%/year

Near Poor Households

Lending to near poor households
7,92%/year

Students

Lending to disadvantaged students
6,6%/year

People in need of loans for job creation

Lending to business establishments owned by war invalids and handicapped persons
3,3%/year
Others...
DEPOSIT INTEREST RATE
Term
Deposit Rate
Overnight
3,04%/year
1 week
3,23%/year
2 week
3,5%/year
Others...