VISITORS







News & Events
Updated: 2019-08-09 11:48:34
Workshop "Financial literacy for the poor and other policy beneficiaries via mobile phone application"
(VBSP News) On August 6th, VBSP organized a workshop "Financial literacy for the poor and other policy beneficiaries via mobile phone application", which is within the scope of the Initiative "Study the possibility of the poor and other disadvantaged groups on accessing financial literacy through mobile phone" implemented by the Vietnam Bank for Social Policies with funding from Oxfam in Vietnam. Mr Hoang Minh Te – VBSP's Deputy General Director and Head of Initiative chaired the workshop.
Mr. Hoang Minh Te - Deputy General Director speaks at the workshop
Attending the workshop included Mr. Le Ngoc Bao – VBSP's Chief of Supervision Board and a member of Board of Directors; representatives of Oxfam, World Bank, German Corporation for International Cooperation (GIZ); and members of the Initiative Management Team, Product Development Team and leaders of departmemts at VBSP's Headquarter.
At the beginning of the workshop, Mr. Hoang Minh Te - Deputy General Director said that with 17 years of construction and development, VBSP has become a "bright spot" in poverty reduction and socio-economic development recognized and appreciated by the National Assembly, Government and people. Currently, VBSP has 10,950 Commune Transaction Points; 179,394 Savings and Credit Groups, total capital reached more than VND 210,000 billion; outstanding loans reached VND 198,000 billion with 7 million active customers. For many years, VBSP has taken necessary steps to enhance financial inclusion development for VBSP's customer in particular and all citizens in Vietnam in general such as: expanding customer access; enhancing financial literacy for partners and customers; strengthening customer's rights protection and digital financial application in operation.
The study of financial inclusion for poor households and other policy beneficiaries via mobile phone is to provide customers with some lessons related to banking products; skills of managing money, spending, estimating family budget, savings and credit, from which customers can enhance their knowledge related to banking and finance, familiarize with digital technology, which contributes to promoting financial inclusion development and implementing national target programs.
According to the report, the Initiative Management Team has conducted a survey on the financial literacy needs of customers in Hai Duong, Thanh Hoa and Quang Ngai provinces. The survey results show that over 80% of interviewed customers are aware of the benefits of financial literacy for themselves and their families. Based on the survey results, VBSP designs and tests financial literacy application software on mobile phone (financial literacy app) with simple interface and features which are suitable for poor households and policy beneficiaries.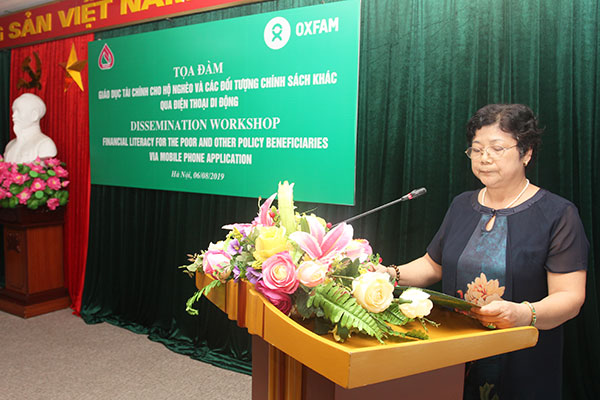 Ms. Hoang Thi Loi - a VBSP customer shares her experience about the financial literacy application
Being a customer who has experienced financial literacy application on mobile phone, Ms. Hoang Thi Loi, Head of Savings and Credit Group of Farmers' Association in Phu An Village, Cao An Commune, Cam Giang District (Hai Duong) shared "The application is easy to use and provides lots of useful information. The content is divided into 2 parts: Introduction about VBSP and Financial Literacy with short and clear design, helping customers quickly grasp the content, easy to understand and remember.
Ms. Le Kim Thai, a representative of Oxfam said: "When implementing this program, women are the core customer we are interested in so that we want to ensure their participation and enjoyment of the program. Therefore, throughout the stages from designing to implementating the program, we always consider women's rights and assess the needs of female groups to ensure that at least 50% of respondents are women. Moreover, pilot stage of implementing this financial literacy app also ensures gender-disaggregated research to meet the specific needs of women in borrowing and using capital.
Ms. Le Kim Thai speaks about the process of implementing the Initiative
At the workshop, Mr. Phan Cu Nhan, Director of International Cooperation and Communication Department said: "Based on the pilot of the past 6 months, the project has achieved success and surpassed the initial target, VBSP will continue to work with Oxfam to implement Phase 2 to improve the financial literacy app and guide widely how to use this application to VBSP customers.
At the workshop, in addition to the speeches from VBSP's representatives, Oxfam and VBSP's customer, there are also many opinions about effective implementation and possible solutions. Besides, participants also discussed in the form of questions and answers on orientation, opportunities and recommendations. Financial literacy is a bridge to financial services for the poor.
The majority of participants admitted the innovation and usefulness of financial literacy application to VBSP's customers because it brings financial knowledge to them.
Landscape of the workshop
At the end of the workshop, Mr. Hoang Minh Te - Deputy General Director acknowledged the participants' comments and feedbacks to continue to improve and add necessary information and services to customers. With the initial success of the project, in the coming time, VBSP will continue to coordinate with Oxfarm to broadly train, expand and guide the use of this application for poor households, women and vulnerable people.
LENDING INTEREST RATE
Poor Households

Lending to poor households
6,6%/year
Lending to poor households in 64 poor districts as stipulated by the Government Resolution No.30a in 2008
3,3%/year

Near Poor Households

Lending to near poor households
7,92%/year

Students

Lending to disadvantaged students
6,6%/year

People in need of loans for job creation

Lending to business establishments owned by war invalids and handicapped persons
3,3%/year
Others...
DEPOSIT INTEREST RATE
Term
Deposit Rate
Overnight
3,04%/year
1 week
3,23%/year
2 week
3,5%/year
Others...