VISITORS







News & Events
Updated: 2019-09-17 15:25:54
Livelihood improvement from VBSP's credit
(VBSP News) Thanks to raising pigs by natural food such as corn, duckweed, banana trunk, Mr. Lo Van Hinh (born in 1974, Thai people) living at the La Muong border, Sop Cop commune, Sop Cop district (Son La province) earned a profit of VND 100 million each year.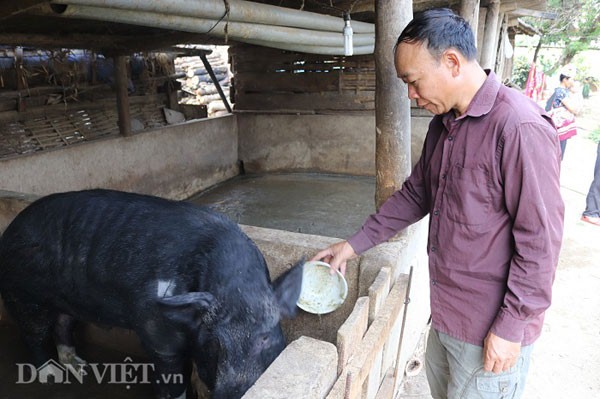 According to Mr. Hinh, this pig weighs 2 quintals so it must be sold over VND 10 million

Mr. Lo Van Hinh said: "I was born and raised in Chieng Pha commune, Thuan Chau district. In 1991, I went to Sop Cop for military service at the Border Guard Station 449. By 1993, after completing my military service, I realized that the land in this place was huge so I decided to stay here to discover the potential of this land, building my second home".
However, it is not easy. In order to earn a living, Mr. Lo Van Hinh had to work as a hodman and a hired worker to save every penny. When his life became more stable, he boldly borrowed preferential capital from VBSP through Savings and Credit Group of the Farmers' Association to start family economic development.
With the capital from VBSP, Mr. Lo Van Hinh bought 4 piglets. Thanks to good care, his pigs grew quickly so they were soon sold and earned profit. After 5 years, Mr. Lo Van Hinh, the old farmer, not only paid off the principal and interest for the bank, but he also saved a lot of money to reinvest and breed local black pigs.
"My passion for getting rich from raising black pigs did not stop. In order to expand the breeding, I continued to borrow VND 30 million from VBSP", Mr. Hinh said.
Recognizing that hybrid pigs have higher productivity and economic efficiency than local black pigs, Mr. Hinh used the loan from VBSP plus his capital to invest in building a pigsty and bought 4 hybrid pigs.
Sharing about pig raising techniques, Mr. Hinh revealed: "In order to make pigs grow and develop well, when the piglets are born from 5 to 10 days, they must be injected to increase resistance and grow quickly. When the piglets are in the age of 1.5 months to 2 months, they must be separated from the mother pig. In addition, they must be vaccinated against epidemic every 2 or 3 months".
According to Mr. Hinh, a sow gives birth twice a year with an average of 8 piglets. Due to the high demand for pork, after 3 months of separation from the mother pig, customers ordered Mr. Hinh's pigs.
"Breeding this local black pig, I sold 3 times a year with an average of about 6 quintals of pork each time. With the price of VND 60,000/kg, my family earned about 36 million each time" Mr. Hinh said.
By the end of 2018, Mr. Hinh collected over VND 150 million from selling pigs, after deducting the costs of food and medicine, Mr. Hinh earned a profit of VND 100 million. In the lowlands, this profit is quite modest, but in remote areas like Sop Cop commune, this is a large amount of money.
Each day, Mr. Hinh's pigs eat 3 meals (breakfast, lunch, dinner). Mr. Hinh uses cornstarch, manioc mixed with duckweed and banana trunk to cook bran for them. Therefore, traders in Sop Cop district always want to buy his pigs.
With the way of raising pigs by natural food, Mr. Hinh not only minimizes costs but he also increases the quality of pork. Therefore, although the price of pigs elsewhere decreases, the price of Mr. Hinh's pigs still remains stable.
Sharing about his future plans, Mr. Hinh said: "The area of my pigsty is about 60m2. Earlier this year, I requested to borrow VND 30 million from the Farmers' Support Fund to expand the area of pigsty to 100m2.
Mr. Vi Van Tuong - Chairman of Sop Cop commune Farmers' Association said: "Mr. Hinh is one of the typical members in the emulation movement of good production and business in the commune. Not only enriching his family, he also shared techniques of raising local black pigs for some neighborhoods who are passionate about getting rich from raising pigs. Thanks to raising pigs, Mr. Hinh's family life is getting better and better.
LENDING INTEREST RATE
Poor Households

Lending to poor households
6,6%/year
Lending to poor households in 64 poor districts as stipulated by the Government Resolution No.30a in 2008
3,3%/year

Near Poor Households

Lending to near poor households
7,92%/year

Students

Lending to disadvantaged students
6,6%/year

People in need of loans for job creation

Lending to business establishments owned by war invalids and handicapped persons
3,3%/year
Others...
DEPOSIT INTEREST RATE
Term
Deposit Rate
Overnight
3,04%/year
1 week
3,23%/year
2 week
3,5%/year
Others...