VISITORS







News & Events
Updated: 2019-09-09 15:04:04
Developing digital financial services for the poor
On September 6, 2019 in Hanoi, VBSP organized the Launch of the Project: "Mobile Banking – Financial Inclusion and Economic Empowerment for Low Income People and Women in Vietnam" – Phase 2 (Mobile Banking 2). Mr. Bui Quang Vinh – Deputy General Director chaired the lauching ceremony.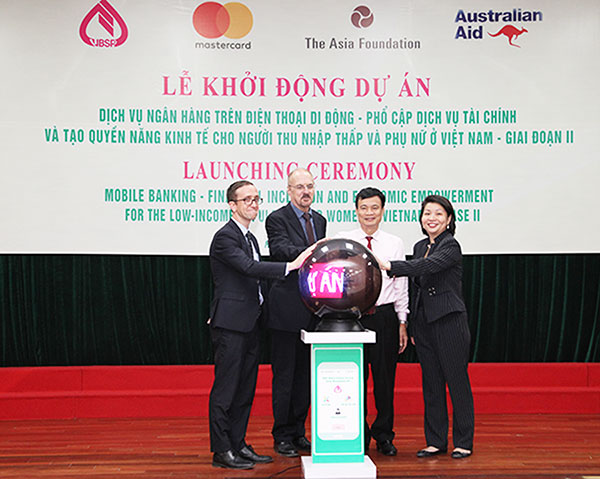 Delegates press the start button of Project Phase II
Attending the Lauch included Mr. Robin Bednall - First Secretary, Australian Embassy in Hanoi; Mr. Michael DiGregorio - The Asia Foundation's Country Representative in Vietnam, Ms. Winnie Wong – Country Manager of Mastercard in Vietnam, representatives of international organizations in Vietnam, VBSP Executive Board and funtional Departments at VBSP Headquarters.
The Project is funded by the Australian Foreign Affairs and Trade Department (DFAT) under the framework of Business Partnerships Platform and aims at enhancing and improving access to financial services for poor, low-income households, especially women-run micro-enterprises.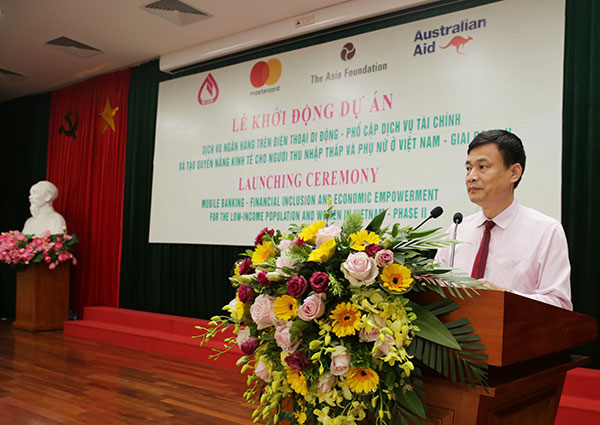 Mr. Bui Quang Vinh - Deputy General Director speaks at the Launch
As a special and biggest finacial institution providing micro-financial services in Vietnam, over the past 17 years, the policy credit activities of VBSP have significantly contributed to the effective implementation of policies, mechanisms, objectives and tasks of the State under the National Target Program for Sustainable Provety Reduction and New Rural Development, focusing on human resource development and social sercurity to prevent and reduce negative impacts of informal credit to poor households and other policy targets, contributing to finacial inclusion in Vietnam. With a wide network of 11,000 commune transaction points under 63 branches all over the country, the strength of VBSP is the transaction network covering all cities and provinces, down to village and commune level providing services to every household.
Up to now, the total outstanding loans reached VND 198,968 billion with more than 6.6 million active customers. In which, nearly 80% of customers are living in rural, remote and mountainous areas, female customers account for 60% and up to 90% of female customers are engaged in production and business activities in agricultural and non-agricultural sectors.
After Phase 1, VBSP has been succesfull in piloting and expanding regular SMS services for customers in 10 project provinces. Then, VBSP has sent SMS to customers nationwide to provide information about their account balance, savings and payment due dates and information. By the end of 2018, VBSP had sent SMS on regular basis to 5.1 million customers across 63 cities and provinces, who have registered their mobile phone numbers with the Bank.
Mobile Banking 2 will continue in cooperation between VBSP, Mastercard and The Asia Foundation (TAF) for 2019-2022 in 10 provinces: Ninh Binh, Hoa Binh, Ha Giang, Lao Cai, Nghe An, Quang Tri, Binh Dinh, Dak Lak, Ho Chi Minh city and Can Tho.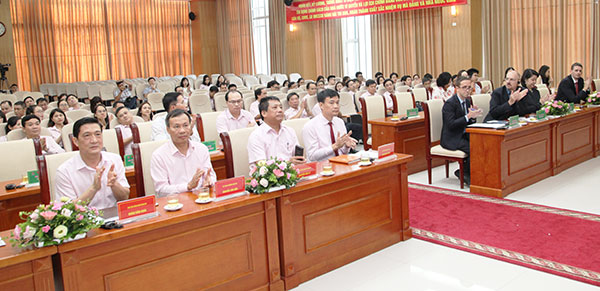 Landscape of the Launch
Mr. Bui Quang Vinh - Deputy General Director of VBSP said: "The project will contribute to support the capacity building for VBSP to provide diversified and convenient digital financial services for VBSP customers who are the poor, disadvantaged students, people with disabilities, ethnic minorities, laborers going to work abroad. The project also aims to contribute to the implementation of VBSP Information Technology Development Plan until 2025 with the goal of developing the Information Technology system towards technological innovation, banking products and services diversification, enhancing access to banking services for customers and modernizing the governance of VBSP.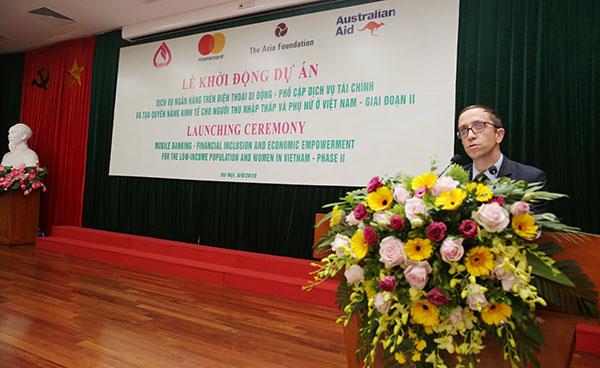 Mr. Robin Bednall - First Secretary, Australian Embassy in Hanoi speaks at the Launch
According to Mr. Robin Bednall - First Secretary, Australian Embassy in Hanoi, the project, which is implemented by the VBSP in collaboration with the Asia Foundation and MasterCard with funding from DFAT is a significant initiative to enhance and improve access to comprehensive financial services for the poor and other policy beneficiaries, especially women-owned micro enterprises. Currently, the application of digital technology in providing banking products and services has proved to be advantageous and effective in reducing costs and enhancing utilities and convenience for customers, especially for customers who do not yet have access or fully access to basic banking services.
Mobile Banking 2 will continue to improve SMS service to VBSP's customers to ensure that 100% of customers registering their mobile phone numbers with VBSP can receive and understand the content of SMS and provide feedback to VBSP. Phase 2 will focus on supporting VBSP to develop the digital financial platform with the development of technology solutions for mobile banking services. It is expected that towards the end of the Project, VBSP can start providing mobile banking services to Heads of Savings and Credit groups and piloting payment services for customers (collection, payment, money transfer and card services, etc.) to help customers access financial inclusion services and improve service quality and achieve higher cost effectiveness for both the customers and VBSP.
LENDING INTEREST RATE
Poor Households

Lending to poor households
6,6%/year
Lending to poor households in 64 poor districts as stipulated by the Government Resolution No.30a in 2008
3,3%/year

Near Poor Households

Lending to near poor households
7,92%/year

Students

Lending to disadvantaged students
6,6%/year

People in need of loans for job creation

Lending to business establishments owned by war invalids and handicapped persons
3,3%/year
Others...
DEPOSIT INTEREST RATE
Term
Deposit Rate
Overnight
3,04%/year
1 week
3,23%/year
2 week
3,5%/year
Others...