VISITORS







News & Events
Updated: 2019-11-22 10:27:54
Increasing loan size for disadvantaged students to VND 2.5 million/month/student
(VBSP News) From December 1, 2019, the maximum loan size for disadvantaged students will increase from VND 1.5 million/month/student to VND 2.5 million/month/student.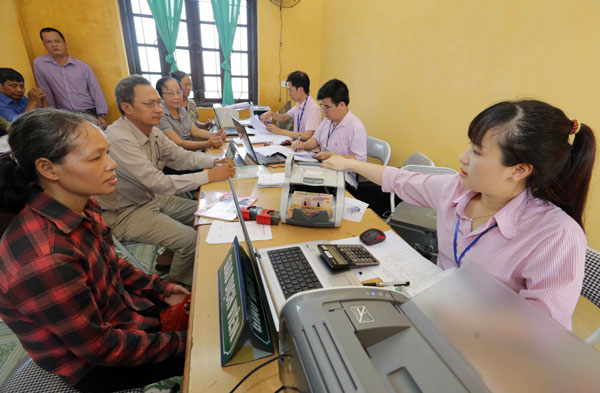 Households with children who are students receive preferential capital at VBSP transaction points
The Prime Minister signed the Decision No. 1656/QD-TTg on adjusting the loan size specified in Clause 1, Article 5 of the Decision 157/2007/QD-TTg dated September 27, 2007 of the Prime Minister on credit for disadvantaged students. Accordingly, the maximum loan size is VND 2.5 million/month/student. Thus, compared to the old loan size applied from June 15, 2017, the maximum one for students increased by VND 1 million/month/student.
The Prime Minister requested the Ministry of Planning and Investment and the Ministry of Finance to balance and allocate capital sources, subsidy from State budget for interest spread and management costs for VBSP to implement the Program after 2020 under the provisions of law.
VBSP is responsible for lending, supervising and collecting debts in accordance with the current law, within the scope of credit plan growth of VBSP assigned by the Prime Minister every year; self-balancing capital sources from now to 2020 in the medium-term public investment plan 2016-2020 approved by the authority agencies.
The Decision takes effect from December 1, 2019 and is applied to new disbursements since the effective date of this Decision.
As of October 31, 2019, outstanding loans of Disadvantaged Student Program reached over VND 10,978 billion, accounting for 5.5% of total outstanding loans with more than 401,000 active customers. This is a credit program with meaningful purposes in terms of economics, politics and society, creating a high consensus of various authority levels and social community, a link between the economy and society in poverty reduction, social security, contributing to creating human resources for the country.
vbsp.org.vn
LENDING INTEREST RATE
Poor Households

Lending to poor households
6,6%/year
Lending to poor households in 64 poor districts as stipulated by the Government Resolution No.30a in 2008
3,3%/year

Near Poor Households

Lending to near poor households
7,92%/year

Students

Lending to disadvantaged students
6,6%/year

People in need of loans for job creation

Lending to business establishments owned by war invalids and handicapped persons
3,3%/year
Others...
DEPOSIT INTEREST RATE
Term
Deposit Rate
Overnight
3,04%/year
1 week
3,23%/year
2 week
3,5%/year
Others...