VISITORS







News & Events
Updated: 2019-11-14 11:38:42
VBSP organizes an online training on credit for all branches in the whole country
(VBSP News) On November 8, 2019, VBSP organized an online training on credit for all branches in the system. Attending and chairing the training course included VBSP General Director - Mr. Duong Quyet Thang.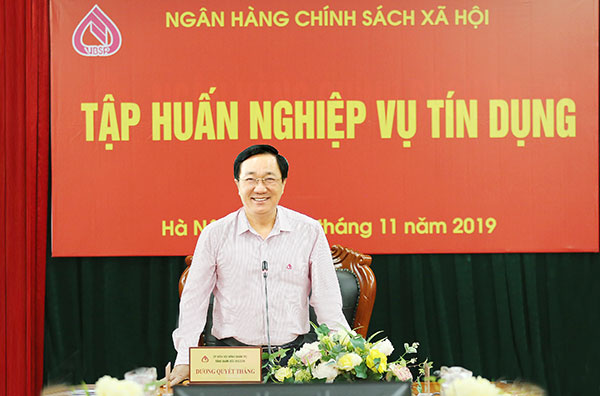 General Director – Mr. Duong Quyet Thang gives an opening speech at the credit training course
At the training course, delegates were instructed in lending skills to Job Creation Program from the National Fund for Employment and VBSP's mobilized funding; applied to VBSP units and individuals, customers borrowing loans from VBSP's Job Creation Program; employees borrowing loans to work abroad under a contract at VBSP; enterprises and organizations allowed by the goverment to send Vietnamese workers to work overseas under contracts.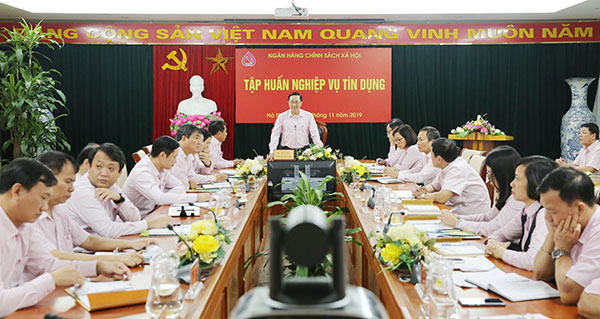 The training session at the Headquarter
The online training mainly concentrated on discussing difficulties and proposing solutions to improve the quality and efficiency of the job creation lending program from the National Fund for Employment in accordance with the Government's Decree No. 61/2015/ND-CP dated July 9, 2015 and Decree No. 74/2019/ND-CP dated September 23, 2019 on amending and supplementing some articles of Decree No. 61/2015/ND-CP; Decision No. 63/2015/QD-TTg dated December 10, 2015 of the Prime Minister on policies of supporting vocational training and creating jobs for laborers with land acquisition and Decision No. 27/2019/QD-TTg dated September 9, 2019 of the Prime Minister on credit for laborers in poor districts working abroad under contracts until 2020.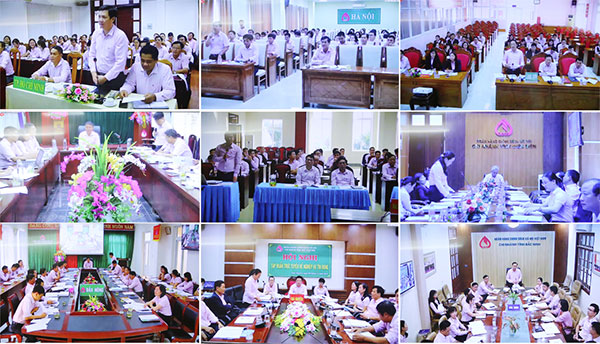 Delegates at all VBSP branches discussed at the training course
In addition to helping VBSP officials and leaders in provinces and cities better understand the contents of the guiding documents, the training course also discussed and solved practical problems so that leaders of branches can understand clearly the issues related to the operational mechanism of credit programs to ensure the effective and efficient implementation.
Speaking at the training, VBSP General Director – Mr. Duong Quyet Thang said that in the past 10 months, all branches in the system have basically completed capital disbursement as the assigned plan. By October 31, 2019, VBSP's total outstanding loans reached VND 201,465 billion with more than 6.5 million active households, of which lending to the poor accounted for the highest proportion. In terms of the Job Creation Program, VBSP General Director requires branches to ensure to lend to the right beneficiaries and the capital is used for the right purposes.
The core tasks of VBSP in the last months of 2019 are continuing to focus on advising to soon officially announce on the growth plan assigned by Prime Minister in 2020 and having a specific assignment plan for mobilizing resources from localities, organizations and individuals.
VBSP General Director suggested that branches in the whole system should continue to clearly explain to voters about the role and meaning of policy credit. Moreover, each officer should be an active propagandist of VBSP.
vbsp.org.vn
LENDING INTEREST RATE
Poor Households

Lending to poor households
6,6%/year
Lending to poor households in 64 poor districts as stipulated by the Government Resolution No.30a in 2008
3,3%/year

Near Poor Households

Lending to near poor households
7,92%/year

Students

Lending to disadvantaged students
6,6%/year

People in need of loans for job creation

Lending to business establishments owned by war invalids and handicapped persons
3,3%/year
Others...
DEPOSIT INTEREST RATE
Term
Deposit Rate
Overnight
3,04%/year
1 week
3,23%/year
2 week
3,5%/year
Others...