VISITORS







News & Events
Updated: 2019-11-04 11:33:16
The Asia Foundation expert delegation paid an exchange visit to VBSP branch in Ninh Binh province
(VBSP News) In the framework of the project "Mobile banking - Financial inclusion and economic empowerment for the low-income population and women in Vietnam" in partnership with with the Asia Foundation, Mastercard and the Department of Foreign Affairs and Trade, Ms. Jane Sloane, Director of TAF's Women's Empowerment Program, is headquartered in the United States with Mr. Filip Graovac, Deputy Chief Representative of the Asia Foundation in Vietnam paid a field trip to observe the operation model of VBSP at grassroot level and evaluate the implementation of financial services and women's economic empowerment to VBSP customers who are the poor and last-mile population in Ninh Binh.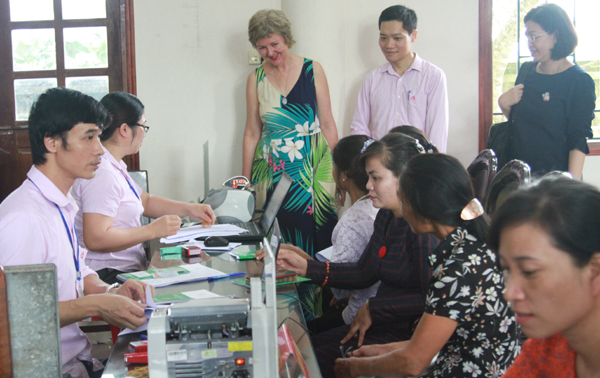 The TAF delegation communicated with VBSP's customers at Commune Transaction Point
During the field trip, the TAF delegation met and worked with the managers of VBSP branch in Ninh Binh. They highly assessed about impressive results of the branch in the implementation of inclusive financial services in such area with many useful credit programs deployed to community for production development and living standards improvement. Currently, the total of outstanding loan in Ninh Binh province is VND 2,347 billion serving 76,910 poor, near-poor households and other beneficiaries, out of which the number of female borrowers is 47,673 (62% of the total). The inclusive financial services has positively contributed to the implementation of the national target programs on Ninh Binh' sustainable poverty reduction. The branch has contributed to decrease the proportion of poor households from 7.46% to 3.63% at the end of 2018.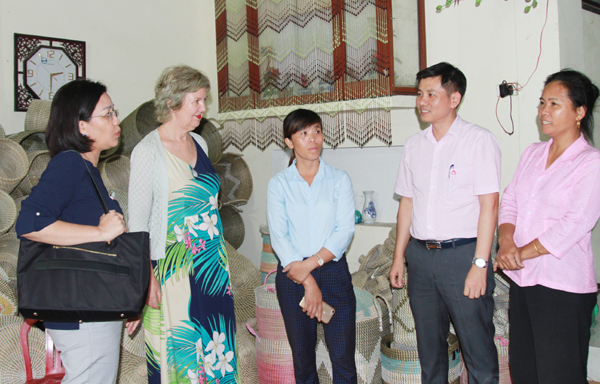 TAF team visited Cooperative Group Model of Ms. Nguyen Thi Oanh (rightmost pink shirt woman), in Yen Thai commune, Yen Mo district has accessed to inclusive finance from VBSP for investment of materials of export handicrafts from water hyacinth and sedge. Currently her cooperative group regularly creates jobs for 10 female workers in commune with an average income of 3-4 million VND/month.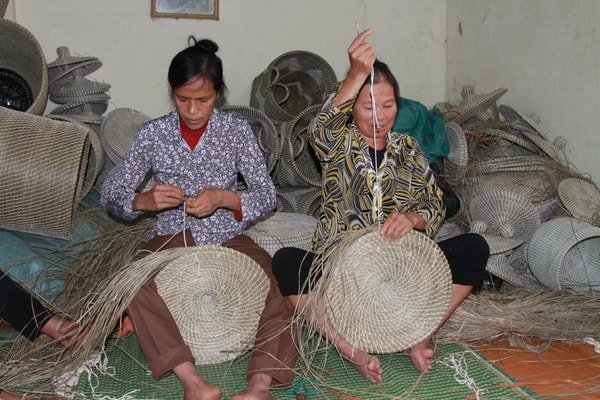 The female employees are making water hyacinth products
Ms. Jane Sloane - Director of TAF Women's Empowerment Program, headquartered in the US, showed her impression on the achievements of the Ninh Binh branch as well as the VBSP's determination in the implementation of Mobile Banking. Through the SMS service, borrowers have changed their habits and perceptions about checking SMS notification of bank balances, savings and debt repayment schedules; thereby becoming active in their own plan on the debts, helping the poor, especially women, have more access to sustainable and effective financial services, contributing to poverty reduction and connecting the poor to the economy. Particularly, VBSP's activities are significantly contributing to the local socio-economy, in the range of green agricultural chains, cooperatives and women-owned small businesses. Through the fieldwork result, TAF gets more information from practice in order to emerge ideas for next stage cooperation.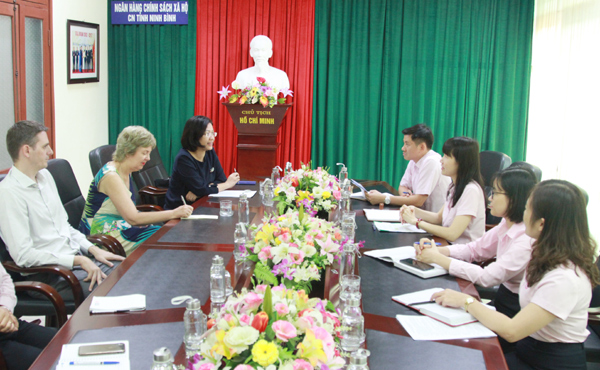 Previously, the TAF team had a meeting with VBSP - Ninh Binh branch about the branch operation in the local area.
Source: vbsp.org.vn
LENDING INTEREST RATE
Poor Households

Lending to poor households
6,6%/year
Lending to poor households in 64 poor districts as stipulated by the Government Resolution No.30a in 2008
3,3%/year

Near Poor Households

Lending to near poor households
7,92%/year

Students

Lending to disadvantaged students
6,6%/year

People in need of loans for job creation

Lending to business establishments owned by war invalids and handicapped persons
3,3%/year
Others...
DEPOSIT INTEREST RATE
Term
Deposit Rate
Overnight
3,04%/year
1 week
3,23%/year
2 week
3,5%/year
Others...