VISITORS







News & Events
Updated: 2019-11-19 09:15:20
The journey of escaping from poverty
(VBSP News) Up to now, Mr. Pang Ting Y Thuot still regards his efforts to escape from poverty as a dream and that dream is motivating him to get rich and become a useful person in the community.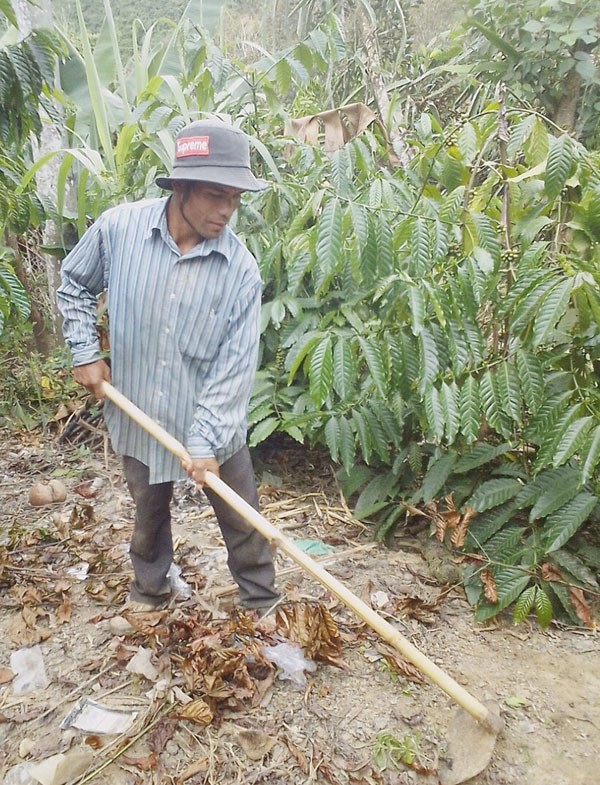 Mr. Pang Ting Y Thuot renovates the coffee garden
Sharing with us about his journey of escaping from poverty, Mr. Pang Ting Y Thuot in Village 1, Ro Men Commune, Dam Rong District (Lam Dong province) always feels grateful for policy credit capital which have helped many poor, near-poor and ethnic minority households have the capital to boldly develop the family economy, escape from poverty and become rich.
Mr. Y Thuot's family belongs to M'Nong people living in the poor area of Dam Rong district (Lam Dong province). Therefore, he and his family faced many difficulties because of lack of capital and production facilities. "As a breadwinner of the family having 5 members, I am always concerning about how to make a good life and help children go to school" Mr. Y Thuot said.
M'Nong people mainly grow coffee, corn and raise cow. Mr. Y Thuot learned and accumulated a little knowledge about planting coffee and raising cow. By 2013, with the experience learned, he boldly applied to his coffee garden with the hope of growing high-yield coffee trees.
"When I did not know how to solve the biggest problem about the source of capital, fortunately, Farmer's Union of Village 1 introduced my family about VBSP's lending programs. My family was very happy because it could be a platform for us to escape from poverty so I bravely accessed VBSP capital" Mr. Y Thuot said.
Through a meeting of the Savings and Credit Group in the village, his family borrowed VND 30 million from the Poor Household Program. Mr. Y Thuot said: "With the capital from VBSP and my savings, I invested in building cages, buying cows and renovating the old coffee garden. Only in nearly two years, the yield of 1.2 hectares of coffee increased from 2.5 tons to 4.5 tons.
In 2015, Mr. Y Thuot's family escaped from poverty and paid off VBSP's debts. After that, in order to get out of poverty sustainably and get rich, in early 2016, his family borrowed VND 50 million from the Newly Escaped From Poverty Program to expand coffee area and plant other crops with high economic efficiency such as avocado, durian and mulberry. By March 2018, his family continued to borrow VND 12 million to invest in building toilets and clean water works. The total amount his family has borrowed is VND 92 million, and he still owes VND 62 million.
"The capital from VBSP has brought great effect to my family. Thanks to being able to access capital with preferential interest rate, simple and easy loans application without mortgage assets, my family could do business effectively, have jobs, increase income, escape from poverty sustainably and improve life conditions. Therefore, my family economy has gradually stabilized" said Mr. Y Thuot.
In addition to borrowing, through the Farmers' Association, Savings and Credit Group, he also participated in exchanging experiences on raising, planting and attending training courses of mass organizations, therefore he gained a lot of knowledge about production and business.
"In Dam Rong district in general and Ro Men commune in particular, the majority of residents are ethnic minorities in the Central Highlands, the production level is low, life is still difficult, so I hope the Government, VBSP continues to invest more preferential credit capital so that poor and ethnic minority households like my family can borrow capital for economic development, sustainable poverty reduction and step by step getting rich" Mr. Y Thuot proposed.
vbsp.org.vn
LENDING INTEREST RATE
Poor Households

Lending to poor households
6,6%/year
Lending to poor households in 64 poor districts as stipulated by the Government Resolution No.30a in 2008
3,3%/year

Near Poor Households

Lending to near poor households
7,92%/year

Students

Lending to disadvantaged students
6,6%/year

People in need of loans for job creation

Lending to business establishments owned by war invalids and handicapped persons
3,3%/year
Others...
DEPOSIT INTEREST RATE
Term
Deposit Rate
Overnight
3,04%/year
1 week
3,23%/year
2 week
3,5%/year
Others...