VISITORS







News & Events
Updated: 2019-12-04 09:34:09
VBSP supports Bac Giang province in new rural development
(VBSP News) The effective implementation of national target programs, particularly the inclusive finance services provided by VBSP, has brought new vitality to the northern province of Bac Giang, turning the province into the second-largest economic hub in the northern midland and mountainous regions.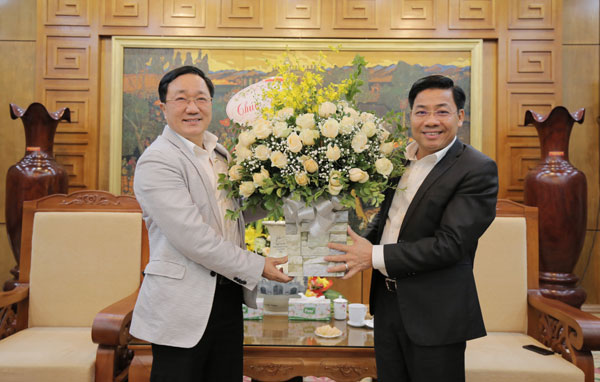 In a recent visit to Bac Giang province, VBSP General Director – Mr. Duong Quyet Thang met newly-elected Chairman of Bac Giang People's Committee Duong Van Thai
During the five-year implementation of Directive No.40-CT/TW of the Party Secretariat on strengthening Party leadership towards policy credit,178,200 needy households and last-mile populations in the whole province have accessed to financial inclusion services of VBSP to invest or expand production and business, contributing to helping 158,450 households to escape from poverty.
Furthermore, over 5,200 laborers found jobs, more than 50,000 safe water supply and sanitation facilities were built, and nearly 1,600 needy households could build solid houses from loans provided by VBSP.
As of November 26, 2019, total outstanding loan reached VND1.345 trillion ($58.48 million), with 31,824 local households taking up the loan, averaging VND42.3 million ($1.840) per household.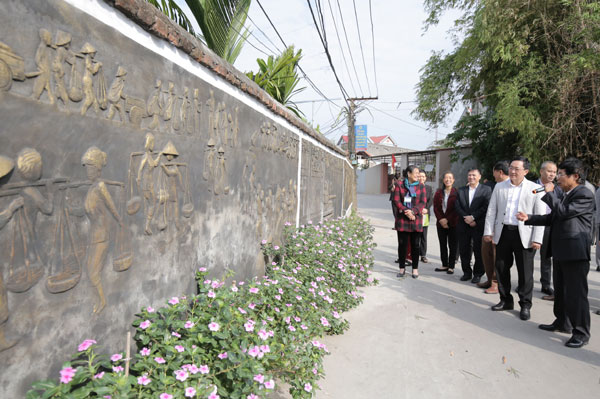 Many provincial roads in Bac Giang province are now paved with reinforced concrete using financial inclusion service from VBSP
After 17 years of operation, total cumulative outstanding loan balance from policy credit programs at VBSP's Bac Giang branch came to VND4.228 trillion ($183.83 million) by the end of November 2019, up VND297 billion ($12.9 million) compared to the end of 2018, equal to 7.57 per cent, with 113,275 local households receiving loans.
The efficiency of policy credit sources was also attested through credit quality as overdue debts only accounted for 0.07 per cent of the total outstanding balance and 55.2 per cent of communes in the province did not report overdue debts.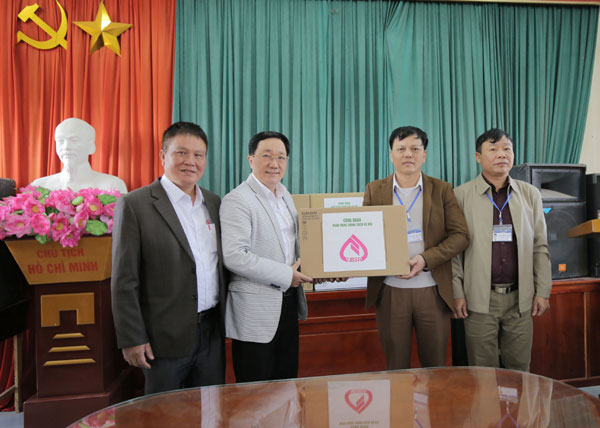 The working group donated computers to Lang Son commune in Bac Giang
According to Bac Giang People's Committee, by virtue of policy credit programs, the number of needy households in the province reduced by 2.24 per cent on-year in 2019 to around 5.05 per cent, exceeding the plan by 0.24 per cent. The proportion of needy households in communes with special difficulties for socio-economic development fell to 22.6 per cent, down 9.5 per cent against 2018, exceeding the plan by 5.55 per cent.
Notably, the policy credit has reached 230 communes, wards, and towns in the province, laying the groundwork for 25 communes in the province to reach new rural standards in 2019. This has brought the total number of communes reaching new rural standards from 2016 until present to 114 units, making 56.2 per cent of the total, an excess of 42 communes compared to the target set for 2020.
Furthermore, Bac Giang is now home to two districts reaching new rural standards – Viet Yen and Lang Giang.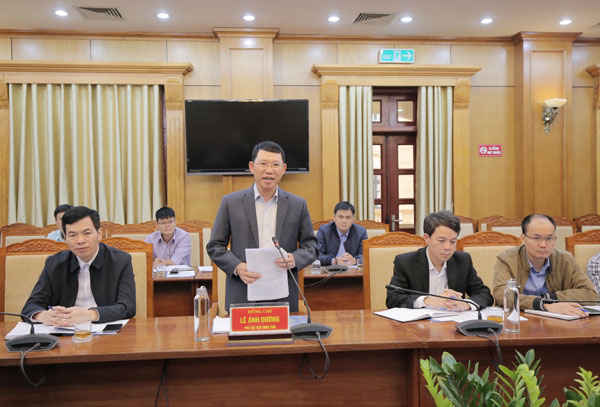 Bac Giang People's Committee Deputy Chairman Le Anh Duong at the working session
At a recent meeting with the working group under the Steering Committee for the National Target Program for 2016-2020, Deputy Chairman of Bac Giang People's Committee Le Anh Duong said that besides the capital sources directed into poverty reduction and new rural development provided by VBSP, the province is concentrating diverse resources to ensure the effective implementation of national target programs.
The total disbursed capital from the central and local budget for national target programs in 2019 came to VND261.7 billion ($11.38 million) out of VND562.1 billion ($24.44 million). By the end of this year, VND473 billion ($20.57 million) is expected to be disbursed, reaching 9.7 per cent of the projection, up 4.8 per cent against 2018's implementation level.
The province has also facilitated the alliance between businesses and local people in production and high-tech application, helping to boost people's incomes.
In light of the One Commune, One Product (OCOP) program of Bac Giang province for 2018-2020, with vision towards 2030, in 2019 the province is home to 25-30 OCOP reaching from three-star grade, and 52 agricultural product groups classified as distinct with rosy development potential. Many of them have been favored by consumers such as Yen The hill chicken, Van liquor, Tay Yen Tu bee honey, and Chu rice noodle, to name but a few.
These fundaments provide the bedrock for Bac Giang to scale up efforts, striving to reach the target of becoming a new rural standard locality in the near future and advanced criteria for new rural standards in 2021-2030.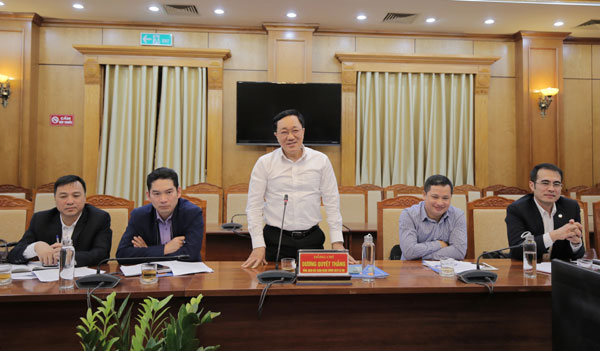 VBSP General Director – Mr. Duong Quyet Thang concluding his speech at the working session with Bac Giang People's Committee
In recognition of the achievements Bac Giang province has posted in implementing the national target programs, VBSP General Director – Mr. Duong Quyet Thang pledged to continue accompanying the province's efforts and allocate a rational budget amount to partly offset the demand for production and business development of the province's residents.
In the short term, a sum of VND20 billion ($869,600) will be allocated to the province to lend to needy households in areas with difficult living conditions. VBSP's Bac Giang branch will also be urged to improve the quality and efficiency of policy credit resources.
vbsp.org.vn
LENDING INTEREST RATE
Poor Households

Lending to poor households
6,6%/year
Lending to poor households in 64 poor districts as stipulated by the Government Resolution No.30a in 2008
3,3%/year

Near Poor Households

Lending to near poor households
7,92%/year

Students

Lending to disadvantaged students
6,6%/year

People in need of loans for job creation

Lending to business establishments owned by war invalids and handicapped persons
3,3%/year
Others...
DEPOSIT INTEREST RATE
Term
Deposit Rate
Overnight
3,04%/year
1 week
3,23%/year
2 week
3,5%/year
Others...