VISITORS







Client success stories
Updated: 2021-01-25 14:13:39
The operated effectively under the guidance of a dedicated leader
(VBSP News) As the leader of the farmer association and also served concurrently as the leader of the Savings and Credit Group in Tien Thuan Village, Tay Thuan Commune, Tay Son District (Binh Dinh), Ms. Tran Thi Kim Loan always gaining experience from her colleagues to improve her work quality of creating jobs for local workers.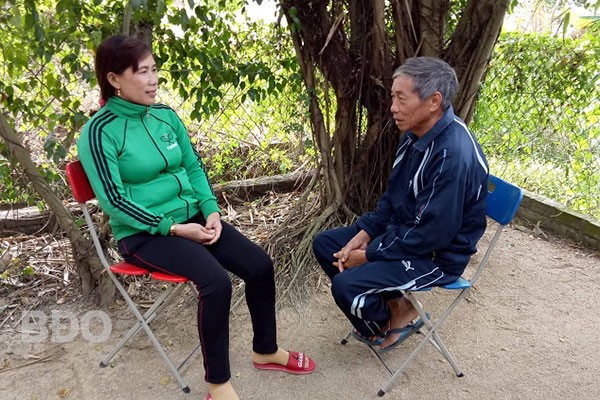 Loan has actively captured the feelings and the demand of capital for production of residents
Since the Directive No. 40-CT/TW of the Secretariat of the Party Central Committee on strengthening the leadership of the Party on social policy credit, Loan has actively communicated, propagated and also captured the feelings and the demand of capital for production of residents to consult for leaders. Over the years, thanks to the well-implemented of VBSP's loan programs such as poor households, near-poor households, disadvantaged students program, rural safe water and sanitation program, there are 86 poor households and near-poor households have been lent for production development investment. The total outstanding loan has reached more than VND 3.3 billion, on average 56 million VND / household; mobilized 100% of members to participate in saving through the group, reaching VND 106 million. In the period of 5 years starting from 2014 and the first quarter of 2020, her group has no overdue debts, which was ranked a good group by the VBSP branch in Tay Son district.
Tran Van Minh in hamlet 4 as a member of her group, said that thanks to Ms. Loan, who often visits his home to advocated and guided how to do business, his family got more knowledge about the policy credit of VBSP. His family borrowed VND 30 million to produce rice paper and raise cows. By 2018, his family had a decent income and escaped from poverty.
In another case, Van Thanh Son in hamlet 3, who got a loan from the disadvantaged students program and program for business and production expressed his appreciation that his two children had finished university and have stable jobs. Also, his family overcome the difficult situation thanks to the supported of Loan as well as VBSP.
Mr. Tran Duy Hoa - Chairman of Farmers Association in Tay Thuan Commune commented that among of seven saving and credit groups of the association, Loan's group operates the most effectively, contributing to increasing the outstanding loan for the whole commune to VND 14 billion. Her group has assisted 10 households to escape poverty. With such outstanding performance, Ms. Loan was awarded a certificate by the VBSP in 2017 and continues to be rewarded in 2020.
Vbsp.org.vn
LENDING INTEREST RATE
Poor Households

Lending to poor households
6,6%/year
Lending to poor households in 64 poor districts as stipulated by the Government Resolution No.30a in 2008
3,3%/year

Near Poor Households

Lending to near poor households
7,92%/year

Students

Lending to disadvantaged students
6,6%/year

People in need of loans for job creation

Lending to business establishments owned by war invalids and handicapped persons
3,3%/year
Others...
DEPOSIT INTEREST RATE
Term
Deposit Rate
Overnight
3,04%/year
1 week
3,23%/year
2 week
3,5%/year
Others...