VISITORS







Client success stories
Updated: 2021-08-16 09:07:53
A man exemplified a well business base on the policy credit in the Do Luong district
(VBSP News) Since finished high school, Cao Tien Quyen in hamlet 5, Bac Son commune, Do Luong district (Nghe An province) has intended to start a business in his hometown. As the son in a farming family, this young man is determined to raise his dream of being rich in his hometown by himself. In hamlet 5, Quyen is not only a role model of doing good business but also an energetic and enthusiastic secretary of the Youth Union, which is always enthusiastic in union activities.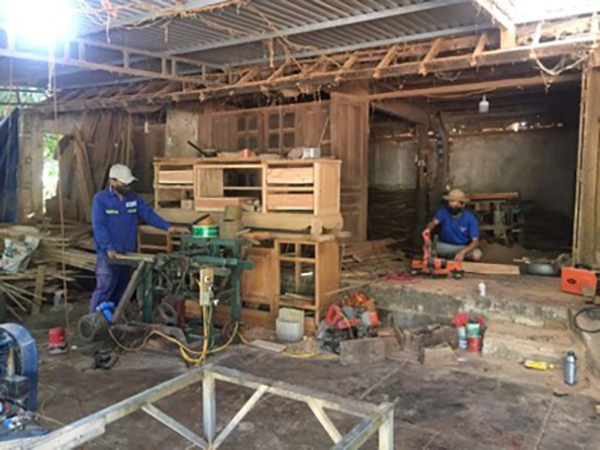 The model of a civil carpentry workshop of Cao Tien Quyen creates jobs for many Youth union members
Quyen started his learning journey by visiting other models of civil carpentry workshops to accumulate knowledge. Returning to the locality, Quyen planned and borrowed VND 50 million from VBSP branch in Do Luong district. Thereafter, Quyen used principal to expand the production scale and buy specialized machines such as saws, woodworking machines, planers, lathes to produce more new products. The main products produced by his establishment are tables, chairs, beds, cabinets, furniture, and worship items.
With the motto of focusing on credibility, along with skill in the field, love for the profession and hard work to explore and create, Quyen's products are increasingly famous and sought after by many customers. His acumen in approaching the market, diversifying product models and products helps his business model step by step assert its brand in the market. Not only enriching himself but Quyen's business also creates jobs for five other youth union members with a salary of VND 5 - 6 million/person/month. Every year, excluding expenses, his business earns a profit of over VND 150 million.
Quyen shares: "With the seasonal characteristics of carpentry compared to other industries, choosing good wood is very difficult in order to create prestige for customers. Besides, it is necessary to diversify the types of models, depending on the needs of customers. I always put the motto of customer's reputation priority and get affordable prices. Hence, our customers always believe in the products."
Referring to Quyen, people not only know that he is a role model of doing good business but also an energetic, dedicated and enthusiastic secretary of the Youth Union. He has always taken care of the lives of union members, helping youth union members in difficulty and sharing his economic experience. Cao Tien Quyen deserves to be a typical model in the movement "Youth study and emulation of Ho Chi Minh thoughts, morals and style" with the spirit of daring to think, dare to do, dare to challenge, to fulfil the dream of dedicating youth, asserting himself on the path of establishing himself and establishing a career to get rich in his hometown.
Vbsp.org.vn
LENDING INTEREST RATE
Poor Households

Lending to poor households
6,6%/year
Lending to poor households in 64 poor districts as stipulated by the Government Resolution No.30a in 2008
3,3%/year

Near Poor Households

Lending to near poor households
7,92%/year

Students

Lending to disadvantaged students
6,6%/year

People in need of loans for job creation

Lending to business establishments owned by war invalids and handicapped persons
3,3%/year
Others...
DEPOSIT INTEREST RATE
Term
Deposit Rate
Overnight
3,04%/year
1 week
3,23%/year
2 week
3,5%/year
Others...