VISITORS







Client success stories
Updated: 2021-09-06 11:22:11
A role model of enthusiasm for poor women
(VBSP News) Over these years, Ms. Nguyen Thi Hue from hamlet 3, Hanh Lam commune, Thanh Chuong district (Nghe An province) are a woman cadre who are dedicated to working and policy credit activities. In particular, she is also a typical role model in the development of a household economy.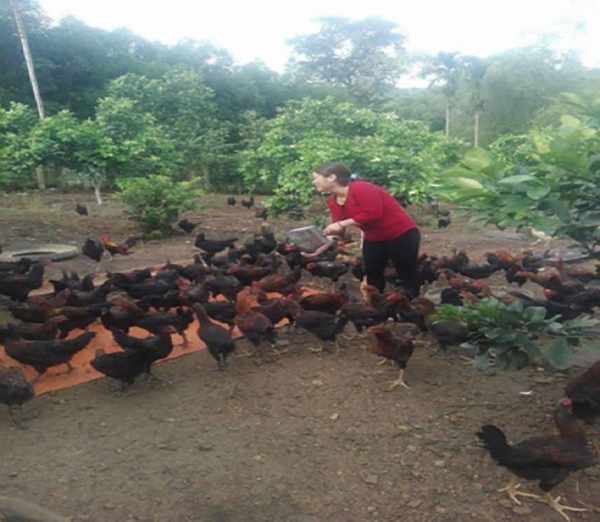 Nguyen Thi Hue is feeding chickens
Currently, the total outstanding loan of VBSP branch in Thanh Chuong district is VND 19 billion with well quality of credit and no overdue debt. In which, it must be mentioned the significant contribution of commune women officers as Nguyen Thi Hue.
Having worked with the association for 9 years, Ms. Hue has always been an enthusiastic and exemplary officer at the forefront of activities, trusted by other members. During a working time, she always actively cooperates with mass organizations to propagate the Party's Directives and Resolutions, the State's policies and laws, topics of association work for members, programs, projects, production models for high economic efficiency for women to participate in implementation.
Dang Thi Ngoc - Leader of the Savings and Credit group in hamlet 5 shares that Ms. Hue is an enthusiastic cadre, close to the grassroots and often captures the thoughts and aspirations of members. From which, she has supported and encouraged women to develop production and stabilize their lives.
Tran Thi Huong in hamlet 6, Hanh Lam commune is one of the households in the commune that overcomes difficulties to get rich with the support of the preferential loan. She has been guided by Ms. Hue to make loan documents for near-poor households programs to develop livestock production. With support loans and her hard-working spirit, Ms. Huong's family has now become a well-off household in the local area. Currently, Ms. Huong's family has 2 breeding cows, a herd of 3 sows and 200 chickens.
Another example can be mentioned is Ms. Le Thi Hue's family also in hamlet 6. Previously, the family's source of income was mainly from farming and husbandry. After being propagated and introduced about a preferential loan from the VBSP, she was able to borrow VND 40 million from the poor household program and then to the near-poor households program to invest in livestock. Nowadays, Ms. Hue's economy has stabilized with 3 cows, 5 sows and 120 chickens.
Chairman of Hanh Lam Commune People's Committee Dang Huu Hanh said: "Ms. Nguyen Thi Hue is an enthusiastic and responsible officer with the assigned work. For households facing difficulties in the area, she always reports to the Party Committee, authorities and VBSP to find consensus and support for households. In addition, she regularly propagates and educates poor households to fulfil their obligations when borrowing credit loans. With that form of propaganda and mobilization, 100% of women members pay their debts and interest on time and maintain regular savings deposits.
Nguyen Thi Hue is also a role model of a well-implemented business model of growing mushrooms, which is one of the projects recognized by the Women's Union of Thanh Chuong district as "Start-up ideas in 2020". This is a new economic model in the area, which has served the demand of life, contributing to diversifying safe and nutritious food for people in the commune and other areas. Her net profit from growing mushrooms each year reaches VND 40 million. In addition, she also grows tea and acacia with an area of 3ha.
Vbsp.org.vn
LENDING INTEREST RATE
Poor Households

Lending to poor households
6,6%/year
Lending to poor households in 64 poor districts as stipulated by the Government Resolution No.30a in 2008
3,3%/year

Near Poor Households

Lending to near poor households
7,92%/year

Students

Lending to disadvantaged students
6,6%/year

People in need of loans for job creation

Lending to business establishments owned by war invalids and handicapped persons
3,3%/year
Others...
DEPOSIT INTEREST RATE
Term
Deposit Rate
Overnight
3,04%/year
1 week
3,23%/year
2 week
3,5%/year
Others...