VISITORS







Client success stories
Updated: 2021-09-17 10:09:44
Support A Luoi people to overcome difficulties
(VBSP News) Through the loan fund for job creation deployed by the Transaction Office of VBSP in A Luoi district (Thua Thien - Hue), every year more than 100 workers in the area have job opportunities and increase income. In particular, during the complicated outbreak of the COVID-19 pandemic, preferential capital has supported people to remain firmly in developing family economy.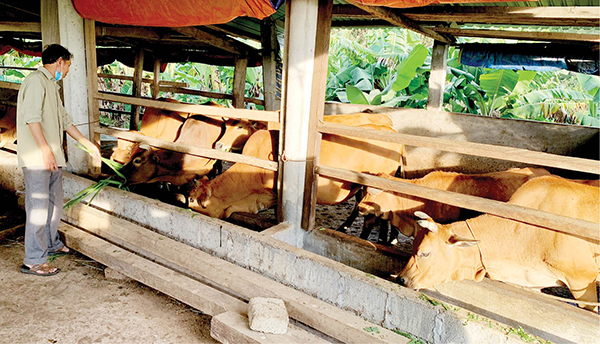 With loan capital, Mr. Doan Thanh Binh invested in developing livestock production
Despite difficulties due to the COVID-19 pandemic, Mr. Doan Thanh Binh's family in Huong Phu village, Huong Phong commune still has a stable income thanks to investment in raising cows, bringing a fairly high income every year. During the pandemic, and having no stable job, he was reviewed by the Commune Farmers' Association to get a job creation loan from VBSP with the amount of VND 90 million.
Having borrowed capital along with his own capital, Mr. Binh bought breeding cows for grazing. After more than 1 year following a well-guided process, his cows developed well. Up to now, his cow herd has grown to 22 cows; including 8 pregnant ones. On average, cows bring his family an income of nearly VND 100 million/year. He used waste in livestock to develop tree plantation, creating more jobs and income for family members.
Not only Mr. Binh, the loan from VBSP has helped the people of A Luoi district to stabilize their production and business in the difficult situation due to the pandemic. Mr. Nguyen Dung - Chairman of Huong Phong Commune Farmers' Association said: The COVID-19 pandemic in nearly 2 years up to now has laid a significant impact on people's jobs, causing many farmers in the commune to reduce their incomes and make life more difficult. Many workers working far away also returned to the locality to look for business opportunities and stabilize their lives, so they needed capital to develop production and business. Facing that difficulty, the loan source for job creation from VBSP has helped people invest in livestock, crops, develop models of livestock, afforestation, etc., which helped the locality create jobs and increase income for the people.
Currently, Huong Phong Commune Farmers' Association is receiving entrustment from the Transaction Office of VBSP in A Luoi district with loan outstanding of over VND 2.2 billion. In which, the loan source for job creation accounts for nearly VND 1 billion. In order to promote the effectiveness of loans, the Association regularly introduces good practices and good loan investment models at meetings of groups and associations to share experiences for replication. As a result, the efficiency in the use of policy credit in general and the loan program for job creation in particular is quite good.
In fact, the VBSP's job creation loan program has contributed to helping many households in A Luoi district have more resources to develop economic models. Many households have access to capital to invest in expanding production and business, especially ethnic minority households, contributing to improving income, stabilizing life, and promoting local economic development. Up to now, the loan balance of this program across A Luoi district is VND 13.5 billion, with 328 households borrowing capital, no overdue debt.
Director of the transaction office of VBSP A Luoi District - Le Quang Thang said: In order for the capital to continue to be used effectively and for the right purposes, the unit would stick to the district's socio-economic development orientations to invest with focus on social models and projects, contributing to the restructure of the agricultural and rural economy.
Hoang Anh
LENDING INTEREST RATE
Poor Households

Lending to poor households
6,6%/year
Lending to poor households in 64 poor districts as stipulated by the Government Resolution No.30a in 2008
3,3%/year

Near Poor Households

Lending to near poor households
7,92%/year

Students

Lending to disadvantaged students
6,6%/year

People in need of loans for job creation

Lending to business establishments owned by war invalids and handicapped persons
3,3%/year
Others...
DEPOSIT INTEREST RATE
Term
Deposit Rate
Overnight
3,04%/year
1 week
3,23%/year
2 week
3,5%/year
Others...