VISITORS







Client success stories
Updated: 2021-09-22 10:32:00
Overcoming the liability of poorness with a significant determination
Leaving his homeland, Cao Van Thang with his family moved to Van Son hamlet, Van Thanh commune, Yen Thanh district (Nghe An) to establish a career. His dream of being able to afford basic needs has come true until he received the preferential credit loan of VBSP.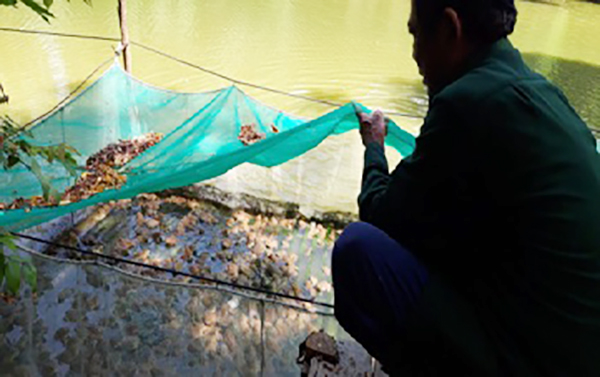 Cao Van Thang frog farm business model
Mr. Thang stayed at home to help his family with farming right after finishing high school due to the difficulties in his family life. In 2003, the whole family moved to the hilly area of Thuong Son village (now Van Son hamlet) to create a new life. Despite working hard, his annual income is only a few million, which is not enough to pay the debt. Moreover, his family was still belonging to a poor household list in the village. Until 2016, mobilized by the Van Thanh commune Farmers' Union staff and the village's savings and credit group, Thang was admitted and took a loan from the VBSP.
With VND 30 million of loan from the near-poor program, Thang was approved by the People's Committee of Van Thanh Commune signing a contract for 1.5ha of public land and 2.5ha of adjacent pond water surface. After 4 years, his average income is 75 million VND/year.
At the husbandry area, there are 1,200-layer ducks, nearly 400 chickens, 150 hens; 5 breeding cows; 6 cages with over 3,000 frogs; and other animals like apple snails and fish of all kinds. In addition, there are 1.5 hectares of high-quality rice variety produced under the orders of TH's True rice factory with a purchase price of 7,200 VND/kg. It is estimated that in 2021, the income after expenses, his family will reach VND 210 million.
Thank to a loan from VBSP, Thang's family has a fresh start to tirelessly breaking through, becoming a well-off household of Van Son hamlet, Van Thanh commune. He has been trusted by local people to vote in the Party Committee of Van Thanh commune for 2 terms (from 2015 to 2025). Moreover, Thanh is also a Director of the Agricultural Cooperative of Van Thanh Commune. As can be seen, the policies of our Party and State in poverty reduction have reached the grassroots villages to create opportunities and conditions for the poor to develop their business, contributing to the successful implementation of the National Target Program on sustainable poverty reduction and new rural development.
Phan Dang Hai
LENDING INTEREST RATE
Poor Households

Lending to poor households
6,6%/year
Lending to poor households in 64 poor districts as stipulated by the Government Resolution No.30a in 2008
3,3%/year

Near Poor Households

Lending to near poor households
7,92%/year

Students

Lending to disadvantaged students
6,6%/year

People in need of loans for job creation

Lending to business establishments owned by war invalids and handicapped persons
3,3%/year
Others...
DEPOSIT INTEREST RATE
Term
Deposit Rate
Overnight
3,04%/year
1 week
3,23%/year
2 week
3,5%/year
Others...