VISITORS







News & Events
Updated: 2021-05-04 11:07:25
Effects from social housing loan program
(VBSP News) Together with various credit programs by VBSP in Can Tho city, the social housing program has brought practical effects, as well as improved the local people's life significantly. Hence, the program has created favorable conditions for low-income people to settle down.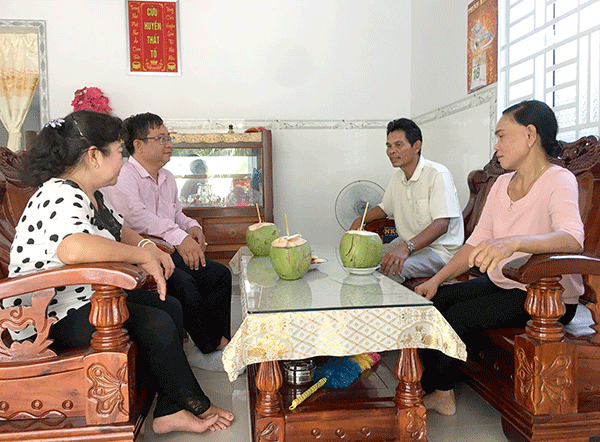 VBSP's staffs in O Mon district and the Woman Union in Thoi An commune visit Mung's new house
Opportunities to settle down
Having a free space in area 14, Chau Van Liem commune, O Mon district, Nguyen Ngoc Cu - a teacher in Nguyen Trai Secondary school - plans to build his own house. However, his income is not able to afford the cost. It was until the deployment of social housing loan program, he was able to build his house by lending VND 400 million from VBSP with monthly payment in 25 years. The house was built in 4 months. Mrs. Thao, Cu's mother, is excited when his son was supported by VBSP to build his new house.
Nguyen Thi Minh, a resident in Thoi Thuan A, Thoi An commune, O Mon district, has built her new house recently. Mung is a primary school teacher with 30 years of experience. Her husband sold an area in Thanh Loc commune, Vinh Thanh district to buy farmland in Thoi An. This land is used to plant coconut, logan, fishing... Mung wants to live indecently from her family, but she isn't able to build her own house, due to the lack of money. In 2020, Mung was introduced to the local Woman Union to lend VND 300 million from VBSP in O Mon district with the monthly payment in 25 years. The house had been built for 2 months with the cost of nearly VND 700 million. Mung shares that this was her dream house. Hence, she is able to retire and stable her income to pay back the money, besides taking care of her daughter.
The Director of the VSPB branch in O Mon district -Trinh Quoc Toan - shares that the social housing loan program was taken care of by the local government. VBSP organises professional training for socio-political organizers every year. The Saving and Credit groups also understand the purpose, object and process of this program. The total outstanding loan in the district reaches nearly VND 13 billion with 46 customers. It is predicted that this program will change from lending money to build, fix houses to buy houses in approved areas such as Gia Phuc, Nam Long, An Phu…
Raise the effectiveness of the program
It is considered that social housing development is a suitable policy for those who have difficulties. Besides building and fixing, customers are able to lend money for buying a house with low interests, monthly payment for years. This is a favorable opportunity for low-income households to buy houses and settle down. Since the program was implemented, VBSP branch in Can Tho supported 385 customers to lend the money with the total money of VND 127 billion, including 280 customers building and fixing houses; 105 customers buy new houses. The total loans reached VND 114 billion approximately.
The Vice Director of the VSPB branch in Can Tho - Lang Chanh Hue Thao - informed that to solve problems when implementing the Decree 100/2015/ND-CP, the minister has promulgated the Decree 49/2021 ND-CP to manage and develop the social houses. Accordingly, the loan for buying a house is equal to 80% of the buying contract. In terms of buying, fixing houses, the loans are equal to 70% estimated value or loan plan with a maximum of VND 500 million. The loan term is agreed upon by VBSP and the customer in accordance with the customer's repayment capacity and must not exceed 25 years from the first loan disbursement date.
Vbsp.org.vn
LENDING INTEREST RATE
Poor Households

Lending to poor households
6,6%/year
Lending to poor households in 64 poor districts as stipulated by the Government Resolution No.30a in 2008
3,3%/year

Near Poor Households

Lending to near poor households
7,92%/year

Students

Lending to disadvantaged students
6,6%/year

People in need of loans for job creation

Lending to business establishments owned by war invalids and handicapped persons
3,3%/year
Others...
DEPOSIT INTEREST RATE
Term
Deposit Rate
Overnight
3,04%/year
1 week
3,23%/year
2 week
3,5%/year
Others...