VISITORS







News & Events
Updated: 2021-03-24 09:25:51
Supporting to escape poverty sustainably
(VBSP News) After 5 years of implementation of credit policy for households escaping poverty, the VBSP branch in Ca Mau province has supported 43.2 thousand households with a total outstanding loan reach at VND 940 billion. The capital has helped to escape poverty sustainably, contributing to a successful implementation of the National Target Program on sustainable poverty reduction and new rural development in the province area.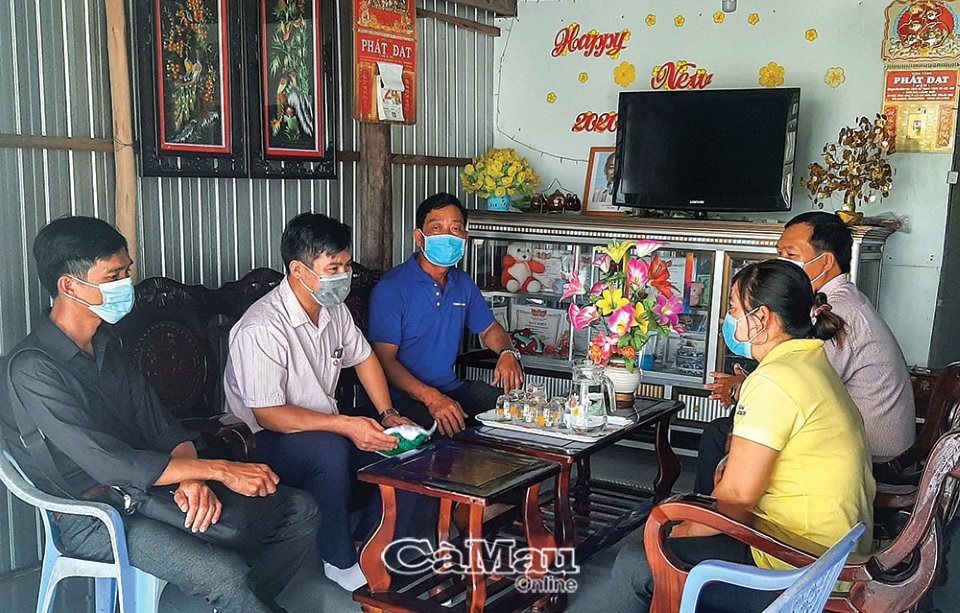 VBSP branch in Ca Mau province checks a loan for households escaping poverty in Rach Cheo commune, Phu Tan district
Visiting To Hoang Chua's family in Le Nam hamlet, Rach Cheo commune, Phu Tan district in the days after Tet, he welcomed the delegation of VBSP in the newly renovated house. He said that in the past, his family's economy was difficult, which was caused by the failure of making shrimp squares not applying science and technology in production. Fortunately, thanks to the loan of VND 20 million of VBSP, he renovated the shrimp square, raised more chickens and ducks. Besides his wife, Nguyen Thi Bum, also makes cakes to sell for their neighbours, earning several million VND a month.
"I have planned to pay off this loan and continue to borrow a new once to invest in the shrimp square according to the farming technical instructions of the commune officials. Escaping from poverty should be sustainable in order to be stable." Chua shared excitedly.
Used to be a poor household in Rach Cheo commune, Nguyen Thi Hoi in Tan Nghia hamlet shared that when she borrowed VND 20 million from the preferential capital, she was very excited. She has invested in fish and shrimp stalls at Cai Doi Vam market, which earned several million VND per month. With the motivation to escape poverty, she and her whole family worked hard and accumulated so that she can pay off all her debts and build a new house. Although she has been out of poverty for 3 years, she continues to borrow money from other programs to stabilize her family economy.
Rach Cheo Commune Farmers' Association Chairman Nguyen Bao An said that when farmers have access to capital, economic efficiency increases significantly. The program has added a new opportunity for poor households to escape from poverty. For example, local people have been supported the investment capital in accessing loans.
Deputy Director of VBSP in Ca Mau province Mr. Nguyen Ngoc Thanh stated that the credit policy for households escaping poverty has helped people to be self-reliant and sustainably escape poverty, creating capital for business and production. The Prime Minister has also signed Decision No. 02 / QD-TTg amending and supplementing several articles of Decision No. 28/2015 / QD-TTg, dated July 21, 2015, on credit policy for households escaping poverty. Accordingly, from March 30, 2021, VBSP continues to disburse credit programs for households escaping poverty, with the maximum loan amount of the program is 100 million VND per household and the interest rate is 8,25% per year.
"In the following time, VBSP branch in Ca Mau province will continue to advise the local party committees and authorities to strengthen the implementation of this program. Besides, it will focus on reviewing the object, from then proposing the central government, to supplement the guaranteed capital to all people" Mr. Thanh confirmed."
Accordingly, the VBSP branch will apply the loans to every hamlet through the socio-political organisation and the network of the Savings and credit group. VBSP has transaction points in communes to disburse to people in the fastest, most timely manner and reducing travel expenses way.
Vbsp.org.vn
LENDING INTEREST RATE
Poor Households

Lending to poor households
6,6%/year
Lending to poor households in 64 poor districts as stipulated by the Government Resolution No.30a in 2008
3,3%/year

Near Poor Households

Lending to near poor households
7,92%/year

Students

Lending to disadvantaged students
6,6%/year

People in need of loans for job creation

Lending to business establishments owned by war invalids and handicapped persons
3,3%/year
Others...
DEPOSIT INTEREST RATE
Term
Deposit Rate
Overnight
3,04%/year
1 week
3,23%/year
2 week
3,5%/year
Others...