VISITORS







News & Events
Updated: 2021-03-11 15:53:10
Sustainable poverty reduction begins with appropriate solutions
(VBSP News) Hau Giang is considered as one of the highlighted provinces in terms of poverty reduction in the Mekong Delta area. The direction for sustainable poverty alleviation of this province is to implement suitable programs.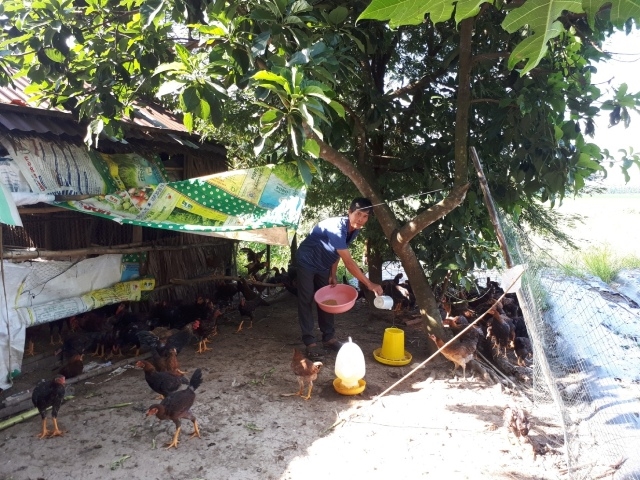 The preferential credit capital supports Hau Giang province citizens escape from poverty
Supporting poor-households
Tran Van Dong, who lives in no.3 hamlet, Vinh Thuan village, Vi Thuy district, shared that his family's condition had been improved significantly thanks to the poverty reduction model. He has invested in breeding cows to have a better income. Five years ago, due to his tough financial life, the government listed his family as a poor household. He did a wide range of work to make ends meet, including growing hyacinth, fishing, tasks related to manual work, etc. Witnessing that situation, the government supports his family with a loan of VND 15 million from the replication of a sustainable poverty reduction project to stabilize his life, as well as improve the economy. Besides, Dong had borrowed VND 35 million from the VBSP branch to invest in two cows. Dong's family earned VND 10 million interest from selling these cows and decided to buy two mores. To improve the financial situation, it is necessary to find a suitable solution. In addition, he also does jobs related to fishing, meanwhile, her wife does knit. Hence, his family has a stable life and escaped from poverty in 2020.
In order to facilitate poor households doing their business, the Department of Labour, War Invalids and Social Affairs had allocated the capital from the National Target Program on Sustainable Poverty Reduction to the local areas. This money will be used to implement the replication of sustainable poverty reduction projects. The poor can borrow through VBSP to buy breeding animals without paying the interest. The loans will be payback in 3 years to transfer to others.
Accordingly, Hau Giang province also performs well in terms of lending preferential loans, supporting poor households. In 2020, the VBSP branch in Hau Giang province cooperated with the local government and other socio-political organizations to establish the policy credit schemes for 1.947 poor and near-poor households with a total of VND 61 billion approximately.
Materializing goals for the poor
The family of Le Thanh Tuan, who lives in 2A hamlet, Vi Tan commune, Vi Thanh city, as a typical example of benefiting from the preferential loans of VBSP. His family had had the capital to invest in farming. Therefore, he is able to escape from poverty, as well as improve his financial life significantly. Tuan excitedly shared that although his family was listed as a poor household a few years ago, they had a stable life nowadays, thanks to the support from the local government and VBSP.
In the past, Tuan borrowed VND 50 million from the VBSP to raise pigs and plant pineapple. After a few years, his family had expanded cultivate areas. Besides that, three goats and crabs are brought. If this business model runs smoothly, the income of Tuan will increase gradually. Tuan shares that apart from his efforts, VBSP and the local government had helped him a lot. For example, the VBSP has created opportunities for Tuan to approach the preferential loans, as well as join many training courses related to breeding. Hence, he is able to put his lesson into real life.
Hau Giang province has gained positive results in terms of poverty reduction. The province has promoted propaganda to elicit the will of poor households to become self-reliant in the period of 2015-2020. Alongside, Hau Giang province has supported the poor. As a consequence, the percentage of poor-household reduced significantly, from 14.9% in 2020 (29.000 poor-households) to 3.46% with 6.965 poor households.
Mr Hong Xuan Binh, Vice President of the Department of Labour, War Invalids and Social Affairs stated that the participation of both the political system and the consensus of the people had achieved the given goals. In 2021, the sector will continue to cooperate with the Vietnam Fatherland Front and other socio-political organizations to propagate and motivate local people to invest in the manufacturing business. Moreover, provinces that have high rates of poor-households will be focused on. The sector also cooperates with VBSP to lend to the poor and organize science and technology lessons for poor people.
Vbsp.org.vn
LENDING INTEREST RATE
Poor Households

Lending to poor households
6,6%/year
Lending to poor households in 64 poor districts as stipulated by the Government Resolution No.30a in 2008
3,3%/year

Near Poor Households

Lending to near poor households
7,92%/year

Students

Lending to disadvantaged students
6,6%/year

People in need of loans for job creation

Lending to business establishments owned by war invalids and handicapped persons
3,3%/year
Others...
DEPOSIT INTEREST RATE
Term
Deposit Rate
Overnight
3,04%/year
1 week
3,23%/year
2 week
3,5%/year
Others...