VISITORS







News & Events
Updated: 2021-02-04 10:48:01
Continue to disburse credit policy for households escaping poverty
(VBSP News) On January 21, 2021, the Prime Minister signed Decision No. 2/QD-TTg on amending and supplementing a number of articles of Decision No. 28/2015/ QD-TTg dated 21/7/2015 on credit policy for households escaping poverty.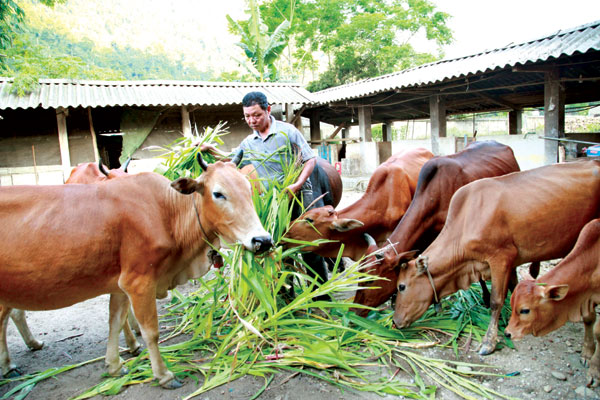 Households escaping poverty have more confidence to rise out of poverty sustainably
Accordingly, since March 30, 2021, VBSP continues to disburse credit policy programs for households escaping poverty, instead of disbursing until the end of December 31, 2020, as regulated in Decision No. 28/2015/QD-TTg.
Currently, the maximum loan amount of this program is 100 million VND per household. Also, the interest rate is 8.25%/year. The loan term is agreed upon by VBSP and households escaping poverty based on the production cycle, business and customer's ability to repay debt, but not exceeding five years.
After five years of implementing the credit policy for households escaping poverty, over 1.4 million households got loans from VBSP. Loan turnover reached nearly 62,000 billion VND, in which the priority for ethnic minority communities, remote areas, border areas and islands. It also attracted and created jobs for over 1 million workers with capital for production and business development. The policy credit has directly contributed to the implementation of 7/11 component of the National Target Program to build new rural areas (such as restructuring, economic development to improve income, poverty reduction and social security, and innovation of production forms, etc.) and 08/19 criterion in the national set of criteria on new rural development (such as income, employment, political system, etc.).
The preferential credit policy for households escaping poverty has strongly solved the cycle of "poor - take a loan - escaping poverty - paying back - re-poor". The program has achieved a positive effect, consistent with the Party and State's guidelines and policies on sustainable poverty reduction, ensuring social security, stabilizing political, improve the material and spiritual life of the poor and other policy beneficiaries nationwide.
According to the report No. 1654/BC-UBVĐXH dated on October 10, 2018, about the inspection of the government's on two-year results (2017-2018) on the implementation of Resolution No. 76/2014/QH13, the committee on social issue of the 14th National Assembly has evaluated: "Policy credit continues to affirm practical efficiency and was a highlight in the poverty reduction. The credit fund for poor households, near-poor households and households escaping poverty have been strengthened from a variety of sources."
Vbsp.org.vn
LENDING INTEREST RATE
Poor Households

Lending to poor households
6,6%/year
Lending to poor households in 64 poor districts as stipulated by the Government Resolution No.30a in 2008
3,3%/year

Near Poor Households

Lending to near poor households
7,92%/year

Students

Lending to disadvantaged students
6,6%/year

People in need of loans for job creation

Lending to business establishments owned by war invalids and handicapped persons
3,3%/year
Others...
DEPOSIT INTEREST RATE
Term
Deposit Rate
Overnight
3,04%/year
1 week
3,23%/year
2 week
3,5%/year
Others...