VISITORS







News & Events
Updated: 2021-02-08 11:15:39
Support young people to start-up
(VBSP News) VBSP's funds in Quang Binh province have enabled and empowered a growing number of youth union members to start-up in their homeland.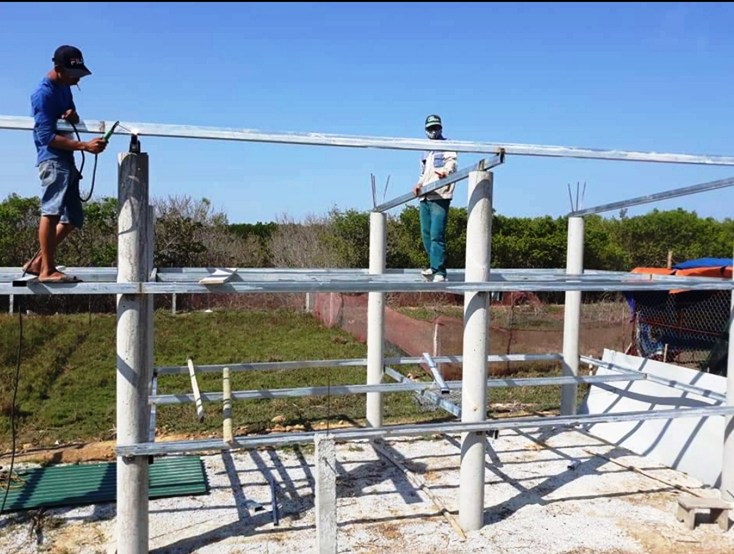 Thanks to the fund of VBSP, Pham Quang Trung, a resident of Quang Loc commune, Ba Don town is able to build breeding facilities and start raising stock
The Deputy Secretary of Quang Binh province, Mr. Nguyen Van Sau shares that the Provincial Youth Union always commands related organizations to examine job demands of the youth to assist young people in building their business model effectively. The youth are encouraged to study constantly, innovate their thoughts, strengthen their skills to create suitable business models. From the actual demand, the Provincial Youth Union has cooperated with VBSP to support young people approach the loan and use the capital effectively.
Currently, the Provincial Youth Union is managing and monitoring activities of 235 Savings and Credit Groups with a total outstanding loan of VND 42 billion and 9.455 households. Several units have high loans such as Minh Hoa, Ba Don commune and Quang Trach with the outstanding loan at VND 13 billion, 12 billion and VND 10 billion, respectively.
Dinh Thanh Hoang, a resident in Tan Son Hamlet, Son Hoa commune, Tuyen Hoa district wishes to start a business in his hometown. Nevertheless, he still concerns methods and capital for investment. In 2019, the local government and VBSP branch in Tuyen Hoa district lent him VND 50 million. Thanks to this loan, he is able to invest in his business, which brought irrigation and fertilizer system to grown oranges. By applying science technology, 500 orange trees of Hoang are growing well, giving high productivity. Hoang shares that his oranges originated from Ha Tinh, which had round fruit, fewer seeds and sweet. The income collected from each season is nearly VND 100 million. Shortly, he will expand the planting area.
Pham Quang Trung who lives in Quang Long commune, Ba Don town is a typical example for those who want to start a business, because of his efforts and passion. In the early days of his business, Trung only raised goats, shrimp, etc. on a small scale because of little experiences and capital. After approaching loans from the VBSP branch in Ba Don commune, Trung has lent VND 50 million to expand his business, invest in livestock. At this time, his farm has more than 12 goats, 1.000 crabs and 10.000 shrimps. After deducting expenses, Trung earns nearly VND 100 million of interest each year.
Almost all young people start-up has difficulty in the capital for investment, hence the business scale is small, as well as low inefficiency. To accompany the youth to start-up, Quang Binh Provincial Youth Union continues to select feasible business models and projects to promptly access capital from VBSP. In addition, they have also cooperated with related sectors and organizations to support the youth build and promote their brands, to spread the start-up spirit, improve skills and innovative thinking.
The Provincial Youth Union also coordinates with the Departments, specialized units to organize training courses, vocational training for local youth union members, such as training to transfer science and technology in livestock fields; providing a case study of effective economic models; maintaining the efficiency of the start-up community. Besides, they also directed organizations to supervise Savings and Credits groups to grasp the situation and encourage members to borrow, pay interest, debts in time. The Provincial Youth Union also coordinates with VBSP in training Youth Union cadres, Savings and Credit groups to effectively use trust loans, thereby helping members to access capital.
Vbsp.org.vn
LENDING INTEREST RATE
Poor Households

Lending to poor households
6,6%/year
Lending to poor households in 64 poor districts as stipulated by the Government Resolution No.30a in 2008
3,3%/year

Near Poor Households

Lending to near poor households
7,92%/year

Students

Lending to disadvantaged students
6,6%/year

People in need of loans for job creation

Lending to business establishments owned by war invalids and handicapped persons
3,3%/year
Others...
DEPOSIT INTEREST RATE
Term
Deposit Rate
Overnight
3,04%/year
1 week
3,23%/year
2 week
3,5%/year
Others...