VISITORS







Client success stories
Updated: 2016-03-09 16:45:37
Women getting rich from raising livestock
(VBSP News) Starting business from bare hands, thanks to VBSP's loans they escaped from poverty and had stable lives. And the story of getting rich from livestock of 2 women in Tan Uyen (Lai Chau) is the most vivid demonstration of overcoming difficulties.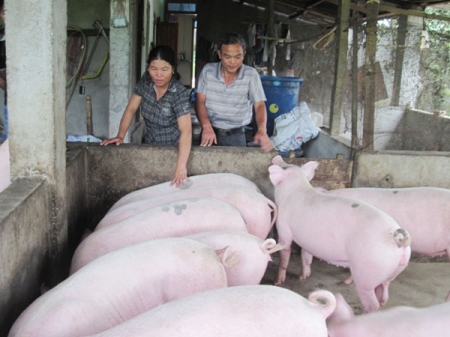 Thanks to preferential loans, Ms. Tong Thi Chanh in Bo Dun 1, Pac Ta commune escaped poverty
Ms. Lien's household is one of the difficult families in Ngoc Lai Village, Phuc Khoa commune but Ms. Khac Thi Lien does not rely on the State's support policies, on the contrary, she consciously overcomes all challenges pennilessness
In 2001, after getting married, she started business from scratch. The life of the family was so difficult because she had no capital for production investment. In 2004, she discussed with her husband of breeding pigs. With VND 5 million from VBSP's preferential loans, she invested in building breeding facilities of 10m² for reproductive pigs. Initially, with the capital, she bought 2 sows. During breeding process, she incessantly learned experiences through guiding books, radios, TV, kept breeding facilities tidily and injected vaccine periodically… After one year, she had 2 breeding couple of pigs.
After initial success, Ms. Lien's household continued to invest in building additional breeding facilities of 20m², kept further 3 reproductive sows with 50-60 pigs annually, that helped her family have resources to continuously raise pigs and export to the market from 2 to 3 tons of pig meat.
Her family's income is over VND 60 million per year from breeding pigs and chickens. She still used her family's garden to grow sugarcane with the area of 2.000m²; in 2011, she planted 50 banana trees, bred fish and opened grocery stores. Thanks to her knowledge, annually she had an income of nearly VND 100 million.
Beside working, she still took care of her family, enthusiastically participated and took the lead in activities of women's union and the local community.
Ms. Tong Thi Chanh in Bo Dun 1, Pac Ta commune also raises pigs but have a different success story. In 2002, after learning livestock experience through books, radio, TV, especially from successful households breeding livestock in the region, thanks to the help of the local government and women's Union, Ms. Chanh decided to borrow VND 10 million, along with family's capital she invested in breeding pigs.
At the first time, she raised some sows, and then she moved on breeding pigs for meat. Thanks to her diligence and hygiene farm and sufficient vaccination in the livestock production process, number of pigs ceaselessly developed. Thus, in a short time she can fully paid the loan and saved the money.
Ms. Chanh said: "From cumulative experience and effective business, my family built more stable farms, kept further 3 reproductive sows and 1 boar with 50-60 pigs annually, that helped my family has variety source to continuously raise pigs"
Ms. Chanh family planted 9.000m² of tee trees and invested in buying some machines such as plugh machine, rake machine, husk machine. Annually, she had an income of about VND 100 million from breeding pigs and harvesting tea leaves
Her family was able to build a duplex house, buy more furniture and expensive living facilities, her children are healthy.
Ms. Luong Thi Oanh – Chairwoman of Pac Ta women's union, commented: "She is not only an good example of doing business, but also helps women in the village with investment capital, pig breeds. She is also an active women, and an exemplary in the activities of the women's union and the local community".
VBSP updated 25th May 2015
LENDING INTEREST RATE
Poor Households

Lending to poor households
6,6%/year
Lending to poor households in 64 poor districts as stipulated by the Government Resolution No.30a in 2008
3,3%/year

Near Poor Households

Lending to near poor households
7,92%/year

Students

Lending to disadvantaged students
6,6%/year

People in need of loans for job creation

Lending to business establishments owned by war invalids and handicapped persons
3,3%/year
Others...
DEPOSIT INTEREST RATE
Term
Deposit Rate
Overnight
3,04%/year
1 week
3,23%/year
2 week
3,5%/year
Others...