VISITORS







Client success stories
Updated: 2018-11-10 20:22:43
Some successful customer stories from VBSP branches nationwide
Thanks to a loan of 20 million VND to solve the problem from the VBSP branch in Bac Kan province , the family of Mr. Nguyen Tri Hung, Doan Ket Residential Area, Da Bac town (Da Bac) has overcome difficulties and stepped up to strive to become rich. Since borrowing the loan, along with studying more about how to raise pigs, apply science – technology to make wine and feed pigs with wine dreg, etc., now, his family has a quite good economic condition in the area.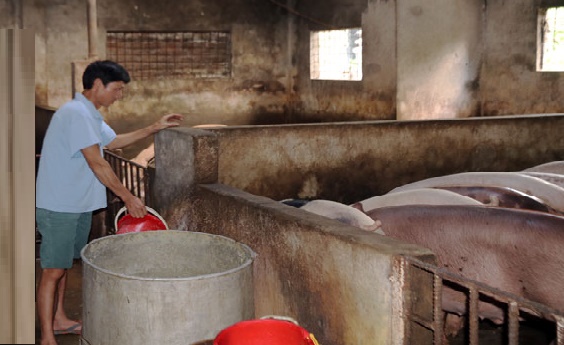 When being asked about the use of bank capital, Mr. Hung said: "Thanks to the VBSP, each year my family sold nearly ten tons of live pigs, at current prices, we earned nearly 500 million VND per year, except the cost, we earned about 100-200 million VND."
Nguyen Thi Xuan, 54, a poor widow raising two children in Lac An Hamlet, Ninh Tho Commune, Khanh Hoa province borrowed VND 33 million from the transaction office of the Bank for Social Policies in Ninh Hoa Township. Up to now, her daughter has graduated and her burden has been lessened. She also has been lent VND30 million to buy two breeding cows and make their cage under the credit policy program for near poor households. Up to now, her family is raising 4 cows.
Nguyen Hoang Anh in Vi Thuy district's Vinh Trung commune in Hau Giang province, who used to be poor, said he borrowed VBSP branch 30 million VND (1,280 USD) to raise oxen and district agricultural officials taught him how to tend them. He has 10 oxen and cows now and repaid the loan, he said. "My family's life is better."
In 2017, the family of Ms.Truong Thi Thanh in Trai Me hamlet, Son Duong commune - one of the poor households of Hoanh Bo district borrowed 50 million VND to grow fruit trees and raise poultry. Up to now, Ms Thanh's family has escaped from poverty with a turnover of about VND 100 million a year. In 2017, nearly 200 poor households in Hoanh Bo had access to loans for economic development. For loan sources to be used effectively, Vietnam Bank for Social Policies, Hoanh Bo district transaction office coordinates with the local organizations to examine and direct households to effectively develop economic model.
Luong Thi Hien, an ethnic Tay woman from Bach Thong district, took out a loan from VBSP and transformed her life. Prior to this loan, Hien was a farmer with a small paddy field and some cattle. However, she did not make much money and could not protect her crops or cattle from bad weather or diseases.Thanks to the money from VBSP, Hien and her family were able to improve the efficiency of their crop and cattle. The family soon became better off and their life improved dramatically. Most recently, in March 2016, Hien borrowed VND35 million ($1,500) and spent it on forestry. Two years later, this small forest is expected to fetch the family VND60 million ($2,571). The family also has 4,000sq.m of paddy fields, which is another stream of income.
In 2004, the family of Dinh Thi Dinh, an ethnic Tay female, residing in Trang Tranh hamlet (Tan Loi commune, Dong Phu, Binh Phuoc), was recognised as poor household and provided with preferential loans worth VND12 million to invest in growing 100 piles of pepper, generating an annual income of VND22 million. As a result, in 2007 her family managed to escape from poverty. However, due to her husband falling ill, the whole estate was used to fund his treatment, so in 2013, her family fell into poverty again.
Once again, Dinh's family was provided with access to preferential loans from the Vietnam Bank for Social Policy (VBSP) for poor households, with the amount of VND30 million being provided to cultivate pepper and rubber. Thanks to that, Dinh's family has more than 1 ha of rubber and cashews, along with 200 piles of pepper. Dinh said that by the end of 2015, her family officially escaped from poverty, with an average income, after deducting the relevant costs, at approximately VND200 million per year. Not only that, Dinh's family has also deposited monthly savings to create capital in order to repay their due debts to the bank.
LENDING INTEREST RATE
Poor Households

Lending to poor households
6,6%/year
Lending to poor households in 64 poor districts as stipulated by the Government Resolution No.30a in 2008
3,3%/year

Near Poor Households

Lending to near poor households
7,92%/year

Students

Lending to disadvantaged students
6,6%/year

People in need of loans for job creation

Lending to business establishments owned by war invalids and handicapped persons
3,3%/year
Others...
DEPOSIT INTEREST RATE
Term
Deposit Rate
Overnight
3,04%/year
1 week
3,23%/year
2 week
3,5%/year
Others...