VISITORS







Client success stories
Updated: 2017-03-10 09:29:26
Change life from forestation loan
(VBSP News) After more than 10 operation years, the project of forest sector development in VBSP has contributed to improving the socio-economic life of residents in project areas, poverty reduction, job creation as well as fight against climate change, food security, creating incomes and economic development for households.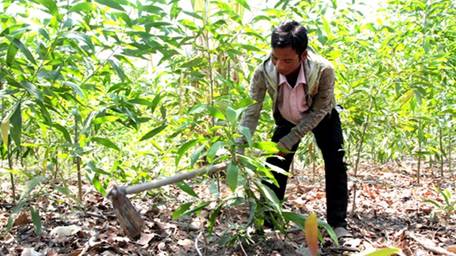 Green forests grow from the project's credit
As a beneficiary of the project, in 2005 household Hồ Văn Ngọc, living in hamlet 5, Tiên Ngọc commune, Tiên Phước district, Quảng Nam province, borrowed 50 million VND from VBSP to plant 5.2 hectare of acacia trees. He said: "In the past my family was very poor, doing a lot of hiring work all year but not enough to feed 5 mouths. Since my household accessed the forestation credit in VBSP to plant acacia trees. In 2013, the acacia tree harvest brought me enough incomes to repay debt for the bank and cover expenditure for family. Now my family is near-poor. However, to lift from poverty in a sustainable manner, I decided to borrow 125 million VND from VBSP for forest investment. I hope my family change life thanks to forest development". Ngoc said more, after 5-7 years, the acacia tree harvest brought about an income of VND 70-80 million/hectare after deducting costs, the net profit will gain from 7-10 million VND/ha.
Chairperson of People's Committee in Tiên Ngọc commune, Mr.Huỳnh Tấn Xuân shared: Stem from poor soil areas, annual crop yield is low but since conducted the FSDP project, a lot of households have known how to shift plants for developing forest economy. They applied the model of forestry and agriculture combination to increase the forestation area in first years by way of interspersed planting short-day trees. They utilized preferential credit effectively and efficiently, therefore their living standard is increasingly improved. Sustainable forestation activities have contributed to natural preservation and likelihood development for local residents, orienting to the green economy development.
LENDING INTEREST RATE
Poor Households

Lending to poor households
6,6%/year
Lending to poor households in 64 poor districts as stipulated by the Government Resolution No.30a in 2008
3,3%/year

Near Poor Households

Lending to near poor households
7,92%/year

Students

Lending to disadvantaged students
6,6%/year

People in need of loans for job creation

Lending to business establishments owned by war invalids and handicapped persons
3,3%/year
Others...
DEPOSIT INTEREST RATE
Term
Deposit Rate
Overnight
3,04%/year
1 week
3,23%/year
2 week
3,5%/year
Others...